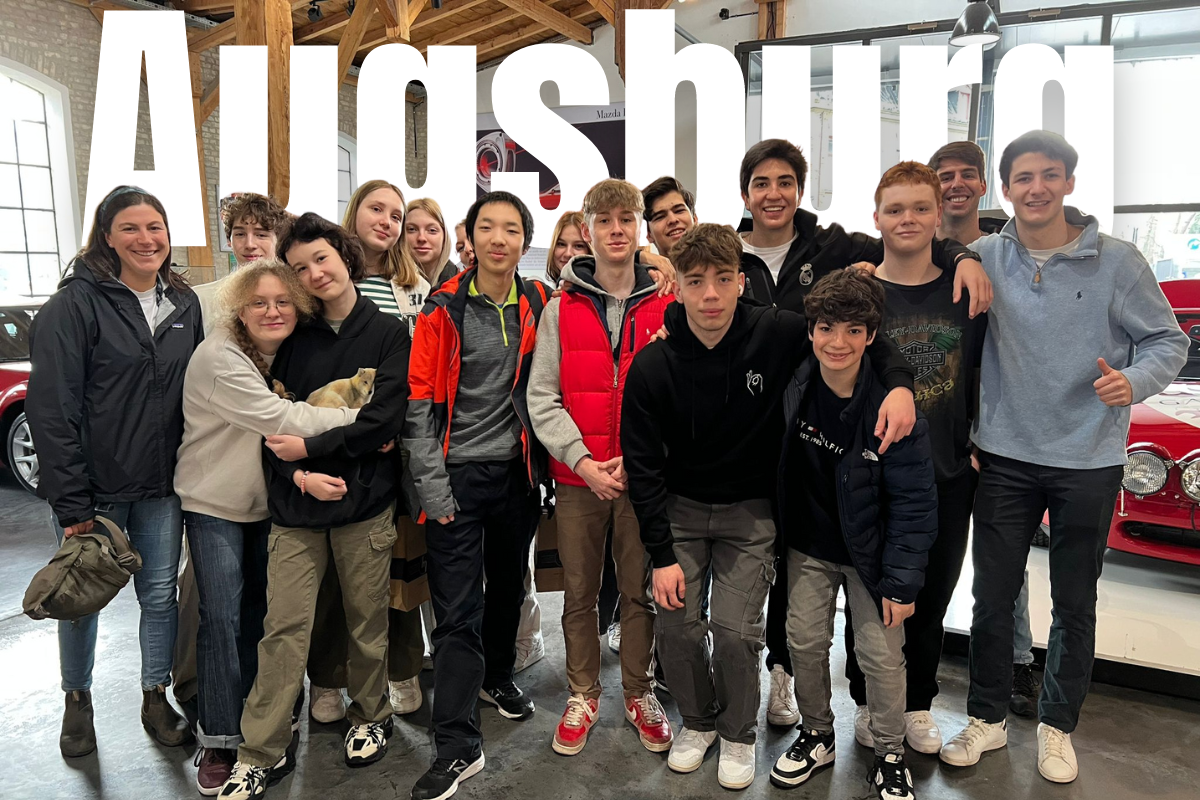 March 24, 2023
---
By Resident Assistant, Ali Welch

The overnight trip to Augsburg, Germany this past weekend, part of our expanded travel program, was an overall success thanks to a busy schedule of activities that allowed for a balance of sightseeing and fun memories with the group. Our trip began with a private walking tour of the city, which, although it is slightly larger than Salzburg in population, feels more intimate due to a concentrated city center that we could explore within 10 minutes of walking. Susanne, our tour guide, was extremely knowledgeable about the history of Augsburg as she led us to various sites throughout the city. We were impressed by the details of the Goldener Saal (Golden Hall), the size of the Renaissance sculptures of the Maximilian Museum, the innovation of the water management system, and the longevity of the social housing complex, the Fuggerei. 

"The place that fascinated me was the Fuggerei," said grade 11 student Leo L. "What makes that place special is that the rent has not changed since it was built 500 years ago. But it is only for people who were born in Augsburg. This place is the definition of people helping people which is a big part of why I enjoyed it."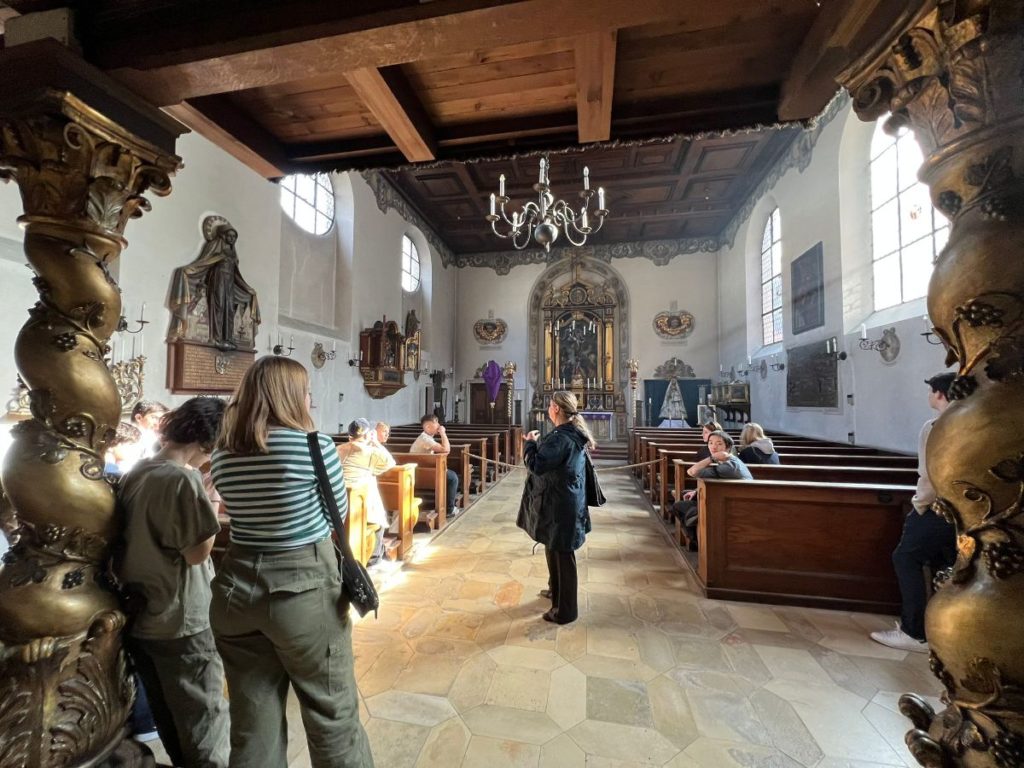 Students wasted no time exploring the various shops and restaurants Augsburg has to offer in their free time around the city. When we reconvened as a group before dinner, students showed off their purchases of various accessories and clothes or shared which ice cream place (and flavor) was the best. The gorgeous, sunny weather coupled with the FC Augsburg versus Schalke football match that was taking place in the city meant the town center was buzzing with people. 

Our group enjoyed a delicious meal at the Coco Sushi and Asia Fusion restaurant in the city's center before ending the night with bowling, our final activity for the day. Despite the embarrassing amount of bowling throws that ended up in the gutter, students had an excellent time cheering each other on and dancing to the music under disco lights. 
Sunday began with a trip to the Mazda Museum, located on the outskirts of the Augsburger Old Town. Although the museum is quite small, consisting of only one large room in what used to be an old tram depot, our group loved our time exploring the various Mazda models on display and speaking with the owner of the museum, Walter Frey. Meeting Mr. Frey was incredibly lucky as he rarely comes into the museum and just happened to be there in order to switch some of the cars in the exhibition. He was kind enough to take the time to talk to our students and shared stories on how he acquired a few of the cars in his private collection of over 100 Mazda automobiles that led to his creation of the only Mazda museum in the world. We were so grateful for Mr. Frey's time and the Mazda photo book from the museum, which he gifted to each person in our group. 

"The owner of the museum welcomed us and told us a lot about his history and about the cars that he owned," said grade 10 student, Richard G. 
With the busy schedule and long days, our group really made the most of our time in Augsburg. By the end of the trip, students were exhausted from exploring everything the city had to offer and they appreciated the various activities we were able to pack into the schedule. From Rubik's cube challenges with our waiter at dinner to dance-offs at bowling, this group of students made sure there was never a dull moment throughout the trip.

Augsburg was the fourth and final overnight weekend excursion of the school year. Other overnight weekend excursions included Vienna, Munich and Innsbruck. Fall and winter excursions to Paris, Barcelona and Zell am See rounded out the travel program.