The Summer Language Program at the American International School-Salzburg provides intensive German or English courses for students ages 12 to 18. Students under the age of 12 are only accepted with the registration of an older sibling who must accompany them on all activities.
This program is designed to improve students' language skills in German or English while involving them in a fascinating and enjoyable program of discovery, activities, and social sessions which can be combined to six weeks total. Every session includes a wealth of cultural and entertaining activities and excursions to complement the language learning in the classroom.
Three to four levels of language study are offered during each of the summer sessions and are taught by the highly qualified members of the school's teaching faculty. At the start of each session, all students are tested and placed at the appropriate level for the session.
The summer English courses are of particular interest to students who have applied and have been accepted for the academic year to AIS-Salzburg. These students are encouraged to participate in the full summer session (six weeks total) in order to improve their English language skills and become familiar with our school and our staff. High-school credit can also be earned upon successful completion of the six-week course.
2024 Dates and Weekly Schedule
8:30 – 10:00:  Lesson I
10:00 – 10:15:  Break
10:15 – 11:45:  Lesson II
11:45 – 12:00:  Break
12:00 – 12:45:  Lesson III
12:45 – 1:30:  Lunch
13:30:  Group Meetings
14:00:  Depart for afternoon activities
17:45:  Group Meetings
18:00:  Dinner
18:45 – 21:00:  Evening Activities
7:30: Breakfast
8:15: Depart for Day Trips
19:00: Dinner
20:00: Campus activities
Session 1: July 7-19, 2024
Session 2: July 21-August 2, 2024
Session 3: August 4-16, 2024
Aside from classroom instruction, students of the Summer Language Program are engaged in a rich choice of afternoon, evening, and weekend activities and outings (see activity video). The location of the school in one of the most beautiful cities and regions in the world allows us to offer activities and outings to a number of exciting and culturally rich destinations. All afternoon activities, excursions and other outings are completely included in the price of tuition for any of the three sessions.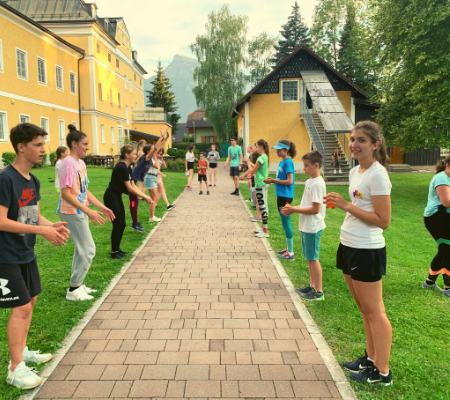 The hometown of Mozart and the filming location of the Sound of Music, Salzburg provides for an abundance of cultural activities for students to choose from. Summer festivals, concerts in beautiful locations such as the Mirabell Gardens, baroque tours, museum visits, and of course a hike up to the Salzburg Fortress are all part of the Summer Language Program cultural experience. 
Surrounded by Austrian alps, rivers and fresh water lakes, there is no shortage of adventure options for our students. From rafting and canyoning with the guidance of Crocodile Sports, to the treetops of the Waldbad high ropes course or the Salzachöfen Flying Fox zipline, students experience a multitude of outdoor adventures. Of course, we can't forget the beautiful hike up the Lammerklamm Gorge or the Untersberg!
Weekends are reserved for day trips to some of the most beautiful villages and metropolitan cities within a three-hour radius of Salzburg, and we take full advantage of the reliable Austrian public transport system to transport our students safely. Within these trips, students experience a mix of cultural stops and fun activities. In the past summers, students have enjoyed trips to Werfen, Linz, Munich, Bad Ischl, Vienna, Innsbruck and many more destinations.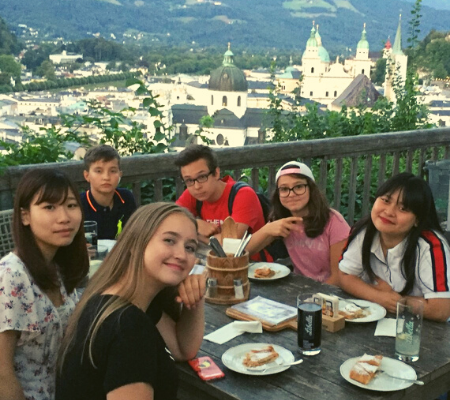 There are plenty of opportunities for students to simply relax and enjoy the summer sun with new friends from around the world. This could be as simple as a trip to the city for brunch or a day at one of the many freshwater lakes in the area. Students also can choose from a number of sporting competitions and fun activities such as summer sledding and bubble soccer that they can sign up for.  
The resident students are supervised, guided, and cared for by professional resident staff members who are responsible for the well-being of the students outside of academic hours, and for organizing and leading all trips and activities.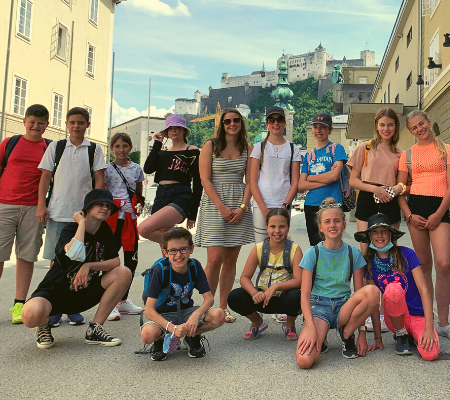 Students are housed in the school's dormitories which include double, triple, and quad bedrooms. All dormitory rooms include a shower and toilet, and resident staff members reside on each floor of the facilities. 
Tuition includes 100% of the costs of the summer program from transfer to transfer. All costs for activities, outings, instruction, meals, boarding, and transport are included. Students in our summer program need to bring pocket money for personal expenditures only.
| | | |
| --- | --- | --- |
|   | Full Boarder | Day Student |
| 2 Weeks | €2,375.00 | €1,420.00 |
| 4 Weeks | €4,200.00 | €2,415.00 |
| 6 Weeks | €5,500.00 | €3,465.00 |
We offer a 5% discount for siblings. Cancellations up to 10 days before the arrival date are free of charge. For later cancellations, the deposit payment of 25 percent of the course fees will not be refunded. There is no refund for no shows or for cancellations on the arrival day
To register for our 2024 Summer Language Program, please fill out the application via the button below. 
If you have any questions regarding our Summer Language Program, please contact us at [email protected].