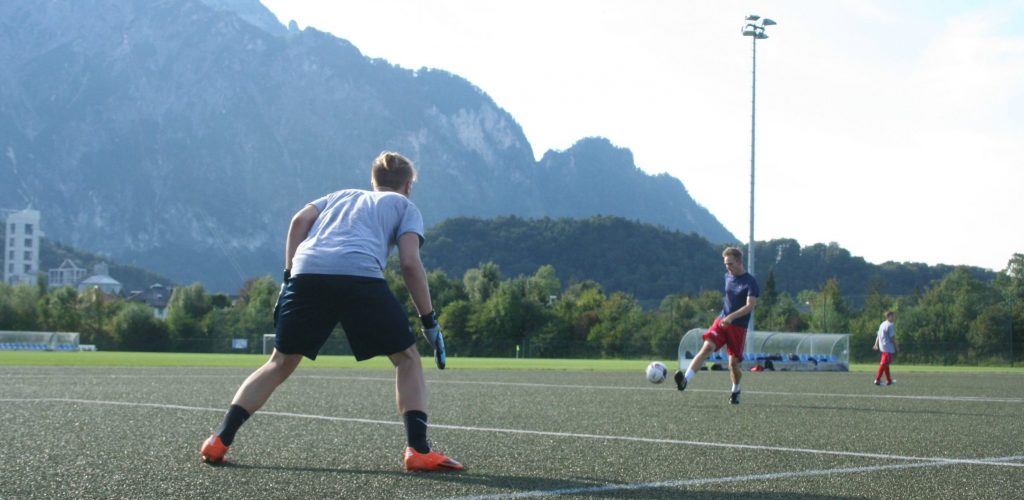 Graduates of the American International School-Salzburg athletics program are well-rounded student athletes who are capable of balancing academics with their athletic commitments and are dedicated team members who have experienced and persevered through the trials and tribulations that coincide with working with others to achieve a common goal. An AIS-Salzburg athlete understands the importance and the benefits of a healthy lifestyle and the rewards of good sportsmanship.
Regular, organized physical education is a fundamental part of the curricular program at AIS-Salzburg and is required of all students during each trimester of enrollment. Given the high demands of the academic coursework and long hours in the classroom, it is especially important that our students receive the balancing effect of physical exercise. Therefore, physical education courses are both load and promotion requirements for all students. **For more detail on courses please download our PE Course Offerings pdf
AIS-Salzburg is incredibly fortunate to be able to utilize the Salzburg University and Regional Sports Center (RIF) for all of our physical education and athletics needs. The facility, owned and run by the Austrian government is a fully-equipped olympic training center about 15 minutes from the AIS-Salzburg campus.
Individual and Team Sports
At AIS-Salzburg, students have opportunities to play team sports and individual sports within the offerings of the Danube Valley Athletics Conference (DVAC) of which AISS is a member. DVAC consists of 12 schools from Austria, Hungary and Slovakia. DVAC holds a mid-season festival and a season-end tournament to claim DVAC champions.
Annually we participate in the DVAC boys' soccer and girls' volleyball in the fall and boys and girls basketball in the winter. Students have also particpated in DVAC x-country, swim and tennis competitions.
Since 1990, AIS-Salzburg has hosted a boys and girls basketball Jamboree in March which features teams from international schools from around Europe, typically out of Austria, Germany, Hungary, Slovakia, Czech Republic and Switzerland. The week leading up to Jamboree is "Spirit Week" where students get in the spirit of competition by dressing up to another theme every day that week.
The two-day tournament is held at the end of Spirit Week and the entire school comes out to support their Lions at the RIF Sports Centre.
Each spring, the entire student body, administration, faculty and resident staff are divided up into teams to participate in a full day of sporting and fun events. Point totals are tallied for each event and the team with the most points is presented with the Sports Day Cup at the end of the day.
Although the actual listing of events may be altered slightly from year-to-year, Sports Day includes competition in team sports and individual track and field events with a few fun events thrown into the mix.