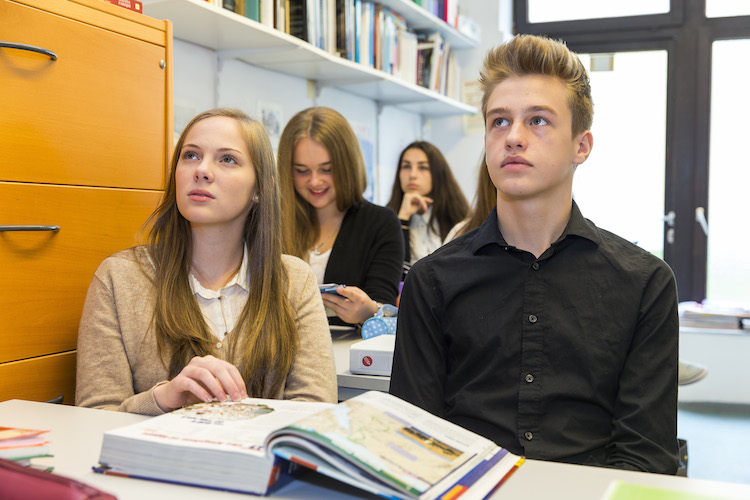 Scholarships and Financial Aid at AIS-Salzburg
At AIS-Salzburg, approximately 10-15% of our students receive financial assistance on tuition and fees in the form of scholarships. The average level of financial assistance is around 50% off the total tuition and fees as listed and published annually (see tuition and fees table here).
Scholarship awards are granted based upon evaluations in three areas of student engagement:
Academic Success
Social Engagement
Extracurricular Involvement
Generally speaking, academic success is typified by excellent or outstanding accomplishments in formal academic courses, examination results, and above-average motivation and high levels of effort sustained over an academic year. Outstanding social engagement is typified by involvement in volunteer activities in or out of school, engagement in causes for the improvement of society or individuals or providing direct assistance to those in need. Extracurricular involvement can include sports, student government and other similar organizations.
Because of the inherent difficulties in evaluating the success, engagement and involvement level of students who attend schools around the world, the AIS-Salzburg administration limits all scholarship awards to returning students who have completed at least one year of enrollment at AIS-Salzburg or at least four weeks of the AIS-Salzburg Summer Language Program. This ensures the fair and equal consideration of all candidate accomplishments within a known context; allowing us to grant awards that are justifiably deserved.
To this end, there are two means by which a student may qualify and apply for a scholarship at AIS-Salzburg: by either
(A) proving their abilities during a school year at AIS-Salzburg
or
(B) proving their abilities over four weeks of the Summer Language Program at AIS-Salzburg.
A. Scholarships for Previously-Enrolled AIS-Salzburg Students:
Minimum Requirements:
Successful completion of one school year at AIS-Salzburg
Entering grades 9, 10, 11 or 12 in the following school year
Scholarship Details:
Award level: from 25% to 50% off published tuition and fees for the school year
Excluded from award: incidentals account, visa costs
Timeline for applying:
April 15: Application materials received and filled out
April 30: Application materials submitted
May 15:  Final decisions made by AIS-Salzburg administration
May 31: Revision of invoicing for the coming school year/visa renewal
B. Scholarships for AIS-Salzburg Summer School Students
Minimum Requirements:
Successful completion of four weeks of the AIS-Salzburg Summer Language Program
Entering grades 9, 10, 11 or 12 the following school year
Acceptance by AIS-Salzburg following submission of application for the school year
Scholarship Details:
Two, 50% scholarships offered to two students selected
Scholarship award represents a 50% reduction of published tuition and fees
Excluded from award: capital assessment fee, incidentals account, visa costs
Timeline for applying:
January to May: Submission of application to AIS-Salzburg with acceptance
May 31: Registration into the first two summer sessions (four weeks total) in July
July 31: Submission of scholarship application materials and references from AIS-Salzburg summer staff members
August 1: Final decisions made by AIS-Salzburg administration
September 1: Revised invoicing and enrollment information sent Enrollment for the school year
For further information, please contact the AIS-Salzburg administration at admissions@ais- salzburg.at or [email protected]