A Year Abroad at AIS-Salzburg
The chance to live and learn in Salzburg, Austria is open to students from around the world.  Our programs are designed to prepare international students for a successful university career both academically and personally.  However, the opportunity to join the AIS-Salzburg student body is not restricted to those who wish to complete the entire program through to the AIS-Salzburg High School Diploma.  We also open our doors to qualified students who wish to spend a year abroad in this beautiful location.
Taking a year abroad from your present secondary school and joining the AIS-Salzburg community can be an incredibly enriching experience:  full of challenges, new and exciting experiences, and give you a much broader, first-hand perspective on the world and your place within it.  At AIS-Salzburg, the world is your classroom and your classmates and friends are the global community.
The flexibility inherent in our college-preparatory curriculum allows us to moderate and accommodate most of the requirements of other education systems.  Our excellent and dedicated teachers and caring resident staff will both challenge you to new accomplishments as well as guide your experiences to the greatest benefit personally and socially.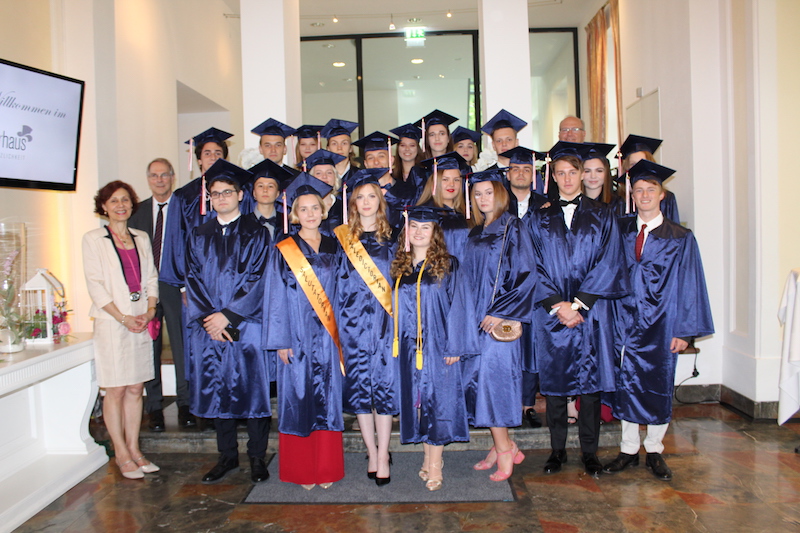 Here is a short list of the advantages of spending a year abroad at AIS-Salzburg:
Grow in confidence, maturity and self-discipline through experiences beyond the familiar.
Get ahead of other university applicants by enhancing and distinguishing your high school record with international education and travel.
Learn another language and broaden your cultural perspective.
Live in an environment of challenge, respect, trust and support and learn to thrive in a foreign land.
Join a worldwide group of friends for life.
Experience the joy, excitement, cultures and diversity of Europe firsthand before settling down to university studies and a career.
Students who are enrolled at AIS-Salzburg for a year abroad are fully integrated into our programs.  They enjoy all of the same advantages, opportunities and experiences offered to all of our students.  As a member of our community, they will become fully integrated into our values, our standards and our program of care, travel, athletics and academic preparation.
As a true boarding school with over 85% of our students living full-time on campus during the calendar year, you will join a group of fellow travelers who are here to experience the great advantages that living and learning in an international setting can provide.  The experience is second to none and the depth of personal development is profound.
Of course, there are prerequisite aspects of doing this successfully.  You need to consider:
your level of openness to new experiences, cultural differences and the diverse nature of an international community of students from around the world.
your level of maturity, self-discipline and flexibility required to overcome confusion, setbacks and possible misjudgments.
Your goals as a person, a student and as a future global citizen.
Your willingness to put forth great effort within a challenging academic program that provides the basis for a meaningful educational experience abroad.
Your personal, post-secondary educational goals.
If, in considering these points, you feel that you are ready to consider the challenge, then it's time to review the facts and technical aspects of engaging in a year abroad at AIS-Salzburg.
Academic Programming Compatibility
If you believe that your personal goals, your attitude and your character represent an adequate fit within the AIS-Salzburg Year Abroad Program, the first consideration will need to be the aspects of compatibility of curriculum in two directions:  from the perspective of your previous academic studies and the level of preparation this has provided you in your adjustment to our requirements; and, ensuring that the academic work accomplished while enrolled at AIS-Salzburg is compatible with the program you will eventually return to.
The first step is to consider your transcripts to date.  Review your previous coursework and results and compare these with the grade-level requirements at AIS-Salzburg (view).  You may find that AIS-Salzburg—as a purely college-preparatory school—has an accelerated curricular program in comparison; or you may find that the match is close to identical with your present program, especially if you now attend an American high school offering honors-level and AP® coursework.
Then, talk to your school or college counselor with your parents.  Lay out the proposal to them and get concrete answers to your questions.  These should include:
Will all of my coursework completed at AIS-Salzburg receive full recognition/credit upon my return?
Upon returning, what would be my likely schedule, what prerequisite coursework is mandatory, and are there any areas of flexibility in this (e.g., can German language qualify instead of Spanish)?
What courses would be absolutely required for me to take and pass while at AIS-Salzburg for a year abroad?
With answers to these fundamental questions, you should be able to give solid, fact-based consideration to joining AIS-Salzburg for a year abroad.
When you decide to contact the friendly staff at AIS-Salzburg concerning the possibility of applying for a year abroad, realize that we can be flexible to a significant extent.  For example, a year-abroad student at AIS-Salzburg can be enrolled in different levels of subject coursework given proof of previous study without having to be concerned about meeting our specific, prerequisite promotion requirements.  Let us know your specific questions and we would be pleased to offer solid advice which can be discussed further with your counselor.
As an accredited school (Middle States Association of Colleges and Schools), you can plan on any American secondary school accepting and transferring our academic credits toward their particular diploma with no time wasted or courses repeated.  Non-US curricular programs and schools may have demands that are incompatible with our programs, although very often these can be overcome with further information provided concerning the curricular content of our courses.
Students can also consider their senior year (grade 12) abroad at AIS-Salzburg.  In order to confirm this possibility, it is necessary that school transcripts from grades 9, 10 and 11 be sent to the AIS-Salzburg office where they will be reviewed and a credit transfer analysis carried out.  This analysis will determine if the number of academic credits granted for these three years is sufficient to enter our senior class and graduate at the end of the school year.
A quick review of our high-school credit requirements for the diploma can be reviewed here.  Further questions concerning an application for a senior year abroad can be directed to the school office at any time at [email protected]
Year Abroad Application Procedures
Students who apply to AIS-Salzburg for a year abroad, carry out the same application procedure as with all new students to the school.  This includes:
A completed Student Application Form (download)
Two recent teacher recommendations; one from your latest English (download), and one from your mathematics teacher (download)
Official transcripts and copies of present-year transcripts or grade reports
English testing if present enrollment is in a school in which English is not the language of instruction
These materials can be sent in individually or all together.  The admissions committee normally makes and admission decision within 48 hours of reception of completed materials.
Here are some responses to typical questions related to Year Abroad Program:
Q1:   Can I get a visa to study and live at AIS-Salzburg for a single school year (9 months)?
The school's official status within Austria allows us to avoid the visa quota system and basically ensures that all of our student and staff members who require a visa receive these.  Basically, there are two categories of consideration:  (a) students who require a visa to enter Austria; and (b) students who can enter Austria visa-free for 90 days.  For (a), the student must apply for the visa at least 10 weeks before planned arrival in Salzburg at the start of the school year.  The visa is processed through the deposit of the required documentation at the nearest Austrian Consulate to the student's family.  The school provides confirmation of enrollment, guardianship and the visa invitation.  The visa issued must then be picked up personally at the Austrian Consulate before arrival in Salzburg and is valid for the entire school year (through May 31).  Students (b), who can enter Austria without a visa, are allowed to come to the school and take up residence while the visa is being applied for here in Salzburg.  The school requires certain translated documents (birth certificate, confirmation of no criminal record, passport photo page, etc.) and submits these with the local authorities.  The students are then taken personally to pick up their visas at the appropriate office here in Salzburg.
Q2:  Can I participate in Sports Teams/Excursions/Other Events as a year-abroad Student?
Absolutely.  In fact, you are encouraged to do so as such events, travel and competitions will be one of the main reasons you would want to join us for the year.  In an international setting, involvement, for example, in a sports team will take you beyond Austria's borders to participate in competitions and tournaments in Hungary, Germany, Switzerland and elsewhere.
Q3:  As a year-abroad student, do I have to meet all of the academic load and credit requirements in place at AIS-Salzburg?
Yes.  As a full-time student at AIS-Salzburg, the load, promotion and graduation requirements apply equally to you as with all other students.  These requirements (link – Load Promotion and Diploma Requirements) will determine the number of hours of instruction required, the type of courses one must be enrolled in, and, eventually—by earning credit by passing these courses—whether the school year has been a success and allow promotion to your next level back home the following school year.
Q4:  Can a year-abroad student be a day student?
Enrollment for an academic year abroad at AIS-Salzburg is not restricted to full-boarders; day students may also apply and be accepted.   What is not agreed to is a situation whereby a student is enrolled as a day student, yet living on their own in Salzburg.  A minimum requirement for day-student enrollment at AIS-Salzburg is that the student lives with at least one immediate family member at a registered address in Salzburg, Austria or nearby.
Q5:  Can I enroll in higher-level courses (e.g., AP® courses) that are generally above my grade level while doing a year abroad at AIS-Salzburg?
If the student's previous academic record and recommendations indicate that sufficient preliminary work and requisite understanding is at hand, the school can enroll students in upper-level AP@ courses, provided these do not conflict with other, required courses.  For particular information concerning this, please communicate with the school office and express your interests in this direction.
Q6:  Can I stay at the school over the Christmas/Spring break period?
Unfortunately not.  All students depart our campus at the start of the Christmas Break period and return to the care of their parents and family for three weeks.  The Spring Break period is two weeks in length and, again, all students depart our campus.
Q7:  Do I have to study German as a foreign language while attending AIS-Salzburg as a year-abroad student?
Yes.  All students enrolled at AIS-Salzburg are enrolled in German language courses within their schedule as a school-wide requirement.  No previous knowledge of German is required for admission, however; one can begin with Introductory German (German I).
Q8:  As a year-abroad student, I would like to travel independently and without supervision from the school on weekends.  Can I do this?
Unfortunately not.  As a legal mandate, the school and its staff assumes legal guardianship of all boarding students at AIS-Salzburg.  Travel and sightseeing are built-in, however, to the weekend plan of activities, the excursions included in tuition, the sports programs and our weekend travel program which offers at least one overnight trip monthly.
Q9:  As a year-abroad student, do I have to sit final examinations at AIS-Salzburg at the end of the school year?
Yes.  The final examinations equal 25% of the final grade in all full-credit, high school courses.  Academic credit is awarded by the AIS-Salzburg administration based upon the final, year-end grade, which must be above 60% and is the average of four elements; the three trimester grade averages (25% each) and the final examination score.  AIS-Salzburg also denies granting credit if a final examination is not passed.  As a year-abroad student, you want to be certain that you gain all of the credits necessary to complete the AIS-Salzburg year successfully, as well as ensure that the transfer of these credits will allow you to be promoted back in your home school.
Q10:  What about health insurance while I am enrolled at AIS-Salzburg for a year abroad?
For students who can apply for a visa after arriving in Austria and beginning enrollment, there are two choices:  You can either maintain your personal/family medical insurance and the school will forward any bills or invoices for you to claim with them, or, you can subscribe to a policy offered by Generali which fully covers the entire school year at a cost of around € 1,100.00.  Students who require a visa to enter Austria will need to subscribe to this or a similar insurance policy offered by Generali or another Austrian provider as a part of their visa documentation requirement.
If you have further questions which have not been addressed here, please let us know at [email protected]