May 4, 2022
---
Varvara "Barb" Lytvnya enrolled at AIS-Salzburg as a grade 10 student in 2013 and graduated three years later in 2016. During her time at the school, Barb made quite an impact as a student and an athlete, leading the AIS-Salzburg Lions Volleyball Team to three straight DVAC Varsity Championships. 

Since graduating, Barb has obtained a BSc in Philosophy, Politics and Economics from Vrije Universiteit in Amsterdam and her MSc in Finance and Economics at the Universitá Degli Studi di Milano. She also took a part-time BSc Course in Fashion Business at the Amsterdam Fashion Academy. Barb is currently finishing off her studies in Digital Marketing at the University of Amsterdam. 

We invite you to read our brief interview with Varvara below. 
AIS-Salzburg: What is your end goal with university?
Varvara: Making myself ready for the ambitious plans I have in life. 
AIS-Salzburg: How has college life been?
Varvara: It went quickly and it was quite diverse: from intense chilling to intense stressing. 
AIS-Salzburg: Do you have any advice for our seniors heading off to college in the fall?
Varvara: Do not compromise your dreams, just do ONLY what you really care for.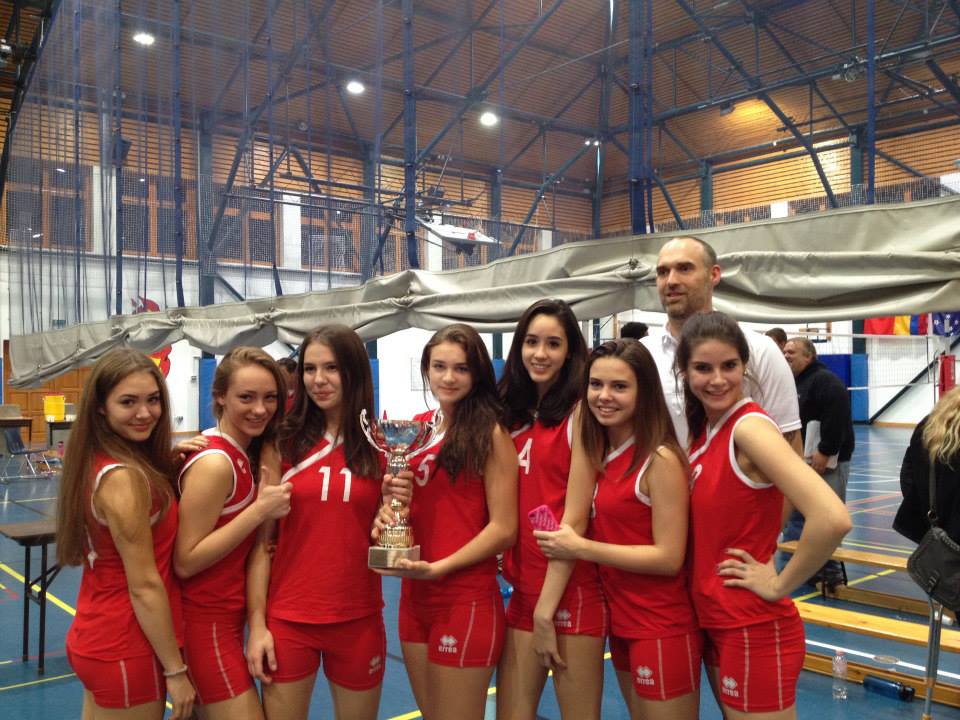 Photo: Varvara (#11) was named the AIS-Salzburg Athlete of the Year in 2015 and 2016 and the Most Valuable Player for both the girls' volleyball and basketball teams in each of her three years at the school.  
AIS-Salzburg: Can you tell us about your Ukrainian refugee aid initiative?
Varvara: In the beginning, I worked mainly with Ukrainian refugees who were arriving in the Netherlands (even got noticed by a local newspaper )  and were looking for accommodation. During the first weeks of the war, there was no official procedure and locations for accepting refugees in the Netherlands but a lot of Ukrainians were already arriving in the country. So, I was a mediator between Dutch families—that I was searching on the internet in different Facebook groups mainly—and Ukrainian people who were looking for accommodation (I was also finding them in Facebook groups, Telegram evacuation chats or sometimes it were people who I knew from family connections/friends). Out of this, a Facebook group came out that I am at the moment only moderating. The group is not super well organized but still, a lot of people find it very useful and it grows slowly but organically. 

Then I am raising money for humanitarian help and mainly medicine that my relative purchases directly in Ukraine. He posts all of the purchases he makes from our donations on his Twitter. A few friends promoted this initiative via their network or inside of their companies (i.e. PwC, G-Star). So far, we raised and transferred to him 5000+ Euros. 

Also, together with another volunteer, Maria we organized 5 evacuation buses from Mykolaiv (via Odesa) to Warsaw. We did those buses at the end of February/beginning of March. We just found a bus company that was willing to go to a war zone for money and found sponsors (sometimes the bus was fully covered by a sponsor, sometimes only partially and we had to raise money to cover the bus or some passengers in the bus who could pay, we're also paying to a driver directly) and in different group chat we were searching for people who want to leave. In total, we evacuated 186 people. 

At the moment I am raising more money for medicine and in contact with other organization that supports refugees here, organizes humanitarian aid collection and delivery to Ukraine, we are thinking of maybe organizing the raise-funding event (e.g., game night, charity dinner – the negotiation process is still ongoing).
AIS-Salzburg: What is the best way for people get involved? 
Varvara: The best and easiest way to get involved is to help me spread (reshare) my posts for fundraising. Also, if you know of a refugee who would be coming to the Netherlands and would need accommodation/job – you can give my contact to this person so I can help. Finally, if you have any ideas of how you possibly can contribute – please reach out to me any time. 
UPDATE: Since the interview, Barb accepted her first post-university job as a Merchandising Assistant with PVH Clothing Company starting the 15th of June. Barb is particularly excited to be working in the fashion industry and is looking forward to being involved in the intersection of sales, collection building process, and future forecasting.