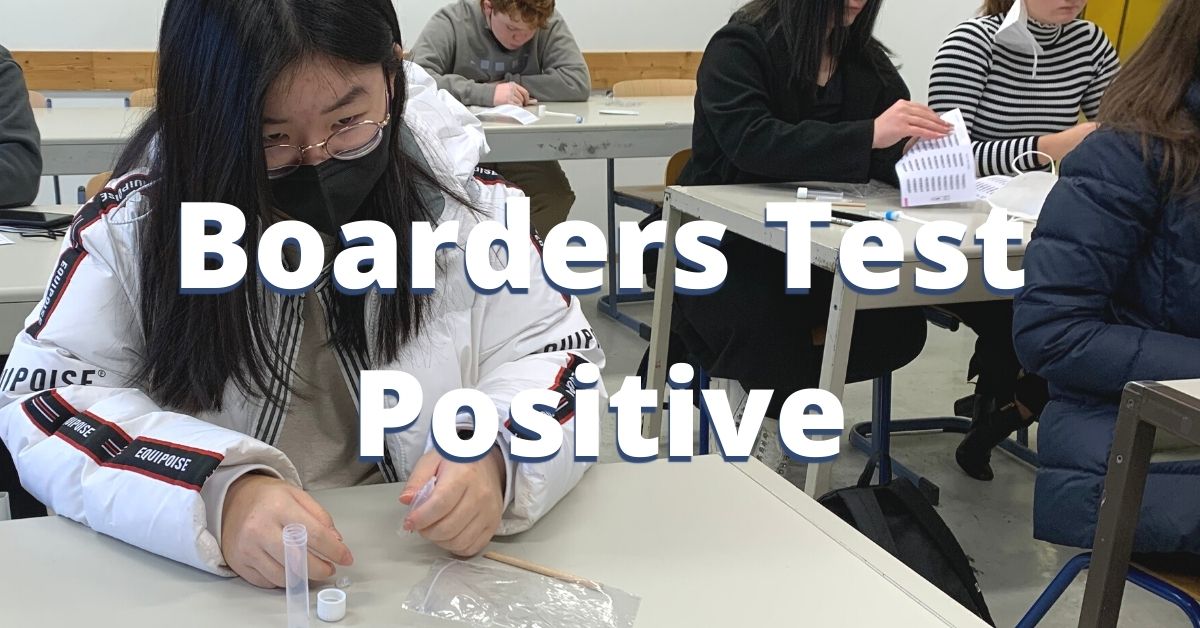 January 27, 2022
---
After a 22-month streak of zero Corona cases within our boarding community, our walls have finally been penetrated by the most-recent and highly infectious version of the SARS-CoV-2 virus: Omicron. Since the return from break, four students, a resident assistant and two teachers have tested positive. 

When either an antigen or PCR test turns positive for a non-resident teacher or staff member (or even when a teacher has any symptoms of illness) they are removed from duty and return to their homes. Their classes and responsibilities are immediately covered by other teachers and administrators that can assist. Since we are currently engaged in hybrid/online instruction for students who are presently at home, unless the teachers are feeling too ill, they are able to join the class digitally while another staff member is present to assist and supervise.
 
"Our main focus at this point is to isolate those infected from the rest of the community as soon as possible," said Health Coordinator, Joe Suttmann.

Day students who test positive are isolated immediately until their parents can take them home. Boarding students who test positive are sent to the off-campus quarantine facility.  

"We had a great stroke of luck. We are the beneficiary of a guest house belonging to the parents of a student, that was offered to us as an off-campus place of quarantine. There are four bedrooms, each with two beds and a full bath. One of the rooms is dedicated to a staff member who supervises infected students 24 hours a day. That means we have room to quarantine up to 6 infected students off-campus, only two kilometers away," said Suttmman. In fact, the guest house sits on top of a hill, it has a beautiful view and it is part of a castle complex. 
Photo: AIS-Salzburg students who test positive for the Corona Virus are sent to what some are calling the "quarantine castle." Photo Credit: Wikipedia
Students who test positive are mandated by the state to go into a ten-day quarantine. They can test out after five days if they test negative. Breakfast, lunch and dinner are brought to quarantined students each day. A student who has spent an extended period of time with an infected person while unmasked must go into isolation for five days. In most cases, this is the roommate of the infected person. So far, only one contact person was infected. Both quarantined and isolated students can keep up with their school work through Google Classroom and by joining classes live via Google Meets. 

"During the school day, all students, faculty and staff members, including kitchen staff, are wearing masks all the time," said Suttmann of the measures in place to protect the community. " Unfortunately, we had to limit the amount of time the kids can be out in the community at large. During the week, they are permitted to leave campus for 45 minutes per day and on weekends they get two hours per day. It seems like it has worked pretty well for us and limited the number of cases in our quasi-bubble," added Suttmann. 

Weekends activities such as skiing and Physical Education continue with a rather intensive risk assessment. For the ski day this past Sunday, a resort was chosen that was generally not very crowded and it was a place where a minimal amount of time would be spent inside of a gondola. 

Despite the recent positive cases within the AIS-Salzburg community, Suttmann's outlook is on the positive side:

"Our infected numbers are way lower than what is happening in the general population. If that situation were to change for the worse and our off-campus quarantine location was to fill up, there are a number of empty rooms on campus that are available."