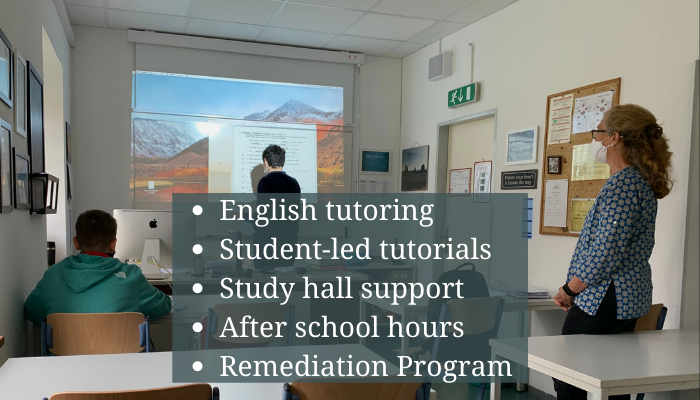 November 8, 2020
---
Need help with English? AIS-Salzburg has got you covered.
Providing students with the extra help they need to succeed is a top priority at AIS-Salzburg. The school offers tutoring to students in all subject areas. AIS-Salzburg also has a student tutoring program. Students with high proficiency in different subject areas are recommended by their teachers. They are then paired with students who need help. It is a win-win situation. The student tutors get the satisfaction of helping other students (with the extra benefit of earning community service credits). The students who need help are often paired with a student who can explain the material in their native language. 
AIS-Salzburg also has a comprehensive daily English tutoring program during the academic day. In this program, students receive individual attention in addressing their specific problems with English and help in understanding the material of their other academic class. Students enrolled in this program have five hours of individual customized tutoring per week.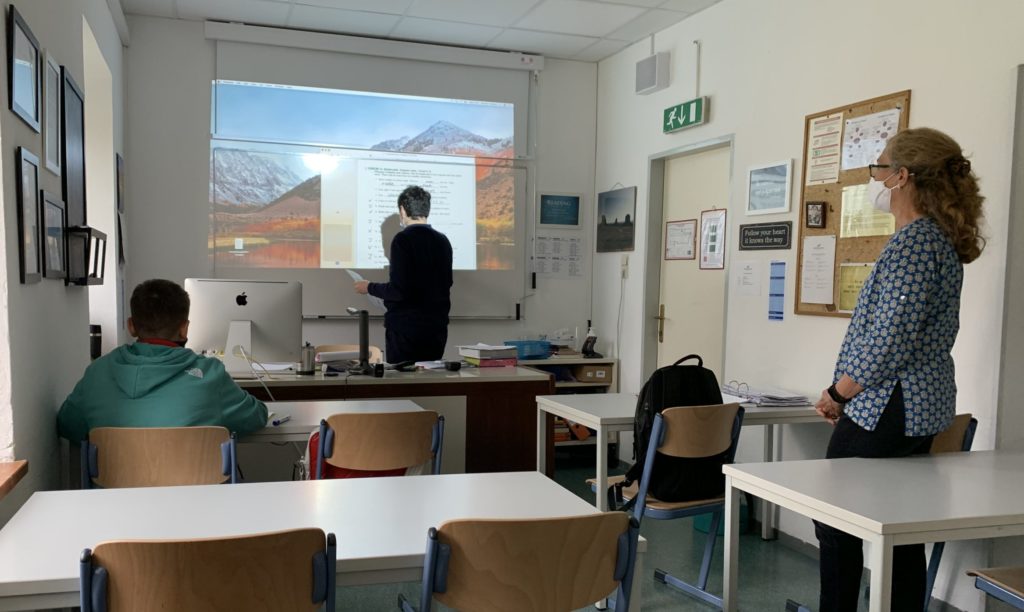 Photo: Scheduled English tutoring during the academic day with Mrs. Fratianni
Need extra help in math? Science?
The general student population at AIS-Salzburg has the opportunity to meet with teachers after school during office hours –four hours per week– to ask questions and for extra help, however, some teachers often stick around for hours after the final bell to work with students. The prime example of this is Mr. Lichty, who spends up to 12 hours a week outside of academic hours helping students with their math struggles. Mr. Leicher is another teacher who spends countless hours with science students after school. With that being said, it is no secret that both teachers take full advantage of the free dinner that follows a long day at the office!
Photo: Mr. Lichty working with a student after school
Need help in the evening?
In the evening, students enjoy the benefit of having recent college graduates as big brothers and sisters in the form of Resident Assistants (RAs) to support them with their studies. Often RAs have a background in Education and are trained and even experienced in working with young students and their academics. For example, current RA Matt has a Bachelor's Degree in Secondary Education Social Studies and History and RA Kathy has a Bachelor of Science in Neuroscience which was followed by a Bachelor of Education with a concentration at the intermediate/senior level, qualifying her to teach biology, science, and geography.
Photo: Resident Assistant Kathy (left), helping a student in study hall
Lacking dedication towards your schoolwork?
We have now established that there are plenty of opportunities to succeed at AIS-Salzburg for all students. However, students who decide not to take advantage of office hours will often find themselves on remediation, a program designed to help bring their grades up. Remediation can come in a number of forms, one being a mandatory, after-school, teacher or student-led tutorial. 
In summary, there are multiple ways for students to receive the help they need. Across the board at AIS-Salzburg teachers are willing to go that extra mile for their students, especially if their students are matching giving back that same effort in return. Therefore take note students and parents, that as we transition to online education once again as of November 16th, students will not be alone and teachers will once again make themselves available to go over and above for their students who are seeking that extra help and actively pursuing better academic results.