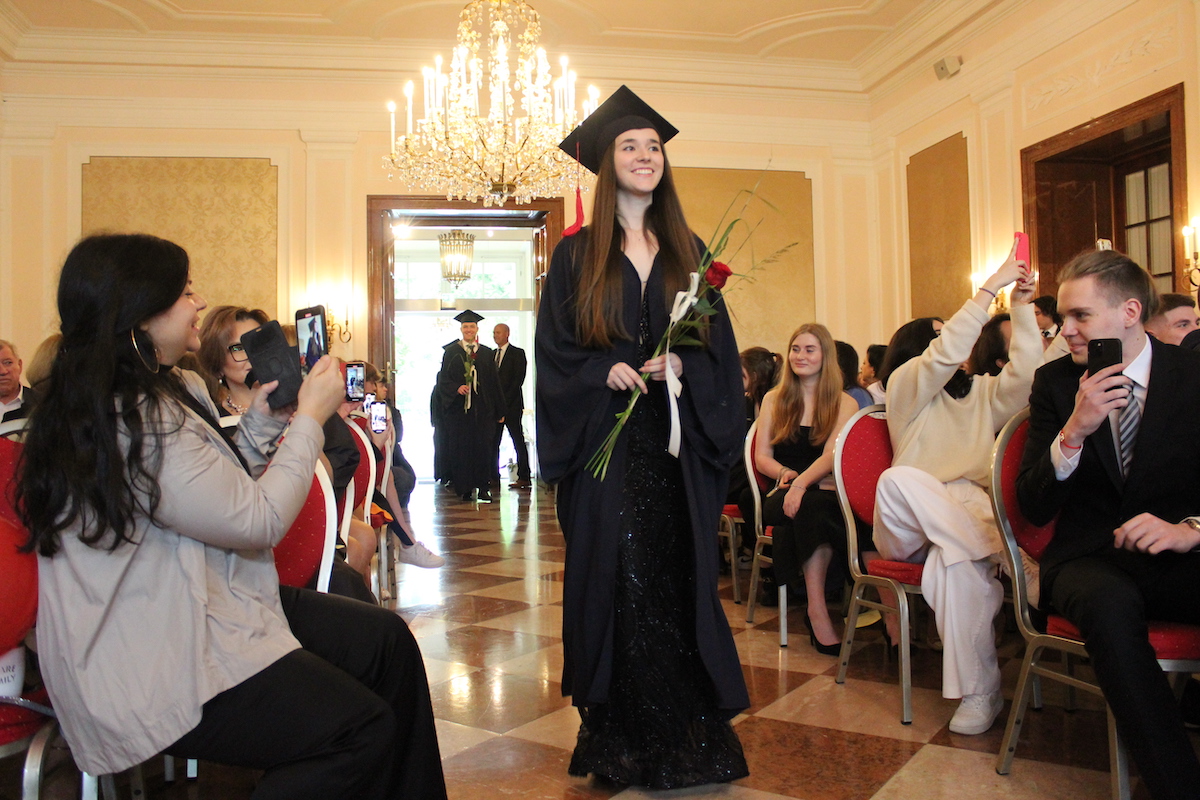 May 26, 2023
---
The Commencement Exercises at AIS-Salzburg represent the most important and significant of all annual events at our school.  Seniors commence to become alumni after receiving their very hard-earned diplomas and receive our blessings and high hopes for a successful and satisfying future.
Our commencement exercises are held at the Kavalierhaus at Schloss Klessheim on the outskirts of beautiful Salzburg.  By tradition, the members of the senior class of 2023 entered to the strains of Pomp and Circumstance by Edward Elgar played by the Pro Musica Quartet led by Ms. Lardschneider of our teaching faculty (see video below).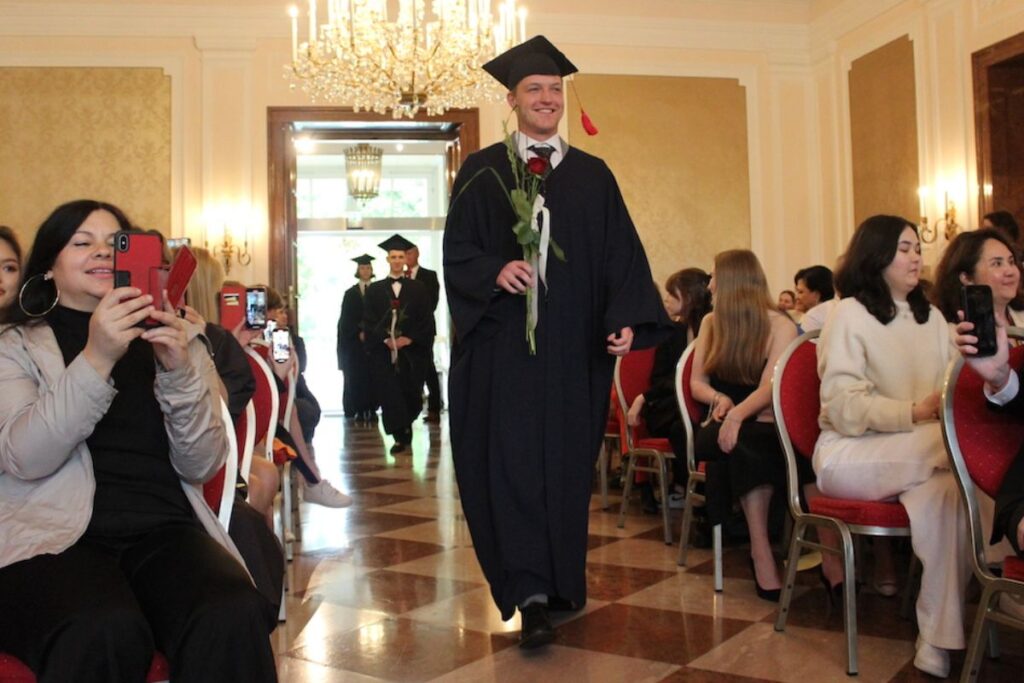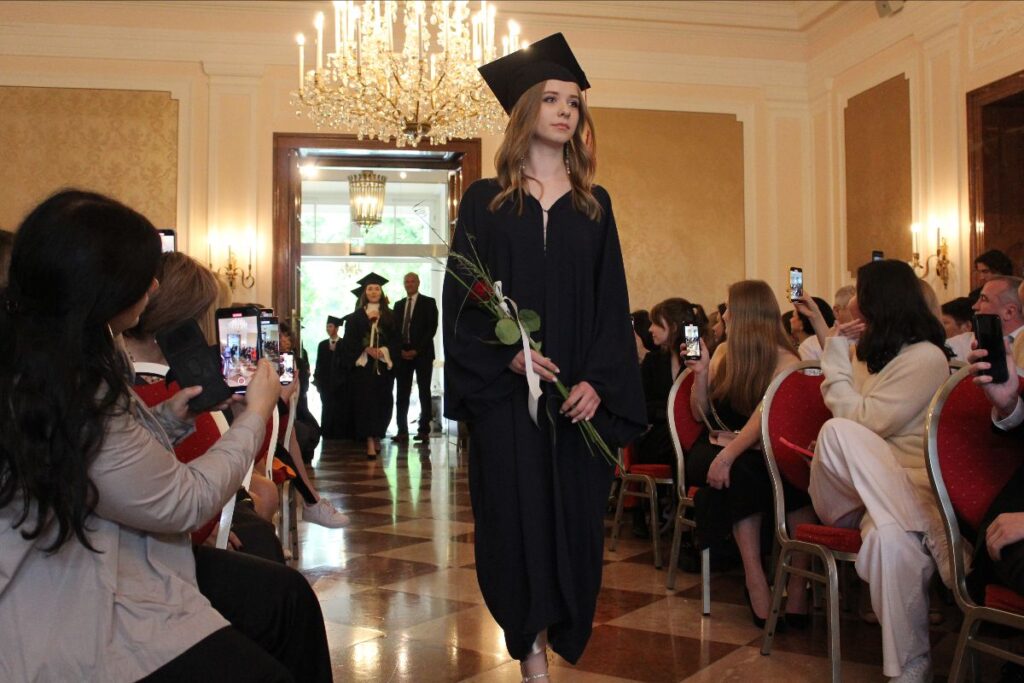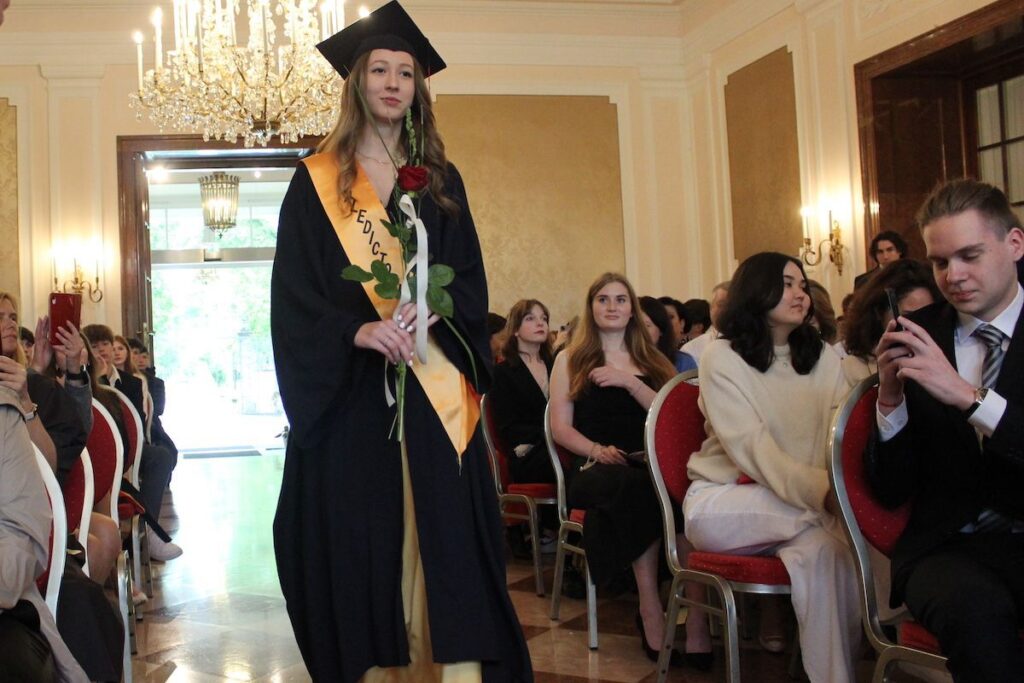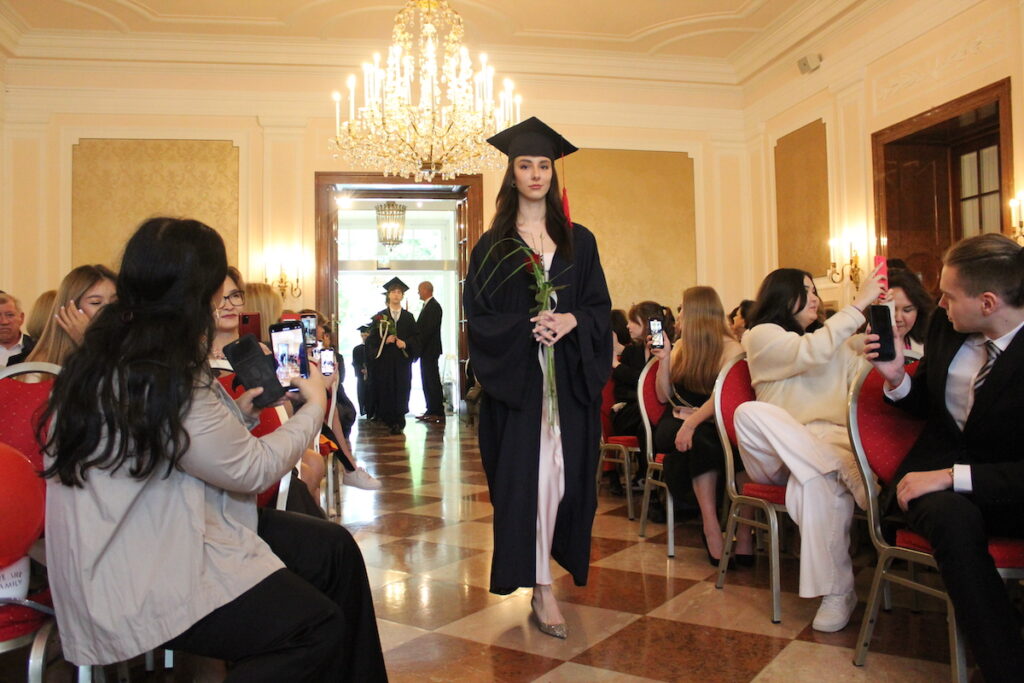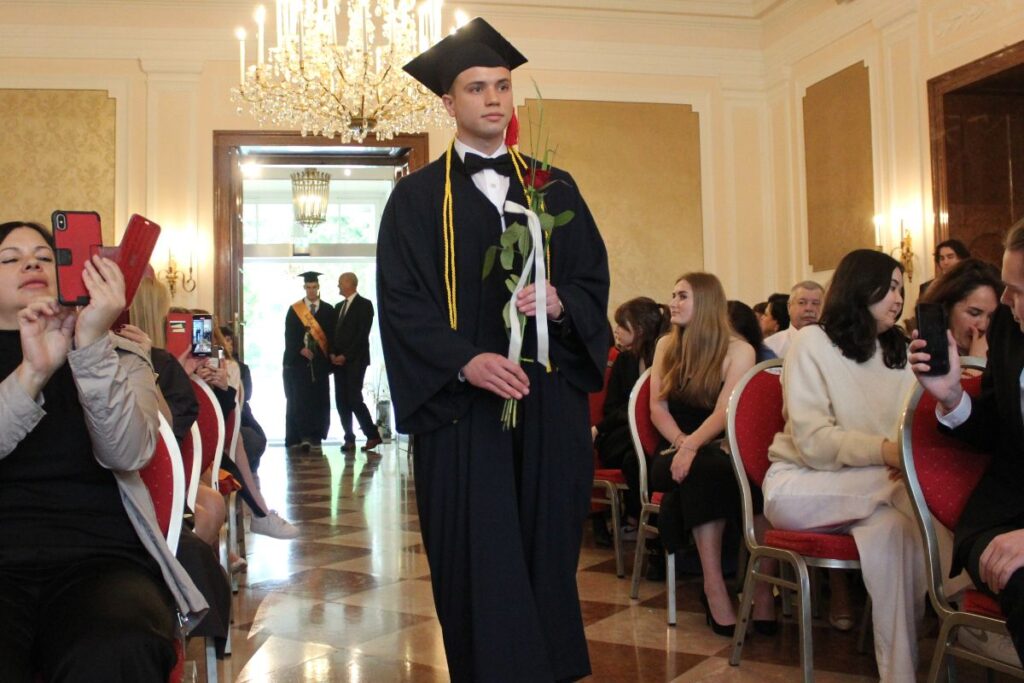 Photos: As every year, the senior class of 2023 entered the Commencement ceremony to the strains of Pomp and Circumstance. 
By tradition, the class Salutatorian, Adam Hathaway, welcomed the audience of families, friends, and classmates and summarized a year of growth and development, accompanied by solid advice for her fellow class members.  Dmytro Pyrohovskyi, the European Council for International Schools Award for International Understanding winner, then addressed the class and guests with poise and great maturity after being introduced by Ms. Fox, the Dean of Students.

While the Pro Musica Quartet played Mozart's Divertimento in D, the graduates left their seats and presented a rose to their family members and loved ones; a touching and emotional expression of their gratitude and appreciation to those who supported and strengthened their resolve again and again.

Valedictorian, Carolina Häusler, after being introduced by Mr. Agardy, the College Counselor, presented a touching and heartfelt speech which included a thank you to his friends as well as his family, moving many in the audience to tears.  Mr. Jeff Agardy then presented the Commencement Address to the Class of 2023, fulfilling the seniors' wish that he do so—an indication of the high regard and respect they have for her efforts both as an instructor and as a supporter of their labors throughout the year.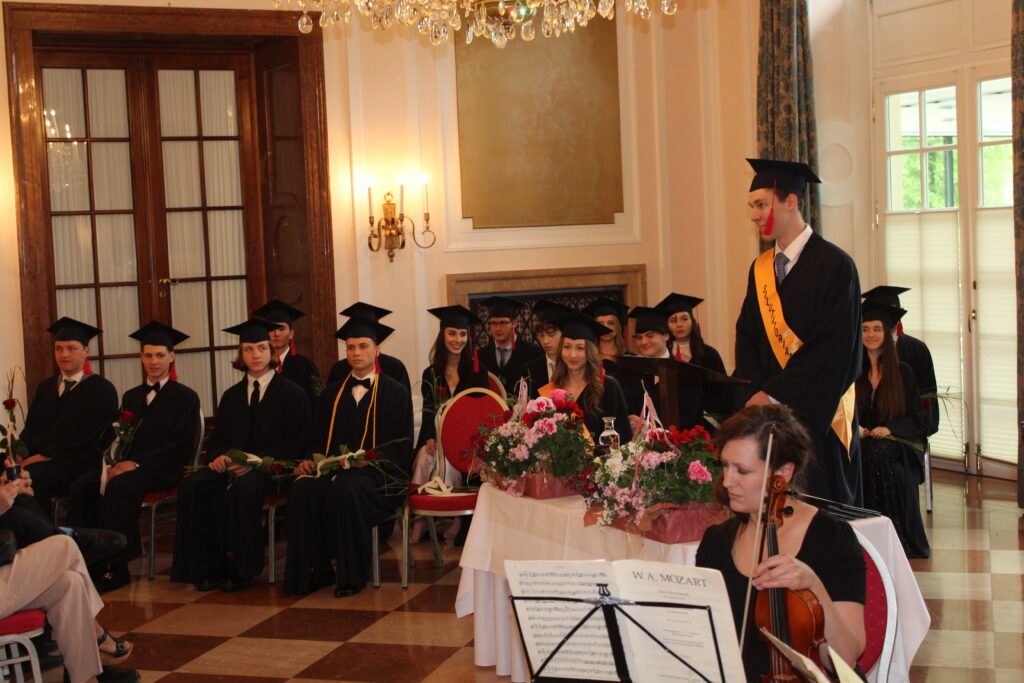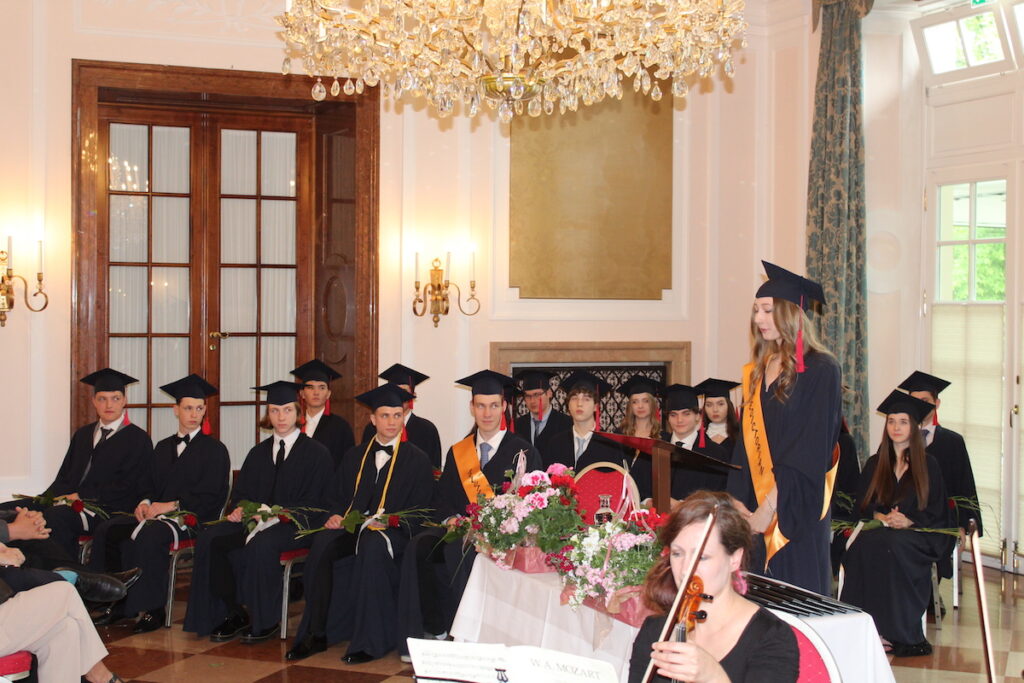 Photo: Salutatorian Adam Hathaway (Top) and Valedictorian Carolina Häusler (bottom), deliver their speeches at the 2023 AIS-Salzburg Commencement. 
With the awarding of their diplomas, the individual members of the class completed the last requirement for graduating beyond secondary education and received their qualification for further studies at the universities of their choice.  With caps thrown into the air, they fell into each other's arms, rejoicing at their accomplishments, but saddened by the conclusion of their time together in Salzburg, Austria.

We invite you to join us in celebrating the achievements of a class that will be remembered within our community for many years to come.