July 13, 2022
---
Earlier this month, all AIS-Salzburg students who sat Advanced Placement® Examinations in May were notified of their results. Such examination outcomes are a critical aspect of the qualifications of many of our students who wish to either gain entrance into European and other international universities or meet the admissions qualifications at more selective universities in the US and North America. Therefore, these examination results are awaited with great anticipation by the students—but also by their teachers and parents.
This spring, 87 AP Examinations were sat by over 20 students enrolled at AIS-Salzburg in grades 11 and 12 primarily. This represents roughly 25% of our student body. A large majority of these students registered for and sat AP Examinations following completion of a credit-bearing course in the subject this past year. A few others signed up for AP Examinations in subjects that are not offered at AIS-Salzburg in our regular, curricular program.
The results are far above expectations and some of the best returns on these examinations that we have seen in many years. The students and faculty instructors of AP courses can be very proud of their accomplishments and take pride in gaining the preparation required to pass these very challenging, university-level examinations.
Here's a quick breakdown of the 2022 results.  AP Scores are graded with scores of 1 through 5; five being the highest possible score.  The minimum passing score is 3.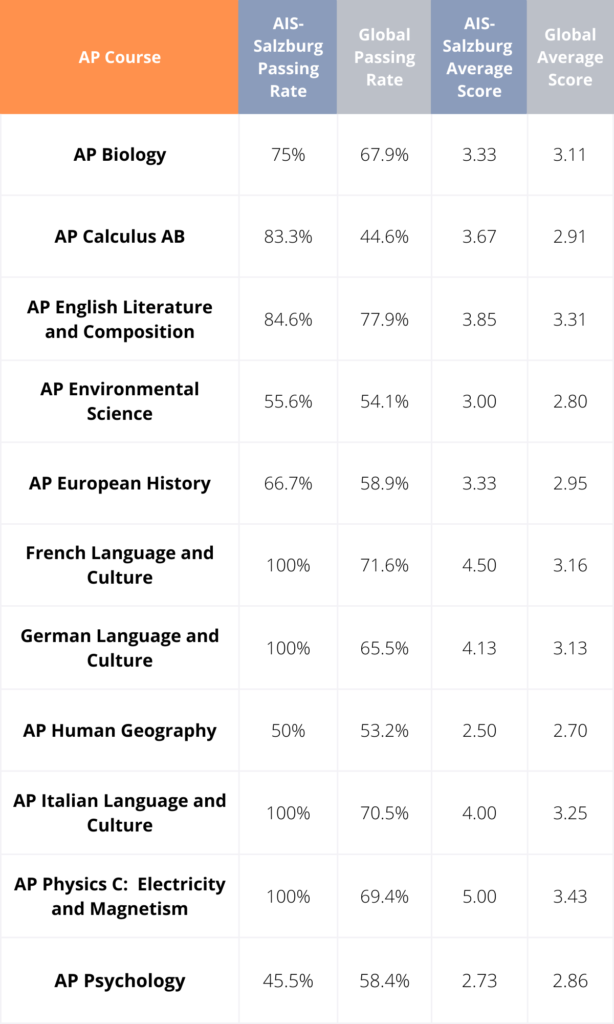 A special word of congratulations on these outstanding accomplishments is in order, given these returns.  Although we can identify these seniors by first name only, I hope that this doesn't detract from the remarkable talent, motivation and year-long effort these young people have demonstrated in their areas of academic excellence.
Andi H. 
As a 16-year old senior, Andi took 9 AP Examinations during his high school career and scored 8 5s and one 4.  Not only is the total remarkable, one should also realize that these examinations were in subjects as varied as German language, English literature, physics, history and mathematics.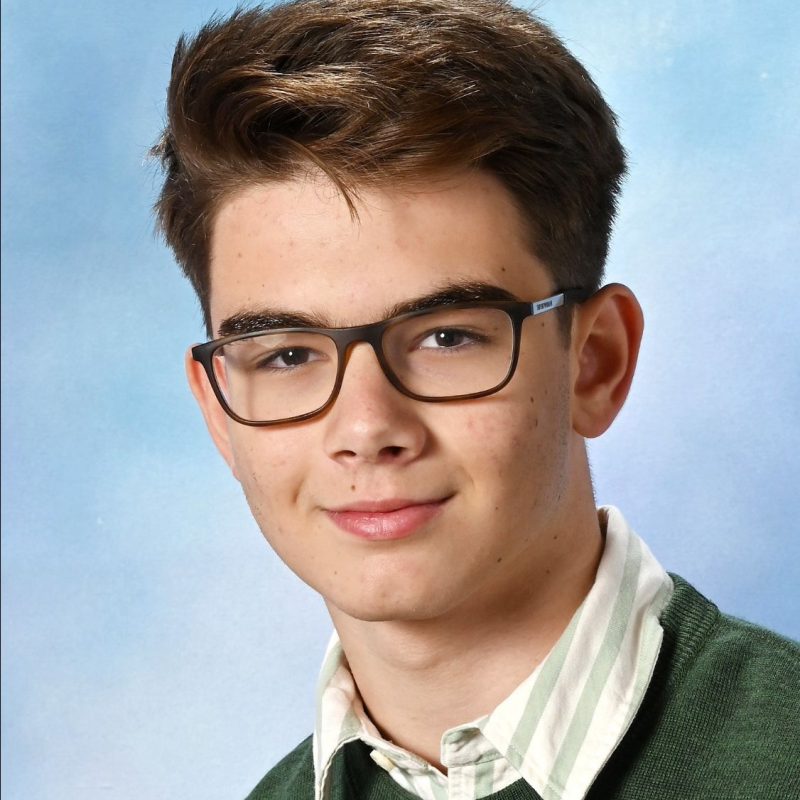 Varia B. 
Varia sat 8 AP Examinations in high school and passed all of them; 7 with a score of 5.  Her written expression and remarkable memory provides a model of success and excellence for any high school student.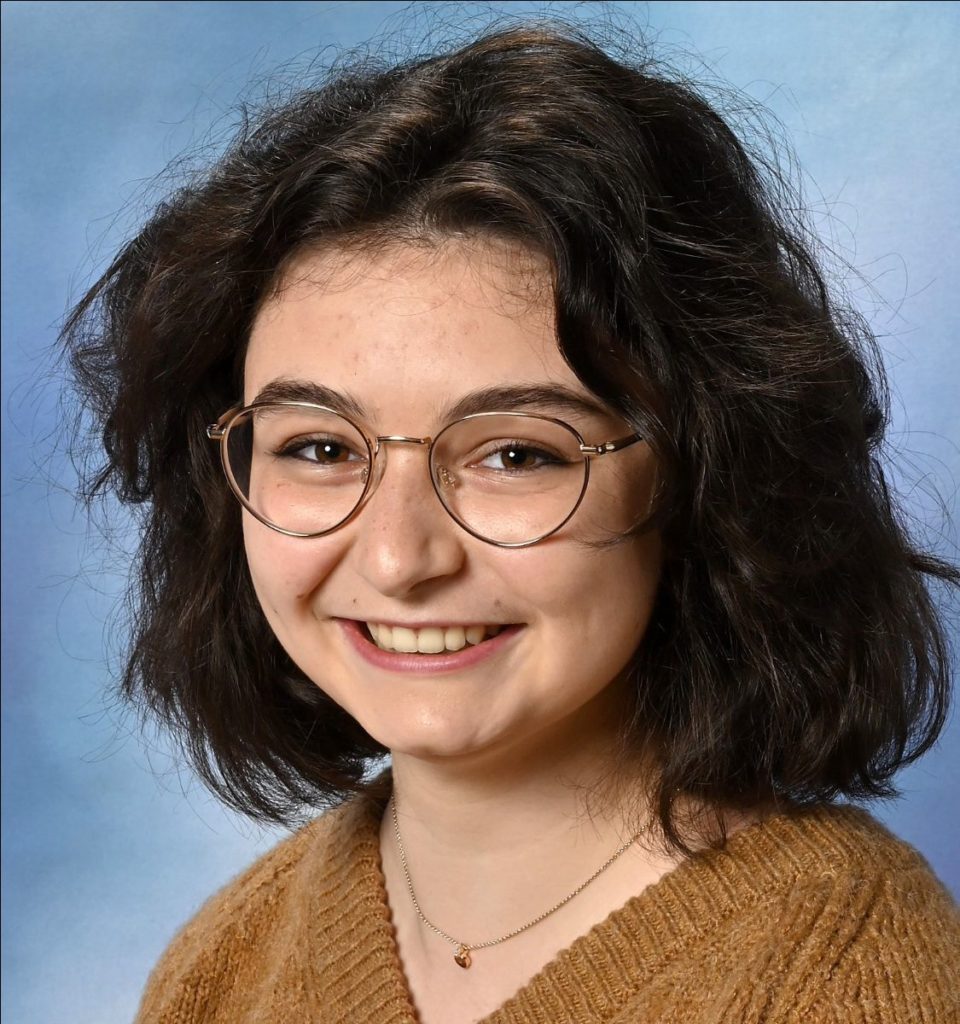 Helene S:  Passed six AP Examinations these past two years, scoring 5s on five of them, and 4 on the other. 

Sonja T:  Collected scores of four 5s and one 4 on five total AP Examinations

Diana S:  Passed five AP Examinations; the equivalent level of study as a full year at university; 3 5s and 2 4s.

Claire H:  Sat seven AP Examinations, passing four of them with the highest score of 5.

Luisa W:  Passed five AP Examinations; two with the score of 5

Yuting X:  Passed five AP Examinations taken in the past two years.

Zach P:  Sat and passed four AP Examinations.

Emre M:  Successfully passed four AP Examinations.

Cristian T:  Passed 3 AP Examinations this year.

Lily P:  Took and passed three AP Examinations this year.

Special mention also goes to two juniors who are ready to match the challenge represented by the seniors mentioned above.  Adam H. took two AP Examinations this year, scoring perfect 5s on both of them.  Carolina H. has now completed four AP Examinations, all with scores of 5 and 4.  By the time these two graduate, we believe that they will also astonish us with their final AP Exam record.

Advanced Placement Examinations were developed in the 1950s as a means for talented high school students to begin university-level work while still in secondary school whereby sitting an external examination in a subject and receiving a passing mark, would gain recognition and the granting of university credit by tertiary educational institutions.  With four or more AP Examinations passed, many universities consider this sufficient qualification for entering as a second-year student.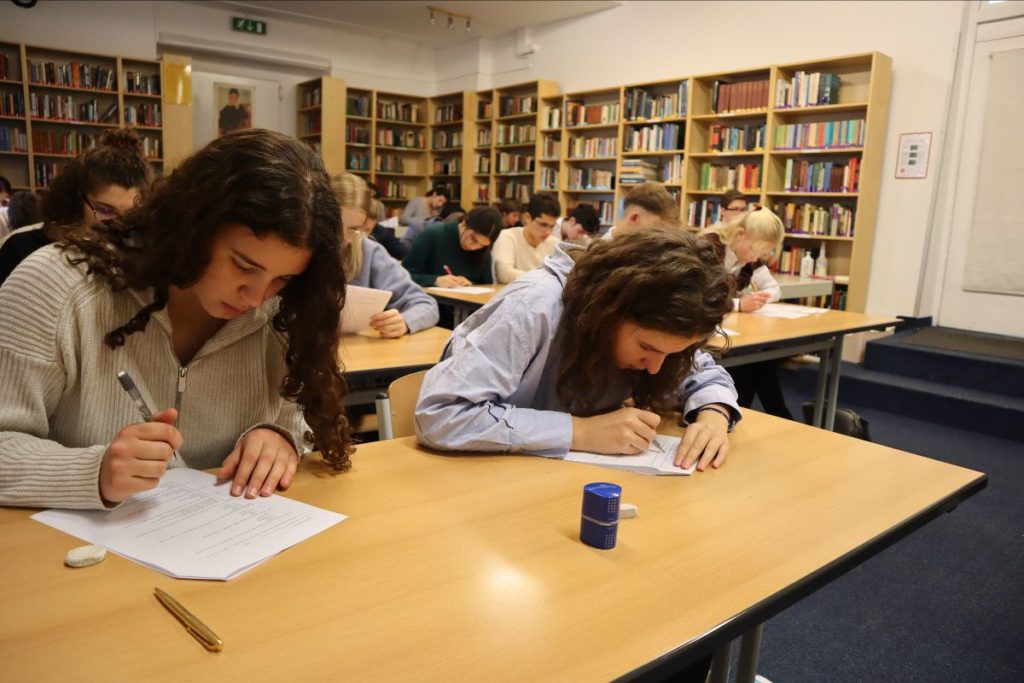 Photo: Seniors from the 2021-2022 school year take an AP Human Geography quiz. 
At AIS-Salzburg, AP courses and examinations are primarily seen as a means to (a) gain acceptance to more selective university programs, and (b) meet the diploma equivalency requirements of foreign universities.  For example, students who apply to top programs in the U.S. (Harvard, Brown, Columbia, Yale, Princeton, Stanford, etc.), will be expected to demonstrate excellent understanding of university-level subject matter through the passing of a high number of AP Examinations with excellent results.  If a student enrolled at AIS-Salzburg desires entrance into the Austrian University system, they can qualify—despite not having an Austrian Matura—by meeting three requirements:  (a) achieving the AIS-Salzburg diploma, (b) proving a German language proficiency level above B2, and (c) passing a minimum of four AP Examinations; one of which must be in mathematics.

Although very challenging and dependent, to a great extent, on having experienced and highly-knowledgeable instructors to deliver the material to high school students, AP coursework represents the centerpiece of the AIS-Salzburg program of preparation for university.  Given this, we are very proud of the continued success of our students to both achieve remarkable success on AP Examinations, but also take direct steps toward gaining access to some of the best universities worldwide.  We are remarkably proud of you!