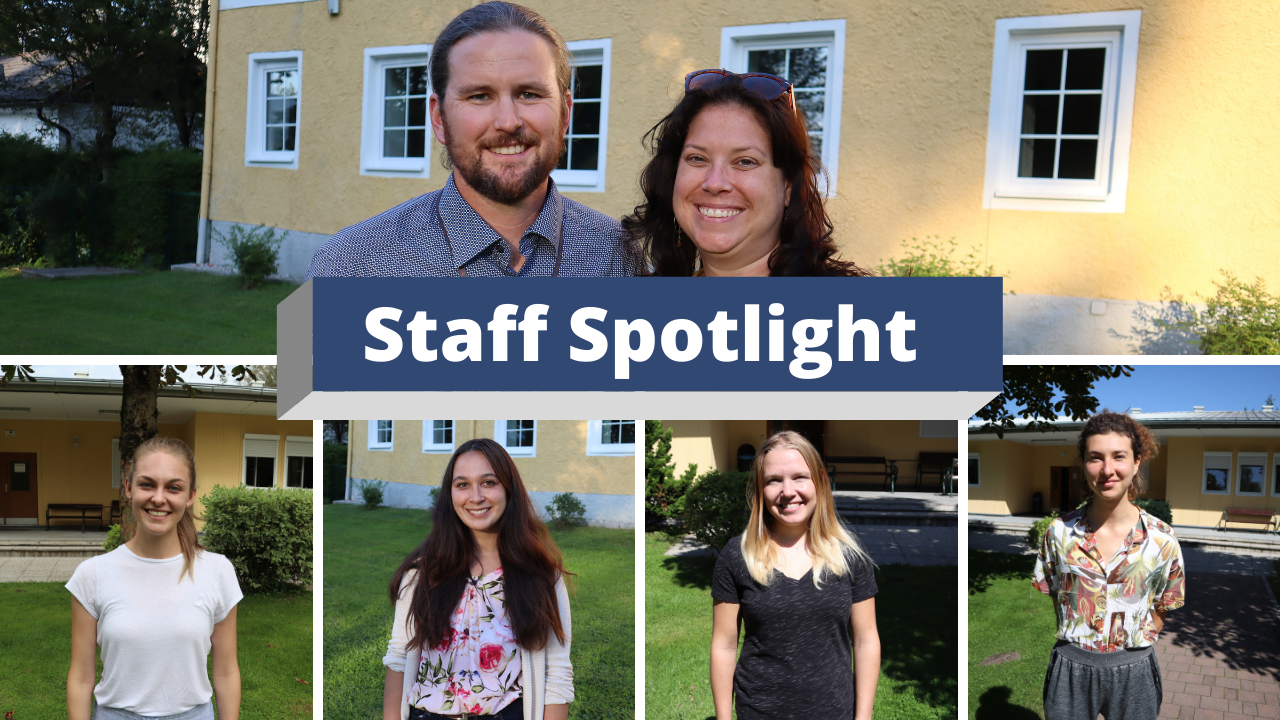 September 9, 2021
---
There are few new faces amongst the teaching faculty and resident staff this school year. We managed to catch up with each them for a short interview. 
We start off with Kevin and Laura Fox. A married couple, the Fox's are working closely together on the resident side of the school, with Kevin as a new dorm parent and weekend activity coordinator and Laura as the new Dean of Students, taking over for Cassandra Baehler who transformed to teaching. Kevin and Laura bring a wealth of experience with them having both worked in education for over a decade —much of it at a boarding school– and most recently at an international school in Prague, Czech Republic. In this video interview, they introduce themselves and go into more detail about their backgrounds and why AIS-Salzburg is a perfect fit for them. This interview took place in the summer prior to the school year. 
Lara Fuchs —not to be confused with Laura Fox— joined the teaching faculty this year as a German teacher. Lara grew up in Zell am See, which is about an hour and a half drive from Salzburg. 
AIS-S: What is your educational and/or professional background that applies to your new role as German teacher at AIS-Salzburg?
LF: In 2019, I obtained my bachelor's degree in teaching English, Russian, and German as a foreign language. I am currently in the midst of finishing my master's degree in the same field. As part of my studies, I taught German as a foreign language at Bowling Green State University in Ohio last semester as a Fulbright Language Teaching Assistant.
AIS-S: What attracted you to AIS-Salzburg as your next employer?
LF: Since spending an exchange semester in Arkansas at the age of 15, I have felt a strong connection with the English language. When I came across the job opening at AIS-Salzburg, I knew I was destined to apply. It gives me the opportunity to combine two things I have come to love, teaching my native language and using English on a daily basis, not far away from home.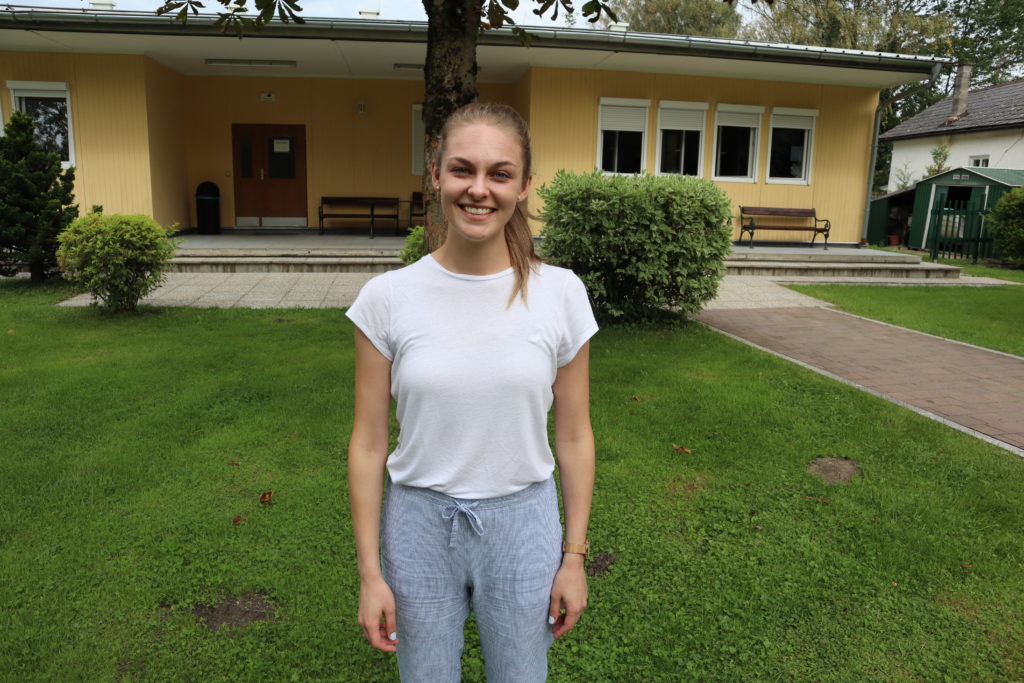 AIS-S: What do you enjoy most about teaching? 
LF: If you asked my grandparents, they would tell you that they have always known that I would become a teacher one day. I enjoyed assigning and giving feedback on "homework" even before I myself could read. Today, what I value the most is seeing the progress my students make. At the beginning of the year, students might not be able to speak a full sentence in German. Being a part of their transformation to speakers of the German language and culture is what makes me passionate about teaching.
AIS-S: What do you like to do in your free time?
LF: As I was born and raised in the middle of the Austrian Alps, I practically grew up on skiing slopes in winter and hiking paths in summer. I have a passion for watching (not playing) soccer and can be considered a bookworm.
Zuzanna Zajac, Molly Closson and Tierney McCue have joined returning resident assistants Nick DeWitt and Matt DeKryger to round out the resident staff along with dorm parents Kevin and Paula Clarke. 
Originally from Poland, Zuzanna Zajac has lived, studied and worked abroad for a number of years now, with stops in Libya, Thailand, Malta, London and Vienna, where she has lived the past four years. 

AIS-S: How did you find out about the school?

ZZ: I was working and living in Vienna, where I longed for moving to a quieter place closer to the mountains, which offers hiking, skiing and outdoor sports opportunities. I  started to look for teaching or educational jobs in this region and I found AIS-Salzburg. 

AIS-S: What excites you most about working at AIS-Salzburg?

ZZ: As the new Studio Art teacher and Community Service Manager for the upcoming school year, I am very much looking forward to creating a platform where students will be able to independently analyze the world around them and actively realize their full potential. As a Track and Field coach, I am looking forward to leading students through essential training to get them to the top of their physical ability and capable of performing a wide variety of disciplines and exercises.
AIS-S: What is your education and/or professional background?
ZZ: My formal education includes a BA in Interior Design and an MA in Social Design, Arts as Urban Innovation. The former was completed in London and the latter in Vienna, where I have lived for the last four years. My academic degrees allow me to understand how, through communication, spatial planning, interdisciplinary projects, community service and arts, I can contribute to the creation of environments, which in the long and short term improve the well-being of communities and individuals. Alongside my university studies and internships, I have also worked as a teacher and career and camp counsellor. Within these roles, I was not only responsible for the intellectual development of children and teenagers but also their holistic growth as individuals and members of the community. I paid specific attention to their relationships with each other, their group work, and communication skills as well as the methods in which they formed their world views and how they applied them in their everyday life.
AIS-S: What experience in athletics do you bring as a P.E. instructor?
ZZ: Back in Poland I was a professional high jump athlete for eight years, taking part in a variety of national competitions. During university, I undertook a variety of classes including swimming, running and cycling. 
AIS-S: What do you like to do in your spare time?
ZZ: Finding ways to be outside and hike or cycle to remote places.
While studying German at University, Ohio native Molly Closson decided to spend a year abroad in 2014-2015 at the University of Salzburg. Now, six years later, Molly has returned to Salzburg but this time to work as a resident assistant after a friend shared a job posting for the position.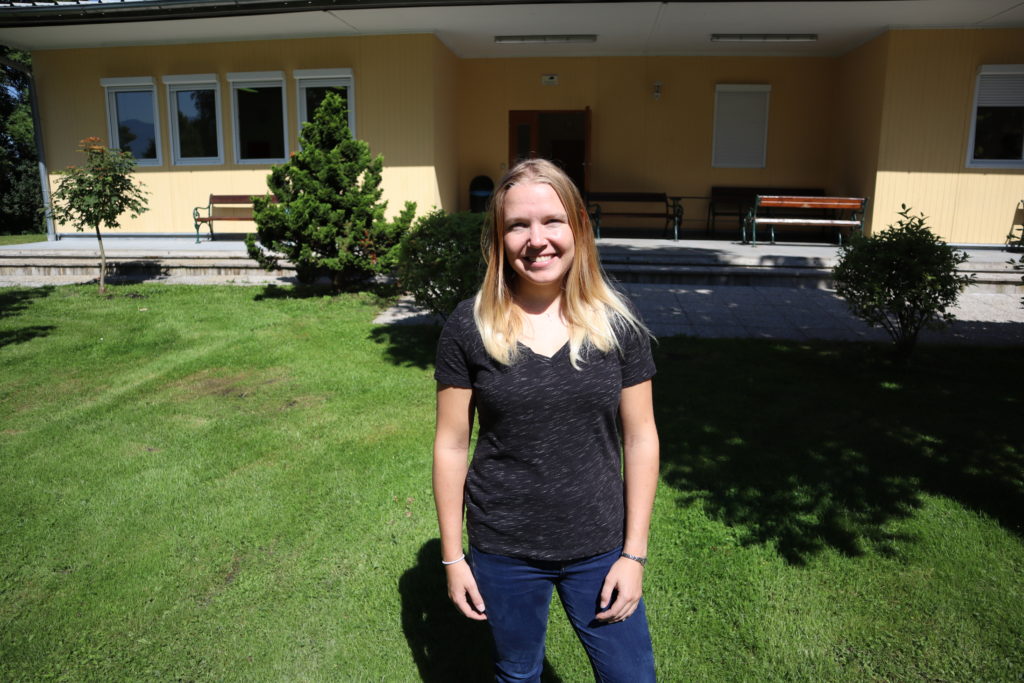 AIS-S: What excites you most about working at AIS-Salzburg? 
MC: I'm excited to be back in Salzburg, and to share in many adventures with students. I have a passion for traveling, and so working with students of so many different nationalities is exciting for me to learn about areas and cultures I'm unfamiliar with.
AIS-S: What is your education and/or professional background? 
MC: I received my Bachelor's degree from Bowling Green State University, in Ohio majoring in German Education. I received my Masters Degree in July, majoring in Kinesiology specializing in Coaching Education.  After graduating from BGSU, I taught German for 3 years at Tinora High School in Defiance, Ohio.
AIS-S: What experience in athletics do you bring as a P.E. instructor? 

MC: I've coached basketball for the past 6 years working with 4-8th graders. I also coached kindergarten through grade 3 cross country.  I participated in many sports as a child and narrowed them down to basketball, cross country, softball when I was in high school. 

AIS-S: What do you like to do in your spare time? 

MC: I love to hike, travel, spend time with friends, play sports, and sing karaoke in my free time.
Tierney McCue grew up in Albuquerque, New Mexico and during her college years, she spent a year abroad studying in Spain, sparking her interest in travel and culture. After graduation, she worked at a boarding school in Massachusetts but soon found that she had the itch to return to Europe, stumbling upon the resident assistant opening at AIS-Salzburg during her job search. She was immediately attracted to the close-knit international community aspect of the school and applied. When she was offered the position, she did not hesitate to accept.
AIS-S: What excites you most about working at AIS-Salzburg?
TM: I'm excited to hike with students and to explore local Salzburg together. It will also be nice to hang out on campus in a close-knit community.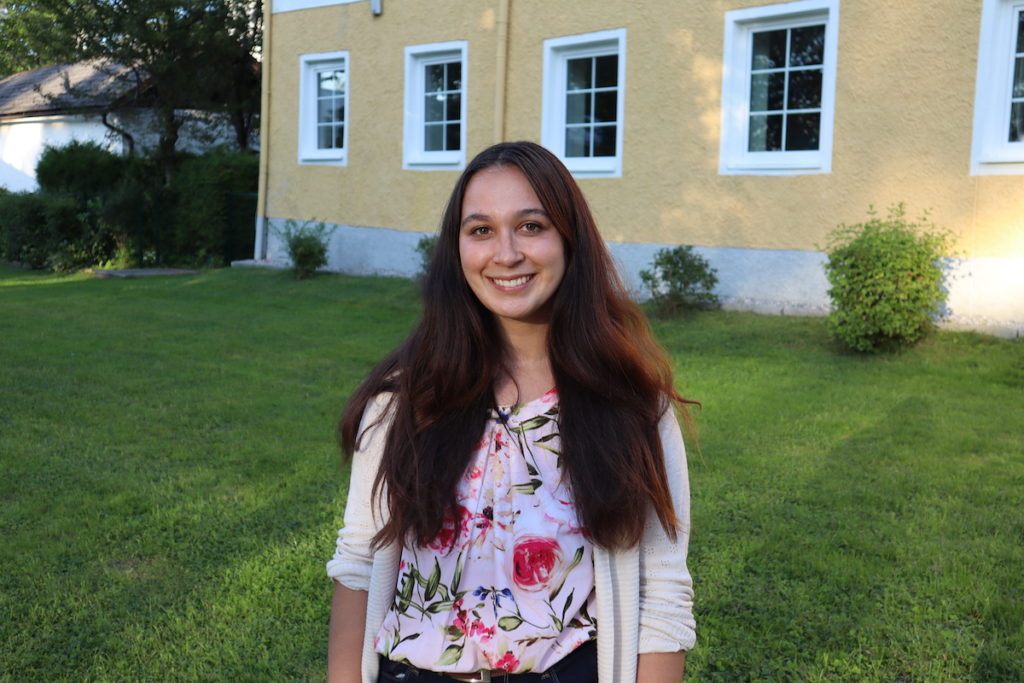 AIS-S: What is your education and/or professional background?
TM: I have a baccalaureate degree from Dickinson in Pennsylvania. While at Dickinson I worked as an English as A Second language tutor and Resident Advisor throughout university. After graduation, I worked at St. Mark's School and interned with Brown University this past summer.
AIS-S: What experience in athletics do you bring as a P.E. instructor?
TM: I played soccer growing up and enjoy Yoga and Zumba. 
AIS-S: What do you like to do in your spare time?
TM: I like to watercolor and explore museums.