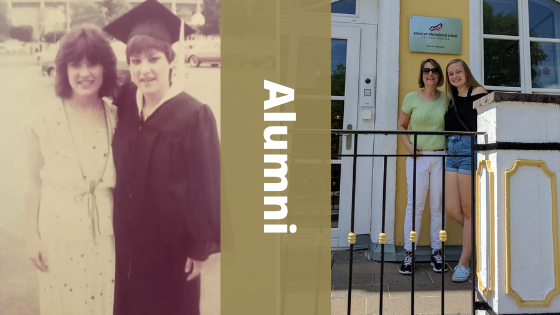 October 22, 2020
---
When did you attend Salzburg International Preparatory School (SIPS)? (changed to AIS-Salzburg in the 1990's)
I went to SIPS from 1978-1980 along with my sister Janice Schiedel Koch
Where did you go to school prior to SIPS?
I went to Springbrook High School in Silver Spring, MD, USA.  I spent my entire childhood in Maryland and moving overseas and going to SIPS was my first time traveling and living internationally.  
What made you decide to study in a private school in Austria? How did you find out about the school? 
My father took a position at the Joint Economic Commission in Riyadh (through the U.S. State Department) and our entire family moved to Saudi Arabia.  At that time, there wasn't an American school in Riyadh and one of my father's colleagues, by the last name Deutsch, recommended SIPS to him. His son and daughter, Jayme, went to SIPS the previous year.
What did you enjoy about going to such a small, international high school? 
I really enjoyed getting to know my classmates. While most of the students were from the U.S. and Canada, many of the student's parents also lived all over the world.   Therefore, it was interesting to learn of their experiences living in Iran, Malta, Jordan, Indonesia, Africa, Romaniaetc.   We also had students from Australia, Great Britain, Israel and Germany.   I learned so much about different cultures and experiences and it had a tremendous influence on my life.  
What was the student body nationality make-up back then?
Mostly American and Canadian students–about 50 to 60%.  
How many excursions did you go on in a year and to where? 
There were usually two to three big trips each year.  First year (1978-1979)  went to Vienna, Budapest, then Luzern & Zurich in the winter and Italy in the spring.   My second year (1979-1980), we went to Venice in October, Munich in November, Innsbruck in February and then Rome and Florence in April.  
Was skiing and team sports a big part of the program?
Yes, every Saturday, there were ski trips.   Team sports were not huge at that time, which I think was hard on some kids.  I took horseback riding lessons weekly and I absolutely loved it.   I could walk to the stables from school.   
What did a typical weekend look like and were there mandatory activities? 
We usually went skiing Saturday morning, and then we went to the pubs at night.  (this definitely doesn't happen now!)
What are your fondest memories of attending SIPS? 
I enjoyed our international trips.   I especially enjoyed visiting Luzern, Switzerland as well as Italy (Venice, Florence and Rome).  I also very much loved Salzburg and having the freedom at a young age to hop on the bus and spend the day there.  I especially enjoyed going shopping along the Getreidegasse, visiting the cafes, bakeries and the Stiegel Keller.  
Do you have a particular teacher that impacted you the most or is strongest in your memory? 
Mr. Thomas Franklin was my favorite teacher.  I took his psychology class my senior year of high school.  He made the class fun and it didn't seem like I was learning.  However, I learned so much, and I still remember some of the basics of psychology today.  
What have you done academically and professionally since graduating from SIPS?
My experience living in Salzburg and Riyadh changed my life.  In college at West Virginia University (WVU), I completed a double major International Studies and German.
During the summer of my junior year, I went back to Salzburg for a German class–it was a joint program with WVU and Southern Methodist University.  The classes were taken right next door to the Leopoldskron Palace and I stayed with an Austrian family that summer. 
Then I went to graduate school at The American University (AU) in Washington, DC and I completed an M.A. in International Affairs with concentrations in Western Europe and U.S. Foreign Policy.   While at AU, I took an internship at the Brookings Institution and enjoyed it very much.  I have worked at international and educational nonprofits ever since. 
My first full-time professional position was at the Center for Strategic and International Studies (CSIS) a prestigious international think tank in Washington, DC. I worked there for 8 years and was promoted three times.   
I have since worked at a number of nonprofits, including the U.S. Institute of Peace.  I am currently working at the Global Good Fund as a senior director of business development and partnership.   The Global Good Fund provides leadership development for social entrepreneurs from around the world.  
What aspects of your education at SIPS best assisted you in further academics, your professional life, and life in general? 
I learned to be very independent while at SIPS, which helped me tremendously in college and graduate school.   Living in Salzburg with an international study body taught me to respect different cultures and all types of personalities.  This was incredibly helpful in my career and personal life.  
Are there any personal accomplishments since graduating that you want to share? 
My husband, Steve and I have a daughter, Sara, who is a Sophomore in college at Virginia Tech.  She has a tremendous passion for international travel.  Sara speaks French and is now learning Arabic.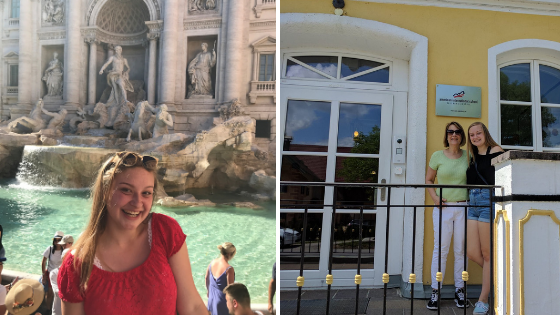 Do you have any advice for current students at AIS-Salzburg (formerly SIPS) or applicants to the school? 
My advice is to embrace the wonderful opportunity to live and learn in Salzburg.  It is truly a once in a lifetime experience and take every opportunity to travel, ski and just spend time in the beautiful city of Salzburg.