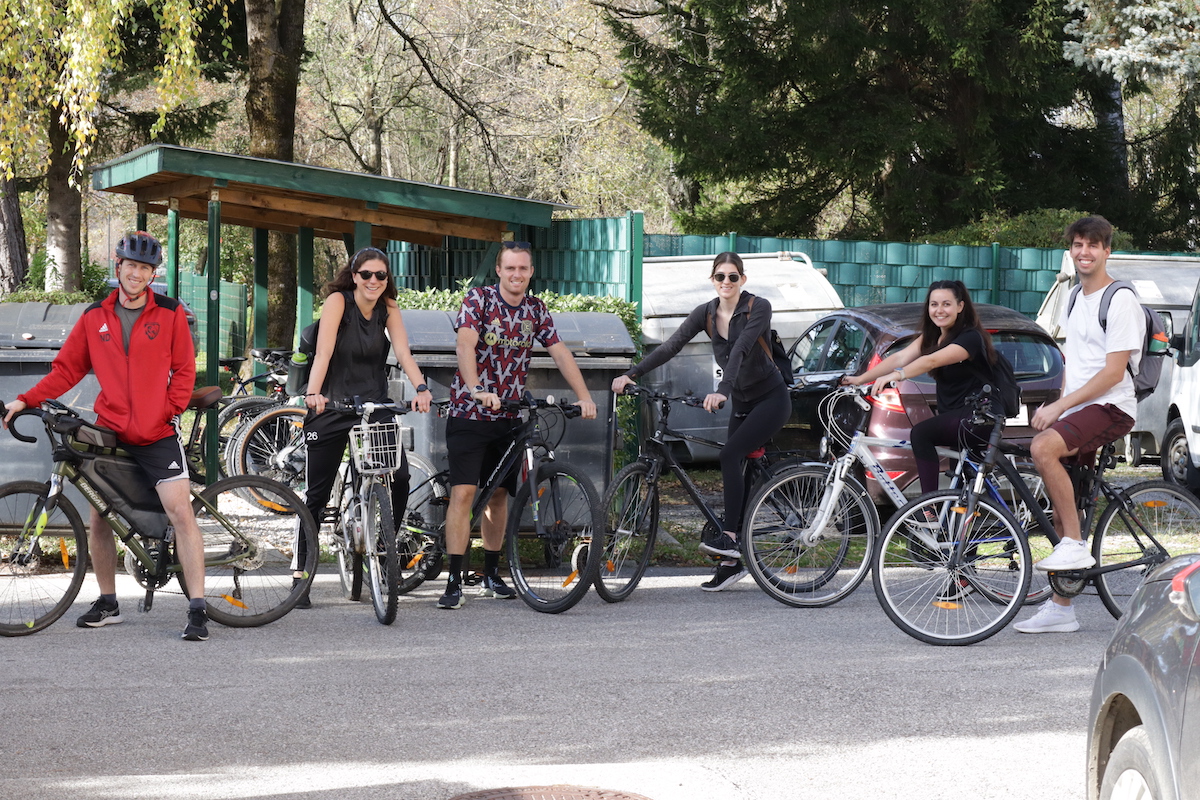 August 24, 2023
---
Cover photo: Resident Assistants Nick, Ali, Matt, Abby, Arabella, and Tom Henry prepare to go on a bike ride during their time off. 
For the first time in over 20 years, the entire resident staff will be returning for a subsequent school year. Typically, every year, at least one or two resident assistants (RAs) do not return, often moving over into full-time teaching positions elsewhere.
Returning for their second year as a resident assistant at AIS-Salzburg are Ali Welch, Tom Henry Nuess, Abby Lee, and Arabella Williams. Rounding out the resident assistant staff are Matt DeKryger and Nick DeWitt who are returning for their 4th and 5th years respectively.
Kevin Fox and Paula Clarke will be returning for their 3rd and 4th years as dorm parents at AIS-Salzburg while the Dean of Students, Ms. Laura Fox, is also returning for her 3rd year in the position.
"I am incredibly grateful and proud to be part of a resident-care staff that is totally intact for two full years", beamed Laura Fox when asked recently about her feelings about her entire staff returning. "I could not do any of this without Kevin and Paula. They set the tone for the collaboration, the humor, and the kindness that we have on the staff."
Paula doesn't even consider not returning as a dorm parent, a role that she cherishes.
"I don't ever have to think about whether I am coming back or not," said Paula. "I don't really think of it as a job, I just think of it as if they are all my kids and we live in this big house. I love the kids and I love the people I work with. I am so happy that all of the resident-care staff members are returning because they are really good at their jobs and really like the kids."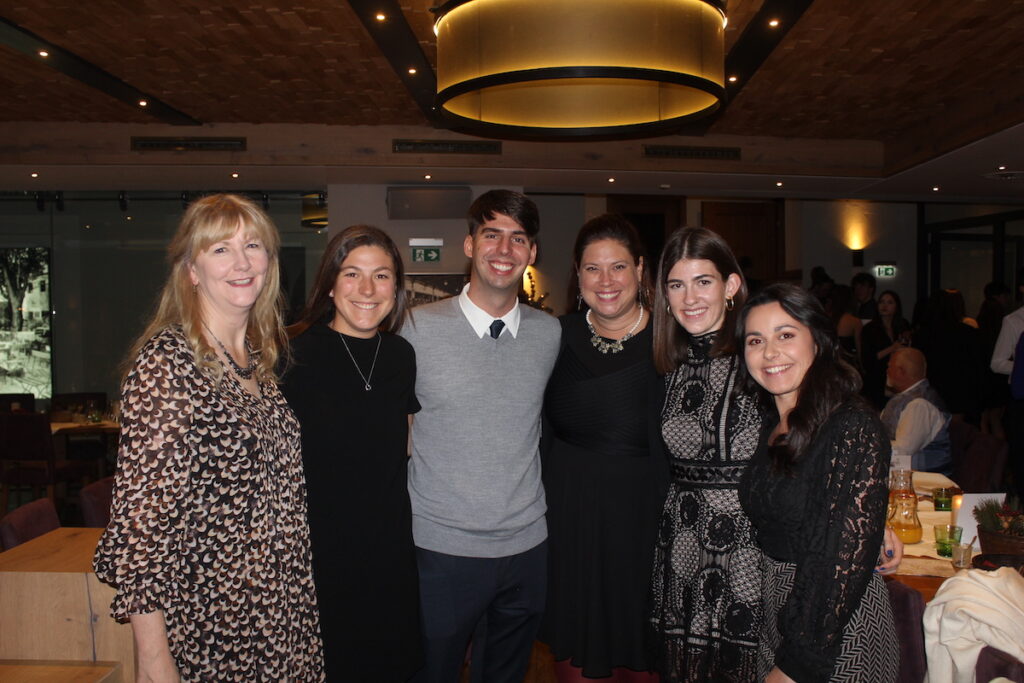 Photo: Dorm parent Paula Clarke (left) is adored by all students and is the school "mom" in the evenings.
The resident assistants were also keen to share their reasons for returning.

"The residential staff quickly became like a second family for me and I wasn't quite ready to leave this incredible community after just one year together," said RA Ali, who also taught the yearbook elective last year. "I couldn't imagine a better support system as I transitioned to living abroad for the first time. We (RAs) quickly realized how unique our experience was working and living together and bonded over this. Kevin and Paula were always there for a genuine check-up to see how I was doing and Laura not only pushed me to grow professionally in this role but also was there when I needed encouragement or a laugh to get me through tougher times."

Nick DeWitt also accredited his colleagues as a major factor for returning for his 5th year and added that living and working in Europe is a big part of the appeal. 

"The opportunity to live and work in Europe is something I can't pass up. As resident assistants, we have ample time off to explore Europe and the ease of travel from our location in Salzburg facilitates that tremendously."

Tom Henry felt welcome at AIS-Salzburg from day one. 

"They immediately adopted me like family and treated me with respect. My colleagues invite me to hangout on weekends and are just very loving and helpful people. Plus, we have a pretty nice schedule with lots of flexibility to go out and travel on our days off."

"It was more difficult to find reasons not to return," said Abby. "The staff and students create an extremely welcoming environment and the small school allows a very strong community. I've also enjoyed life in Salzburg, exploring with the students, and especially excursions and ski trips."
Photo: Kevin and Laura Fox pose for a photo with RAs Tom Henry, Arabella, Nick, Matt, Abby and Ali during the fall excursion to Paris. 
"The entire AIS-Salzburg community is what keeps bringing me back – the staff and administration, and especially the students," said Matt. "Our school culture draws you in and makes it difficult to leave. Plus, I love Salzburg and the surrounding areas, so it's an added bonus!"

Arabella has a similar sentiment to the other resident assistants. "I really enjoyed my first year at the school and felt like a valued member of a great team, working with interesting and unique students in a friendly, happy community. I jumped at the opportunity to return!"

In fact, all resident staff has accredited the students for making their job more enjoyable. 

"The kids at the school really make the job itself worthwhile as they are the ones that I talk to during study hall or participate in any activity I lead or travel on the excursions," said Ali. "Getting to know the students as people, not just students in a classroom, has been an amazing reminder of why I first became an educator. I'm constantly inspired and impressed by how our kids have so many interests and are so independent to explore all of their passions in a place that could be hundreds or thousands of miles away from the only home they've known. I feel so grateful to have a job that allows me to see students' authentic selves in such a beautiful and active environment as the one AIS-Salzburg provides."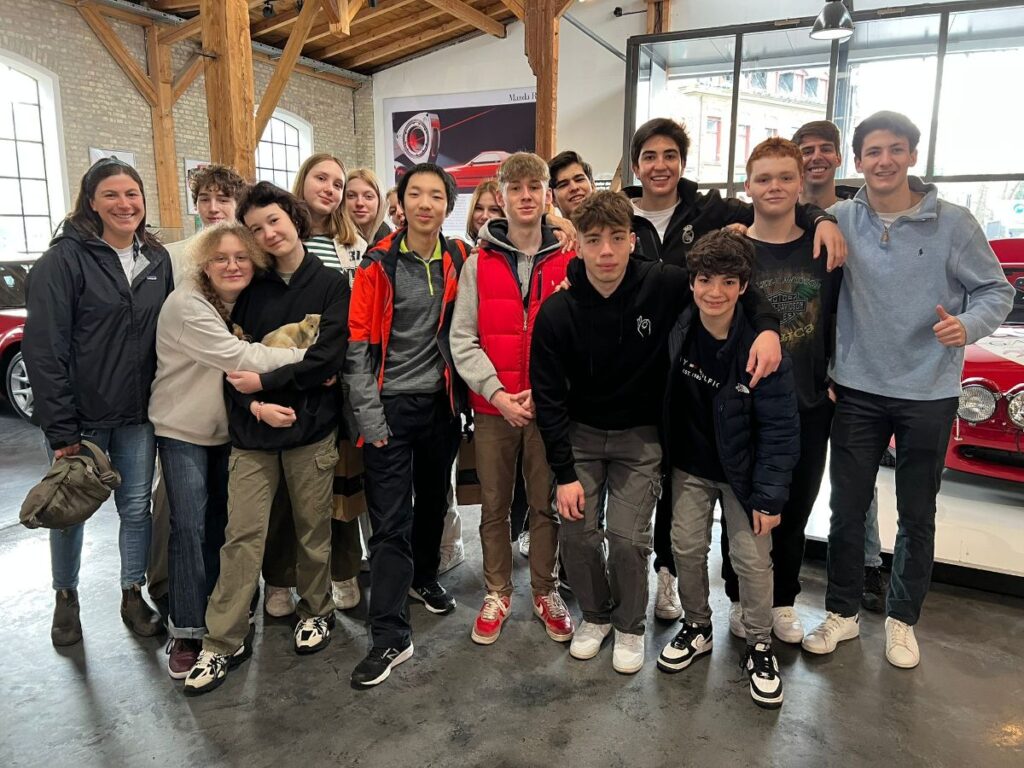 Photo: RA Ali (far left), poses for a photo with a group of students during a day trip to Munich. 
"They are really good kids," said Paula. "They are so appreciative when you do little things for them and it is always nice when they are pleased to see me too (in the dorms during the evening). We have a good relationship."

"The ability to do all different kinds of activities with the kids keeps me young and in good shape," added Nick, the oldest of the RAs at 38. 

Tom Henry enjoys the bonds he created with the students and the lighter side of his daily interaction with them. "Each day offers something entertaining and comical with the kids and it's great being able to build personal relationships with all of them."