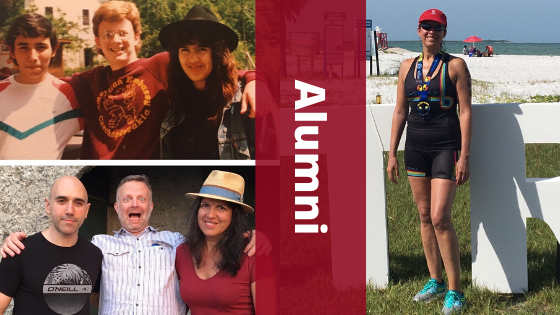 July 16, 2020
---
What year or years did you attend AIS-Salzburg at what grade levels?
I attended "SIPS" (now AIS-Salzburg) from 1987 – 1990, grades 10-12, graduating in 1990. 
Have you remained in contact with any former AIS-Salzburg classmates? 
Yes! I've been fortunate to reconnect with several classmates on Facebook and other social media. I've also kept in touch with close friends over the years, including attending weddings and visiting each other on occasion. Several of us attended a reunion in Salzburg in 2017, and we are planning our next one.  
What have you done academically since graduating from AIS-Salzburg? 
After returning to California, it was less than a year that I began to feel out of place and missed Europe deeply. A friend of mine told me about an English-speaking college in Heidelberg, Germany. I went back to Europe and studied in Germany for two years, and then I returned to California to finish college in San Francisco, graduating with a Bachelor's in International Relations.
After a few years, I went back to school to earn a Master's in Environmental Management. I chose to study at the University of San Francisco, in part because it included a study-abroad program. I lived outside Budapest for 10 weeks and did an internship at the REC Regional Environmental Center where I made connections with environmentalists from non-profits in Eastern and Central European. Shortly after graduating, I returned to Romania for two weeks to learn about and help promote eco-tourism. 
What aspects of your education at AIS-Salzburg best assisted you in further academics and/or professionally?
Living overseas and meeting people from different cultures influenced my undergraduate choice. Although I never went into the field, it was the inspiration for furthering my experience.  
On a personal level, my desire to travel and explore the world, and being able to adapt to different environments, I can trace directly to my experience at SIPS. Also, to my chagrin in some ways, my inability to feel settled or belonging to any one location. I'm always ready to pick up and head to the next adventure. New York City in many ways is the perfect place for me to live; it has deep history, worldly architecture, a progressive mentality, and a global citizenship.
Are there any personal accomplishments since graduating that you want to share?
Professionally, I've been working in healthcare administration for over 15 years. I'm currently an Associate Director in Clinical Research Finance at Memorial Sloan Kettering Cancer Center in New York City. 
To stay connected with my love of nature, I work as a volunteer SCUBA diver at the New York Aquarium in Coney Island. 
Personally, I'm most proud and excited about my athletic ability, which I discovered later in life. Since 2009, I've competed (against myself) in several marathons and triathlons, including two 70.3 Ironman races. I'm currently training for a full Ironman. 
Are there particular AIS-Salzburg moments or memories that have stayed with you over the years?
For me, it's more of a feeling; the closeness of the school community, living in the dorms, the intimate classes and diverse teachers and staff. On top of that, the natural beauty of Austria, the dramatic Untersberg jutting out of the plains, the richness of the culture, hearing a foreign language and having to hone your social survival skills. This all created a feeing of satisfaction that I've hardly been able to match, and it's something I still crave. 
Do you have any advice for students at AIS-Salzburg or applicants to the school? 
In 2020, we are facing a wave of change as a global society. My wish for the students at AIS is to continue to have the ability to enrich your lives once this transition subsides, and it will.   
It's important to study and do well in your classes, but don't miss out on exploring Salzburg, traveling, and meeting the locals. Study German so that you can truly immerse yourself in the culture. Go hiking, see concerts, and visit the historical sights. Take it all in while you have the opportunity, and use the experience to inspire your future.