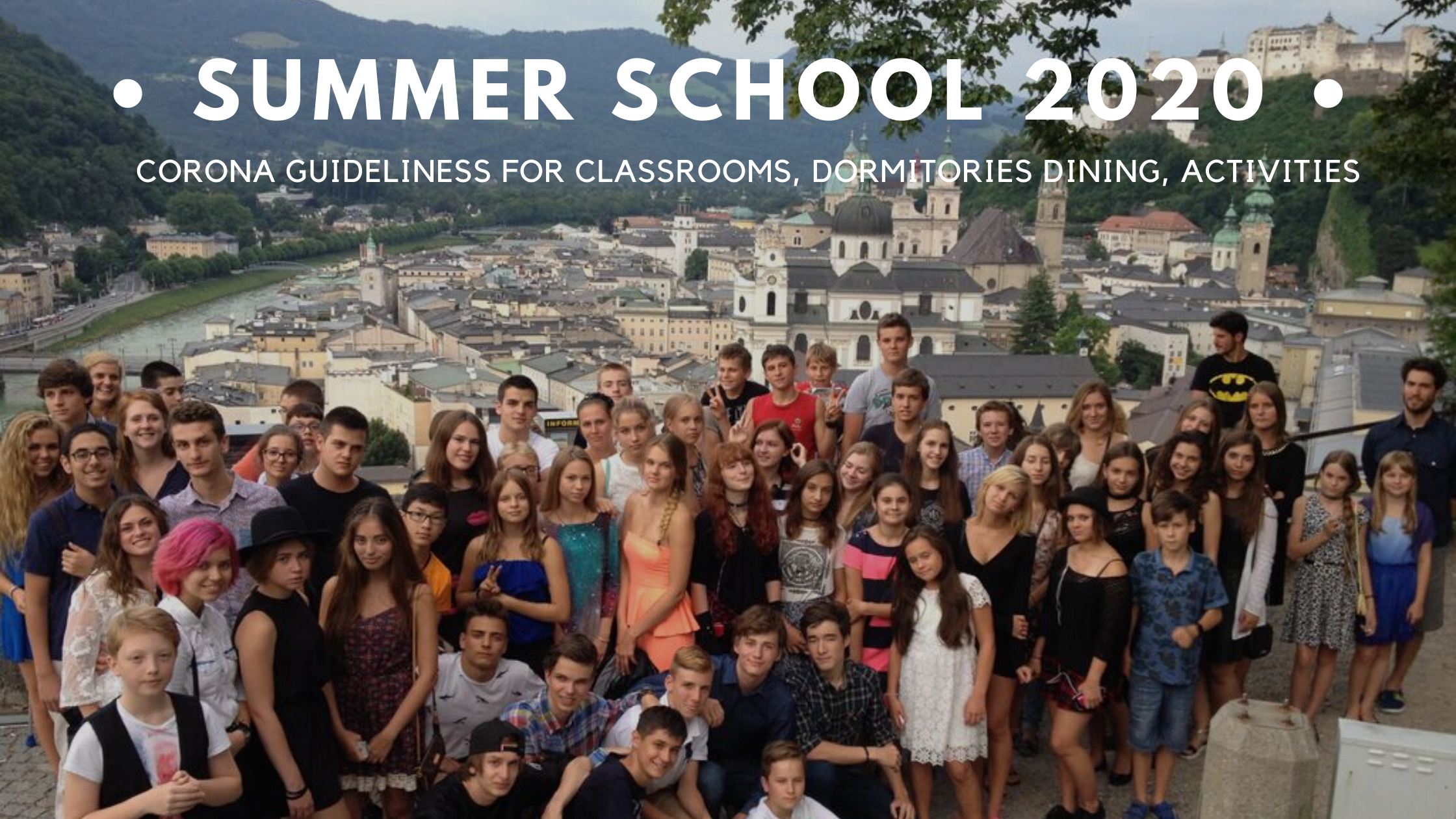 July 10, 2020
---
In accordance with the public health authorities' guidelines, AIS-Salzburg's health safety guidelines for the Summer Language Program are as follows.

Guidelines in Classrooms
Classes shall enroll a maximum of 10 with teacher.
All classroom desk surfaces, door handles and chairs are to be disinfected daily by teachers before class begins.
Teachers shall distribute hand disinfectant in the morning and after all breaks or returns to classroom.
Ground floor public bathrooms shall contain soap as well as disinfectant dispensers.
Extra chairs in classrooms shall be removed or stacked; one student per table in all classrooms.
These guidelines shall be posted in and around all classrooms.
Masks are not necessary or required in the classrooms but may be worn if desired.
Teachers shall frequently wash their hands and take all necessary precautions when away from the school.
Any student who has a persistent, dry cough with headache and/or fever shall be sent to school office immediately.
Guidelines in Dormitories


All boarding students shall be housed in single rooms. Double rooms can be utilized only by family members.
Infirmaries are available and stocked, ready for isolation use.
A staff member shall be in charge of morning illness reporting.
Hand soap shall be provided in each dormitory room.
Hand sanitizer shall be placed on each floor in stairwell.
The resident staff shall disinfect public surfaces and door handles each evening.
The cleaning staff will ensure that all rooms are aired out each morning.
The student room keys shall be disinfected when deposited with the staff.
Surfaces and handles in rooms shall be disinfected by the cleaning staff daily.
Extra care is to be taken with laundry service:

Laundry will be available only as of the second week (one time per student every 2-weeks session).
Bedding shall be changed with every change of student in a room.
Clean towels are to be distributed frequently. Students may bring their own towels.

All requirements and guidelines shall be clearly posted in and around the dormitories
Guidelines During Meals


Students and staff will be assigned a dining room to equal out numbers and maximize distances.
The staff shall monitor the meal lines to ensure that proper distance is kept between students.
Marks shall be placed on the floor to keep distances during meal lines
The kitchen staff will maintain all health requirements pertinent to their duties without exception.
Extra tables and chairs shall be taken out of the dining rooms.
All tables and chairs shall be disinfected daily after meals.
All surfaces that students may touch in the kitchen are disinfected daily after meals by the kitchen staff.
Students shall be encouraged to dine outdoors when appropriate; one evening meal per week shall be a grill evening.
Student body temperatures shall be taken each morning at the breakfast and lunch meal lines by a staff member.
The kitchen staff shall disinfect the surfaces of all beverage and snack machines daily.
All meal requirements and guidelines shall be clearly posted in and around the kitchen and dining room areas.
Guidelines During Activities


Masks shall be worn by all students and staff on all buses, vans and other transport.
No assemblies shall be held indoors; daily announcements shall be made in class.
Activity locations shall be to outdoor locations primarily.
Whenever possible, activities shall not be to sites and locations where many people are located and entrance lines or crowded conditions are probable.
Hand sanitizer and sufficient masks shall be taken with staff members whenever away from the school.
Activity groups shall not exceed 20 students with staff members.
Only on-campus activities shall be scheduled in the evenings after dinner.
Public trains shall not be utilized for transport; buses or school transport only shall be utilized.
Staff members shall disinfect all surfaces in school vehicles after every use.
All students shall be informed clearly of distance restrictions and health requirements if given free time.
All requirements and guidelines shall be clearly posted on public bulletin boards.
Other Guidelines
Reusable or disposable masks shall be provided to all students upon arrival and whenever necessary.
Pocket money distribution lines shall respect required distancing.
The resident staff, administration and teachers shall clearly explain all of these guidelines and answer any and all questions students may have concerning these.
These guidelines will likely remain in place in the fall for the start of the 2020-2021 school year and will be reevaluated periodically in accordance with further updates from public health authorities.