May 17, 2022
---
This past Saturday, students and two group leaders enjoyed a day at Königsee, a pristine lake in the heart of the Berchtesgaden National Park just across the border in Germany and about a 30-minute drive from Salzburg.
Just after 9 am, the group boarded the electric ferry at the village of Schönau which took them across the entire 7.7 km length of the lake to the south end. During the ferry ride, the captain parked in the middle of the lake and proceeded to play his flugelhorn—a brass instrument that resembles the trumpet—to demonstrate the echo off the surrounding sheer rock walls.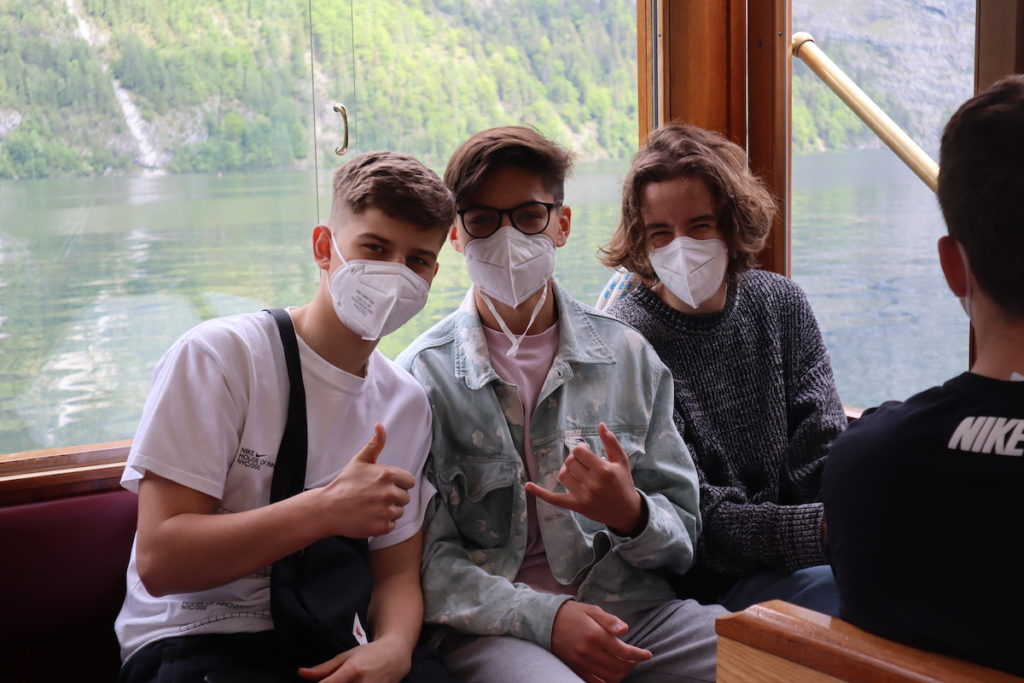 Photo: Students pose for photos during the 45-minute ferry ride through the pristine waters of Königsee Lake. 
Once reaching the south shore, the group walked up the trail about 15 minutes to the smaller Obersee Lake which features the 470 m (1,540 ft) high Röthbach waterfall.
After spending the morning at the south end of the lake hiking and exploring, the group boarded the ferry once again, stopping at the St. Bartholomä church, which is located on a peninsula about halfway down the western lakeshore and features the Watzmann massif in the backdrop (see cover photo). 
We invite you to watch the video highlights below of this wonderful day.