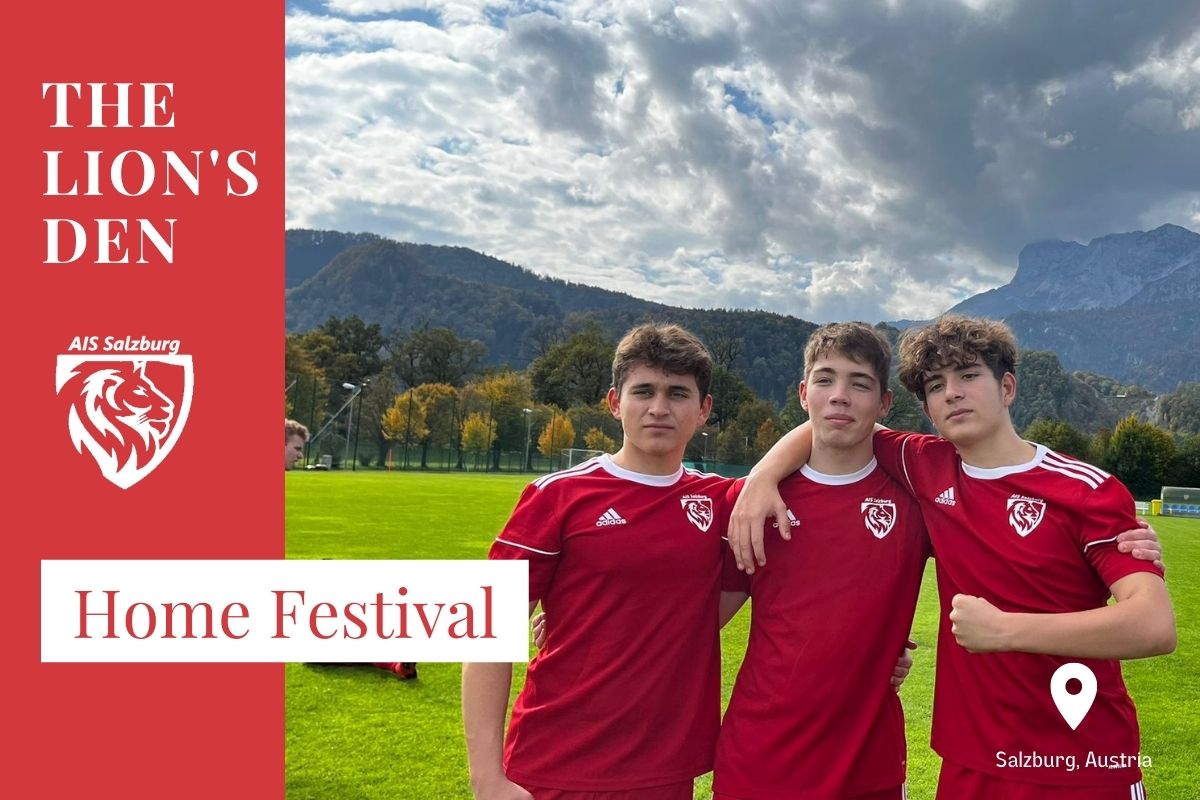 October 11, 2022
---
The AIS-Salzburg soccer and volleyball teams had a very successful weekend at the RIF Sports Center when they faced off in matches against the International Christian School of Vienna and St. Gilgen International School. Our boys' soccer and girls' varsity volleyball teams went undefeated on the day while our boys' volleyball and junior varsity girls' teams were 1-1. 
"It was a great day for our teams," said athletic director and girls volleyball coach David Burns. "The team sport culture right now is better than I have seen it for some time. I attribute this completely to the dedicated and passionate coaching staff that we have."
In their first game of the season, the boys' soccer team faced their local rivals, St. Gilgen International School. After some back-and-forth play, the Lions found a breakthrough. A shot was saved, but the rebound fell directly to Luka S. who put the rebound away for the first goal of the year. Not long after, a smooth cross from midfielder Pedro R, found Tim K. in the center of the box for a cool finish and a 2-0 scoreline. Tim found the back of the net a 2nd time to round out the halftime scoring. Steady pressure in the 2nd half would yield results as this time Pedro put a shot past the St. Gilgen keeper from the top of the box off a nifty assist from Luka.
In the video below, a number of players and assistant coach Ali Welch  comment on their first match of the season. 
In the second match, the Lions were up against the International Christian School of Vienna. The match would finish tied at 1-1. ICSV would score first directly off a corner kick that looped over everyone and into the back of the net. Just a few minutes later, senior Dima P. would collect a ball through a few opposing players before unleashing an unstoppable shot past the rooted opposing keeper. Despite heavy pressure from the Lions, they could not find a breakthrough despite creating a few chances as the game wound down.
The Lions' defense was anchored all day by strong play from the entire back line. Richard G., Lars T., Artur M., and Vico S. all worked together and ensured that keeper, Liam Boettger, was never under heavy pressure. 
"We were very pleased with our performances overall on Saturday," said coach Matt Dekryger of his team's play. "After such a long wait, it was wonderful to get out and finally test ourselves. We moved the ball well in the first match and scored some nice goals. Our legs went in the second match, leaving us unable to find a breakthrough. Now we go back to training for the next matches."
The varsity girls' volleyball team did not have as easy a time with their St. Gilgen counterparts but did manage to come out on top winning both sets in the best of three matches, 25-20 and 25-21.
In their second match vs. the Eagles from Vienna, the Lions cruised to a 25-18 and 25-14 sweep once again. In an extra set with some time left at the end day, the Lions defeated the Eagles once again 25-16.
"I was very surprised by how well we played, with the little practice we had and the short time we played together," said grade 9 setter and second year player, Chantal.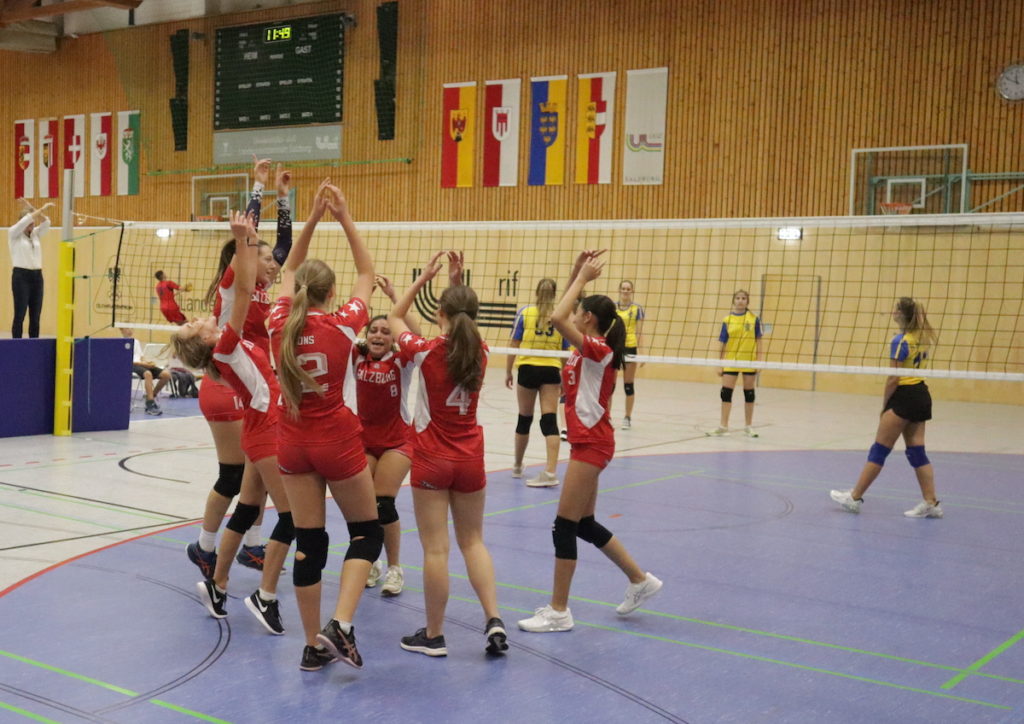 Photo: The Lions celebrate after their second set win vs. St. Gilgen
Marija B. impressed viewers in her home court debut for the Lions, with multiple kills and a serve that overwhelmed her opponents. Chantal S. was a force at the net and was like Sonic the hedgehog, diving all over the court sacrificing her body the entire day. Volleyball beginner and grade 9 giant, Nastia, B., continued to show her rapid growth in the game with a number of kills and net tips.
The highlight video below features multiple smashes and a serve from Marija, two deep hits from Nastia and Chantal with three blocks in one play. 
"All of our girls made tremendous strides in their game in a short period of time and today it all came together for us," said coach Burns of his team's performance today.
Marija—who came to AIS-Salzburg as a grade 11 student this fall—has 8 years of experience playing club volleyball in her homeland of Bosnia and Herzegovina and has been a big boost to the girls' volleyball program.
"For a coach, it helps tremendously when there is a player like Marija as an example for the lesser experienced girls," added Burns. "She has embraced that role and as a result, everyone's game has been elevated."
High School Boys Volleyball
With St. Gilgen unable to field a boys' volleyball team, our boys' volleyball team played two best-of-five matches against the International Christian School of Vienna. 
It was a slow start for the Lions who seemed to be out of sync and not playing up to their potential early on. The Lions fell behind 2 sets to 0 before managing to steal a set to close the gap to 2-1. However, the momentum was short-lived as Vienna rallied back to take the fourth set and the match victory, 3 sets to 1. 
In the second match, the Lions' finally started to play to their potential behind some strong leadership from Milo B., whose calm demeanor and mature attitude seemed to bring the team together. Bogdan M. was overall a solid player for the Lions from start to finish. 
"I believe that the boys did a great job and that was the well deserved victory for us, but there is always room of improvement," said senior player, Max N. "I am looking forward to the next game in Germany and I promise you, we will not come back defeated!"
"Many of the younger kids really stepped up and impressed me, especially Kyryl," said coach Nick DeWitt. 
"We played quite well in the second match. With some focused effort in practice this week, we will hopefully be more consistent next weekend in Germany."
Junior Varsity Girls Volleyball
After a very positive week of practice where a lot of progress was made, surprisingly the junior varsity girls' volleyball team came out flat-footed and nervous, losing their first match of the season to St. Gilgen 2 set to 1. 
It wasn't until both coaches decided to play a third set with some extra time on the clock that the lines finally snapped out of their trance and started playing volleyball. 
"I've seen it many times before. The boys' volleyball team were watching and cheering and the girls' ceased right up," chuckled coach David Burns. "When the boys' left to warm up for their own game, the girls played great!" 
Returning players Egla H. and Chanti S. were the glue of the team from the setter position. Ola T., Annika M.M. Liza K. and Nastia B. all had exceptionally strong games in the final set which saw the Lions win decisively. 
"The JV team played well, especially with them all being new to the sport," said Chantal, who also plays on the varsity team. 
"Many of the junior varsity girls are also seeing court time with the varsity team, which has built their confidence tremendously when playing girls their own age," added Burns. 
In fact, grade 9 players Nastia and Chantal are regular starters for the varsity team and play most of every set. 
"The next few years look real good for girls' volleyball at AIS-Salzburg.