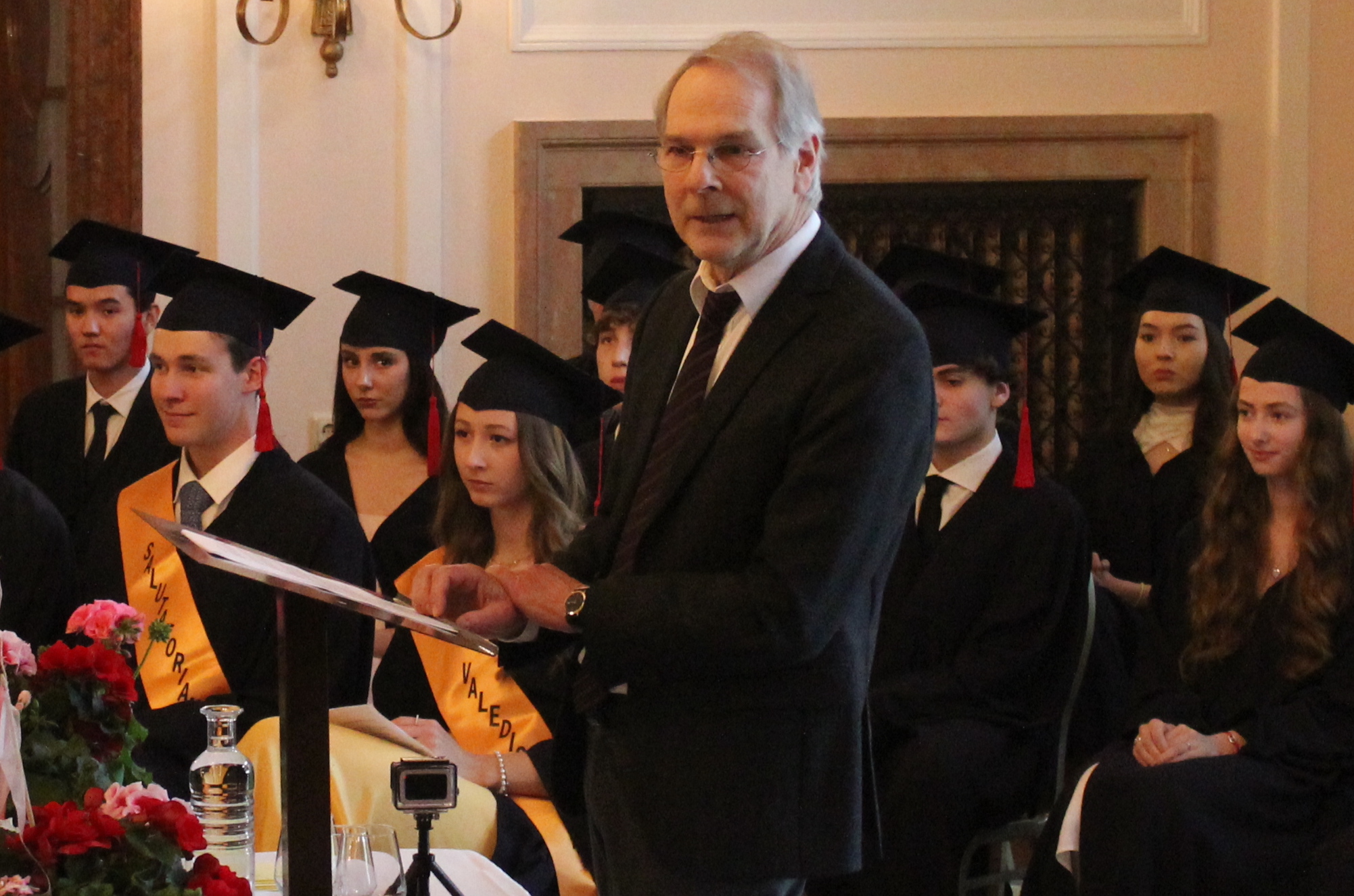 May 22, 2023
---
Dear Students and Colleagues, both past and present,
I deeply appreciate all the warm-hearted wishes and words of gratitude that came pouring in the past few days after my retirement was formally announced. The response was simply overwhelming and will make my memories of our school even fonder. After all, it was all of you who made it easy for me to serve at SIPS / AIS Salzburg for 37 years. I am usually content with very little, but the people in our school community have given me so much. You are amazing!
Like the 4 heroes I mentioned in my graduation speech, there are hundreds of people from our school who inspired me along the way and helped me become a better teacher, mentor, and colleague. Whether you were a student or a colleague, I always felt we were working together towards a common goal. Of course, the journey was full of ups and downs, but the downs always felt like challenges which in the end were gladly accepted. And the ups were all the AP, IB, and internal exams you passed, the C on the test you finally earned after failing all the previous ones, all the university acceptances, and the festive graduation ceremonies at the end of a demanding school year. The small successes like improving your grade to a C made me proud of you, and the big successes like the university acceptance made me overjoyed.
In a recent interview, I was asked what I think my impact was on the students I have taught over the years. I was fairly certain that in an age of so many distractions, my influence should not be overestimated. However, the messages I received recently say something very different. Many of you may remember that in history class I always tried not to be overly harsh in my judgement of those who lived before us. This is because I believe that people are largely prisoners of their age. Only a handful of individuals manage to swim against the stream, abolitionists who expressed their indignation about slavery, a few decent people who protected Jews, Huguenots, and other minorities, and a few writers who argued for women's rights when nearly all leaders wanted to keep them out of public life. In many ways students, too, are prisoners, prisoners of their adolescence, which tends to make them lazy, indulgent, and impulsive. (But also funny and inspiring.) This is why I also tended not to judge students too harshly and always tried to focus on your potential and talents instead. It was very important to me to treat everyone with fairness, respect, and kindness. Since there were always so many inquisitive, keen minds in each course, I also believed that I owed it to you all to come to class every day, well-prepared and eager to deliver the best lesson I was capable of. You may remember there was seldom a chance to chill during class. Somehow I resisted the pleas to have a "blow off day."
In a way, this feels like graduation. When you graduated, it was the culmination of your growth during your adolescent years. My graduation represents the culmination of my life's work. So many have told me that our school is a very special place. Indeed, it is! That is mainly because our school seems to attract the best people, educators who are passionate about their work and students who generally care about their learning and each other. Together we have managed to build an amazing school community. Thank you for making my years with you so rewarding, challenging, and enriching.
With the deepest gratitude and affection,
Jeff Agardy