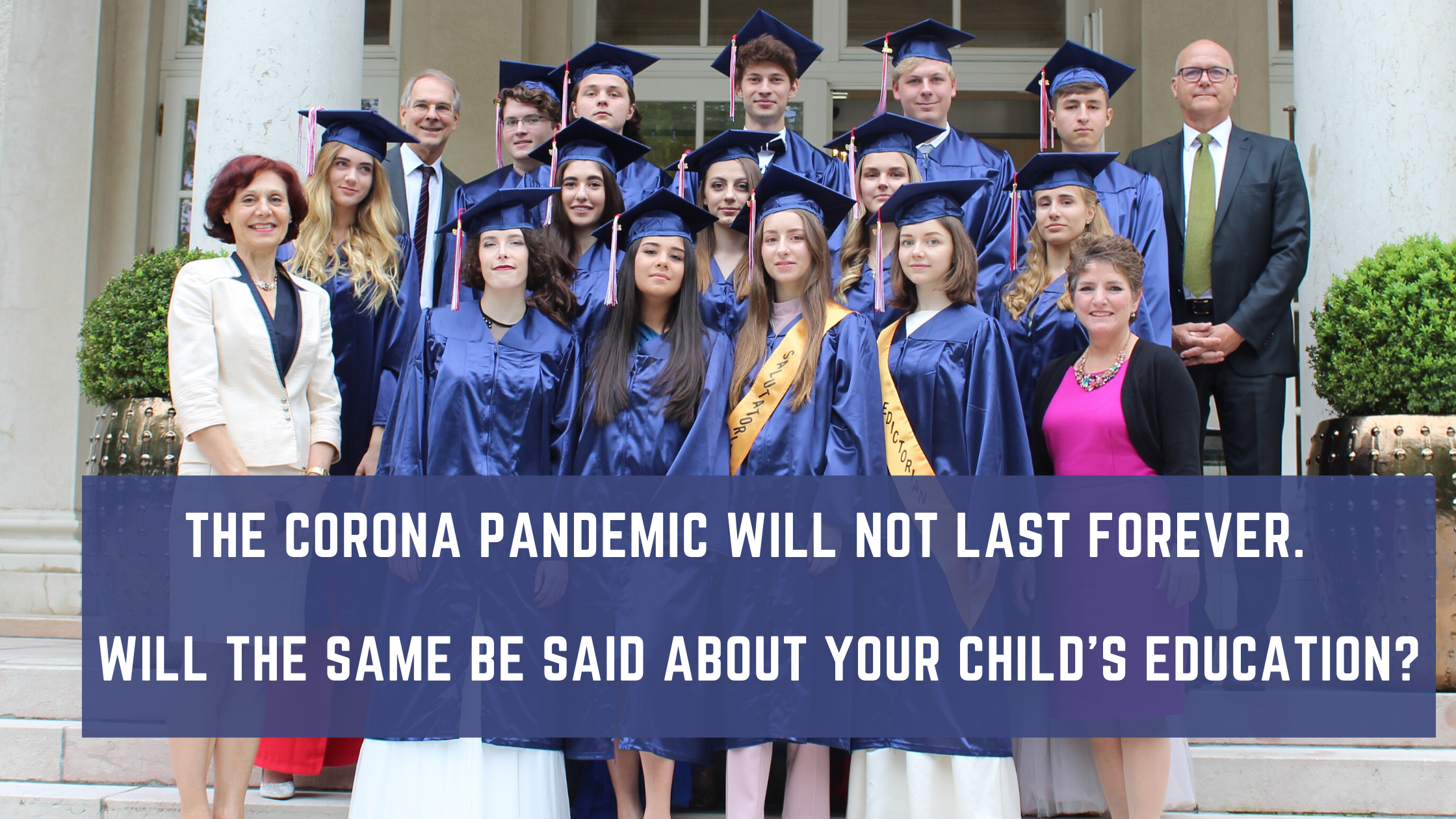 July 10, 2020
---
The Corona pandemic will not last forever. Will the same be said about your child's education?
The worldwide Corona pandemic has led many parents to more carefully consider the educational options available for their children and what risks may be involved. These are important considerations and require familiarity with reliable facts that are hard to come by given the fluctuating and unpredictable nature of this crisis.
Some parents may decide to drop their considerations of providing their children with the outstanding opportunities that an international boarding school can provide and keep them at home. This is an understandable conclusion but does often bring with it the further acceptance of a secondary education that may be publicly underfunded, moribund in its programming, and bereft of the experiences and intellectual challenges that will be necessary to gain acceptance to university programs of quality.
If, on the other hand, one is willing to look into and gain an objective understanding of the security and quality of an educational experience offered by an international boarding school with many years of experience, some interesting and thought-provoking facts provide food for thought. Here are a few of the more important considerations that one should take into account:
Boarding schools provide immediate, personal attention and supervision to all students both individually and as a student body.
International boarding schools consider the entire student; their health and well-being as well as their intellectual development and this not just for six hours a day, but for 24 hours a day, throughout the entire school year.
An international boarding school necessarily restricts movement, activity and engagement with greater society in accordance with what is safe, edifying and wholesome and have great experience in this. Boarding schools, in many ways, are 'societies-within-societies'; enclosed and shielded from the many negative aspects of everyday life yet connected in appropriate contexts that are thoughtfully considered and planned.
An international boarding school is experienced and effective in providing solid health care around the clock as as fundamental aspect of their mission and purpose.
International boarding schools are generally small and have a very low staff:student ratio whereby individual students can be guided, supervised, informed and cared for at a very personal level.
International boarding schools enroll students who are motivated, intelligent, thoughtful and considerate. These interact with teachers and administrators that are of a much higher quality than those found in public school programs. 90% of all international boarding school students report having had great, high-quality teachers* who not only teach, but care for their well-being on a daily basis.
*The Association of Boarding Schools Report, 2018, http://www.boardingschools.com/discover
Let's Get Specific: International Boarding in Salzburg, Austria
Where an international boarding school is located, of course, should be an important aspect of your considerations during a worldwide pandemic where from region to region, state to state and continent to continent, the situation and potential dangers can vary greatly. Here are the facts about AIS-Salzburg during the Corona pandemic:
Austria has had remarkable success in stemming and controlling the original outbreak and was one of the first European nations to bring the numbers under control following excellent leadership from the government as well as strong cooperation within the Austrian society.
The Austrian health care system is excellent, experienced and proven capable of providing emergency care to everyone in Austria. Salzburg has three major hospitals and excellent health research and therapy facilities.
The Austrian government has established a plan for addressing any new positive infections regionally and has dramatically improved the amount of testing available. It is predicted that future outbreaks in Austria will be controllable regionally to prevent widespread infections among the general population.
The Austrian Interior Ministry has cooperated with AIS-Salzburg to provide the means by which students from around the world can travel to Austria and take up residency in our dormitories, even if the Austrian Consulates are presently closed where you reside.
AIS-Salzburg is in very close contact with both the government and health authorities in Salzburg and is provided with up-to-date information continuously.
As a closed community, AIS-Salzburg is able to effectively limit the possibility of CoVid-19 spreading to campus while maintaining programming in athletics, sports, activities and instruction unhindered.
All health precautions (hand-washing, surface disinfection, social distancing, etc.) are easily maintained and communicated within the school community.
As a boarding school with 90% of our students resident on campus, conditions here are much safer in terms of social distancing and isolation than they would be for any student attending a day school.
The school administration has over 30 years' experience at AIS-Salzburg. They communicate effectively, act immediately and rely upon three decades of service to the AIS-Salzburg community of students and parents.
Our dormitories are filling up quickly for the 2020-2021 school year. For tuition information or to get started with an application, click here.