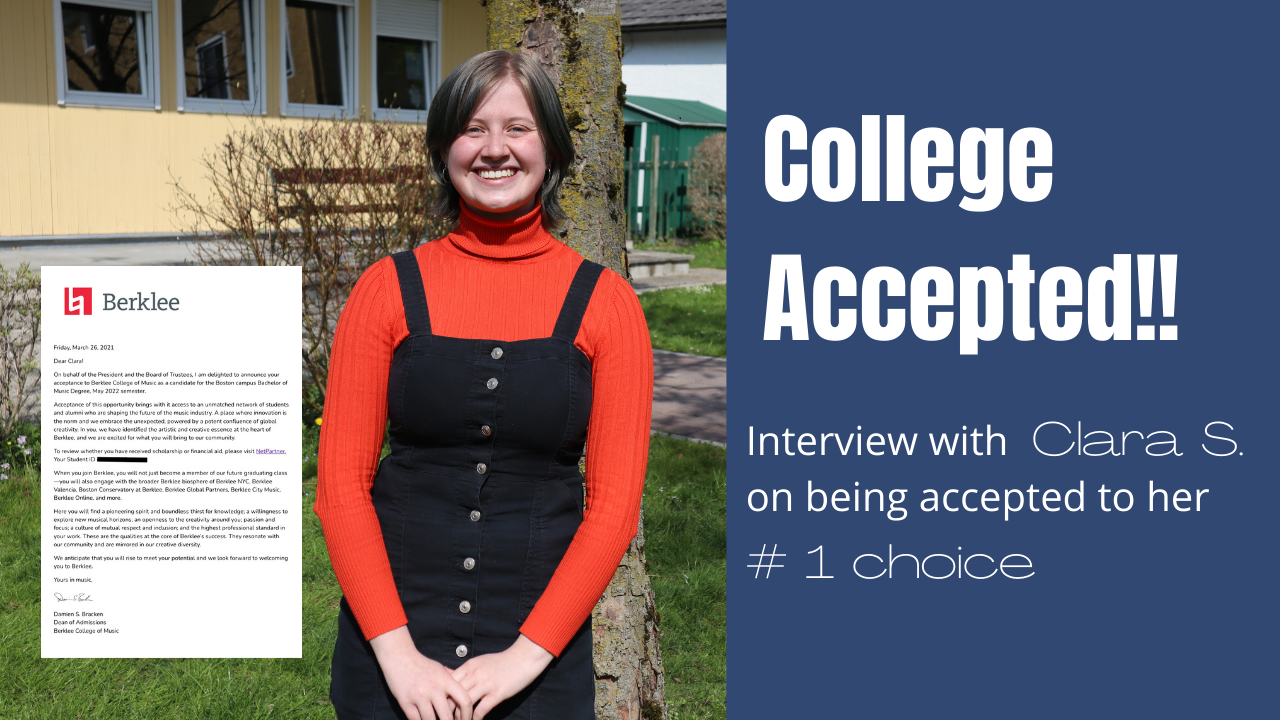 April 30, 2021
---
Austrian student, Clara S. joined AIS-Salzburg for her junior year in 2019 in the hopes of studying music in the U.S.A, preferably at the Berklee College of Music in Boston. Almost two years later, on March 26, 2021, her dream became true when she received an acceptance of enrollment letter for the fall of 2021 from Berklee. In the interview below, Clara shares her excitement about following her dream and some detail about the process behind applying and getting accepted to her first school of choice. At the end of the interview, you can watch a video interview from the fall of 2020 we had with Clara where she shared her college hopes. 
AIS-S: Congratulations on your acceptance and scholarship to study at Berklee College of Music in Boston. What was the audition process like? 
CS: First of all, thank you! The audition process was quite the experience, as both the musical audition as well as the following interview, were conducted on Zoom, which was quite nerve-wracking. I was very nervous until I got to meet the people that actually would evaluate me, who were both so nice that those feelings just went away. I was also lucky to have my mother accompany me, which gave me a lot of security and made it feel like we were just making music together, rather than auditioning for a college. Overall the process was most of all fun, but of course also a bit intense, as I hadn't auditioned for anything in a long time. 
AIS-S: Did you receive support from Mr. Agardy in this application process and if so, in which ways was he able to help?
CS: I did receive help from Mr. Agardy, as he was always available for any questions and concerns I had and also quickly fulfilled any requests I had regarding sending documents and transcripts. I really appreciate him as an advisor and counselor! 
College counselor Jeff Agardy discussing college options with a grade 11 student recently.
AIS-S: What is it about Berklee College of Music in Boston that attracted you? 
CS: I felt really interested in this school because of the array of different genres and music styles present, meaning that I can explore and play with all of those, enriching me as a musician and giving me resources to build strong skills that will assist me in all aspects of the job. I also find Boston to look like a beautiful city and I really like the East coast, making it a great fit for me. 
AIS-S: In our interview in the fall, you mentioned wanting to study music production. Is this still the plan? 
CS: Yes, I still want to study music production! Currently, it looks like my major will be Contemporary Writing and Production. 
AIS-S: What genre of music production are you most interested in producing? 
CS: I cannot fully settle on a genre yet, which is also why I am excited to attend this school, as a wide variety of genres is represented and taught, allowing me to collect different aspects of every one of them and uniting them into a new and captivating sound. Right now I am most interested in RnB, HipHop and Popular music production, as they are what I listen to most in my free time. 
AIS-S: From a career standpoint, where do you envision yourself in 10 years?
CS: I am not sure where I see myself in 10 years, hopefully doing something that makes me happy and fulfills me as an artist and person. I have also had a growing interest in linguistics, so I wouldn't be surprised if I happen to end up in that field. For now, I'll just allow myself to explore my options and I am sure wherever I'll be in 10 years will be the right place for me at that time.  
Interview with Clara in the fall of 2020: