March 1, 2021
---
Carolin H. is currently in her third year at AIS-Salzburg and is a perennial Honor Roll student. This is even more impressive when you take into consideration the time she spends on her passion for climbing. We invite you to read our interview with this amazing young woman we are fortunate enough to call one of our students. 
How long have you been climbing? 
I have been climbing for almost nine years now. My dad started taking me to the climbing gym when I was around seven. At first, it was just a hobby, but then I joined my local climbing team and started to train for competitions. 
How often do you climb each week?
I try to climb between three and four times a week. Two times on the weekend and one time during the week in Salzburg. It's not always easy to get good grades and improve at climbing at the same time, but I think I found a good balance. 
What sort of climbing do you do? 
I concentrate on three major disciplines – lead, speed, and bouldering. The goal in lead climbing is to get as high as possible on a route, while in speed climbing you try to be as fast as possible. My favorite discipline is bouldering, climbing without a rope at a height of about three meters. I absolutely love the combination of flexibility, strength, and power that is needed to top a boulder problem. In the summer, I also climb outside on real rock.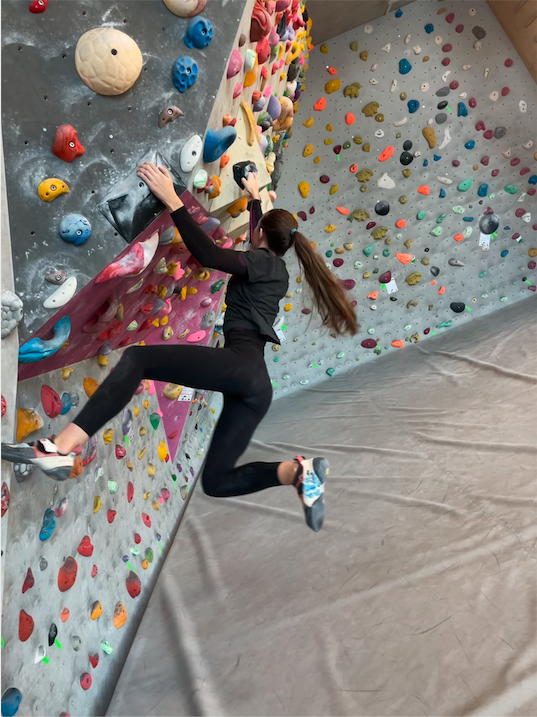 What made you decide you want to start climbing?
I never made the decision to start climbing since it has always been in my life. However, what makes me train several times a week, is my passion for the sport. I fell in love with the problem-solving aspect, the body movements, and the fun training sessions with my friends. I couldn't imagine living without this sport. 
Do you have a favorite climber that you look up to?
One of the climbers I look up to is the Czech sport climber Adam Ondra. He won several World Cups and climbed some of the hardest routes in the world. It is truly inspiring to watch his exceptional technique and passion for the sport. 
Can you explain what climbing championship that you recently won and any details of how the event went for you? 
Unfortunately, we weren't able to have regular competitions this season due to the circumstances. However, last season one of the competitions I won was the championship in Gaflenz. I slipped early in the qualification, but still managed to make the finals and win. I also made overall champion that year.