Q: What year or years did you attend AIS-Salzburg at what grade levels?
A: I attended AIS-Salzburg between the years 2007 and 2013, for six full joyous years 🙂 
Q: What is your fondest memory or memories of attending AIS-Salzburg?
A: Eehh I can't choose one…, considering I spent so much time literally growing up at AISS 🙂 Ha ha, there, I became famous for long responses, essays and presentations, so I'll try to project my evolution by trying to keep it brief and symbolic here. AISS gifted me with an international family and an opportunity to be friends with and learn from people who I never imagined to meet, a lot of love drama, a passion for team sports and sports in general, academic achievements I could never imagine reaching before, a spirit to realize such projects as the Talent Show (even won it once), yearly eye-opening trips with my friends to multiple European cities, an invitation to participate in the GYLC, but all memories combine into what this school made of me, a human who's humane, open-minded, confident, oriented, determined, advanced, decisive, like-never-before smart, sharp-witted, knowledge-hungry, curious, problem-solving, compassionate, challenge-accepting, motivated, inspired, creative, English-speaking!!! :), critical-thinking, responsible, honest, hard-working, brave, kind, a good friend, a good classmate, a good student, a dreamer. This memory would not be real had AIS-Salzburg not been such a supportive, encouraging, all-giving, inspiring, and forgiving family which it most definitely is 🙂 I wouldn't have spent these 6 years any other way. See… I just can't keep it brief.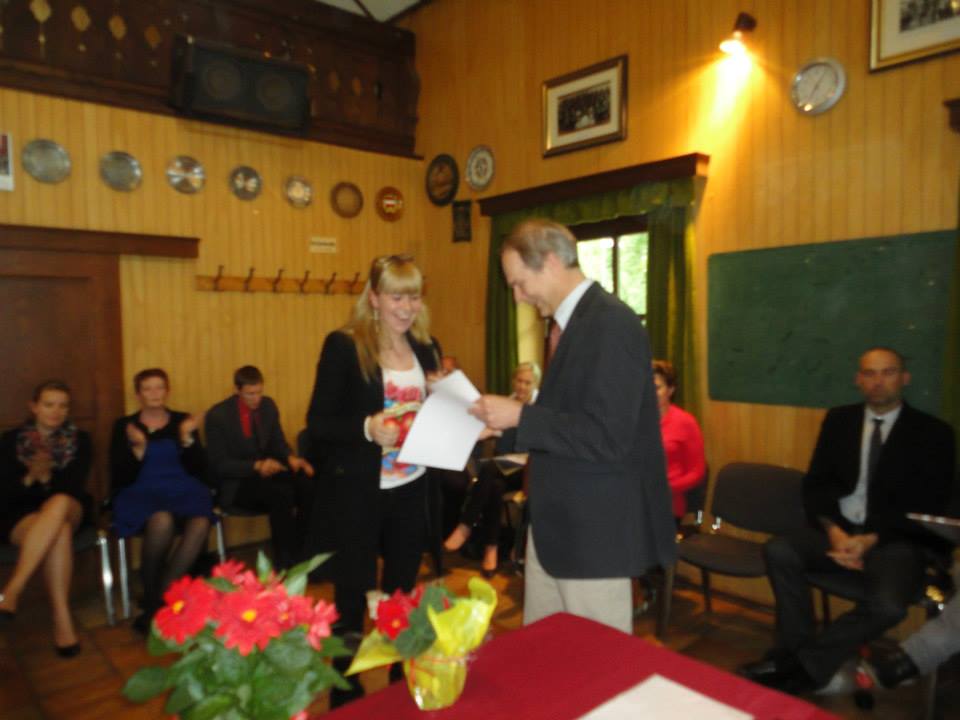 Q: What did you enjoy about going to such a small high school? 
A: I mean, again, there I found an international home everyone at least once in a lifetime dreams about. Meanwhile, there I learned how to leave my comfort zone and evolve from that, and do the best I can to do better, be more useful and inspirational, because there it was easy to enlist support for doing so. There it was easier to belong, as well as to find like-minded people, friends you can call best for life and who would always have your back, and exceptionally caring teachers with always open compassionate arms, who were all a part of this very extensive friendship circle :), understood me, forgave me, felt with me, were down-to-earth casual with me, happy for and proud of me, all of which honestly makes you want to return to school the next day 🙂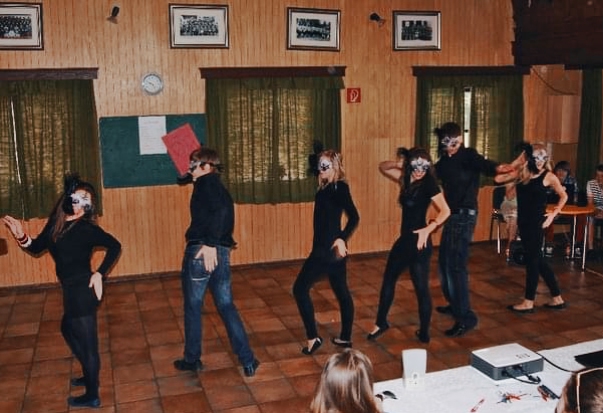 Q: What have you done academically and professionally since graduating from AIS-Salzburg? 
A: My horizons widened immensely when AISS started showing me what is available in the outside world and what I can grow upon. Interestingly enough, the first uni which I found out about, the American University of Paris, felt like the best choice because it was so much like AISS when I got acquainted with it: small, inclusive, family-like, etc. There I received a Bachelor in Journalism and Global Communications with a specialization in Marketing.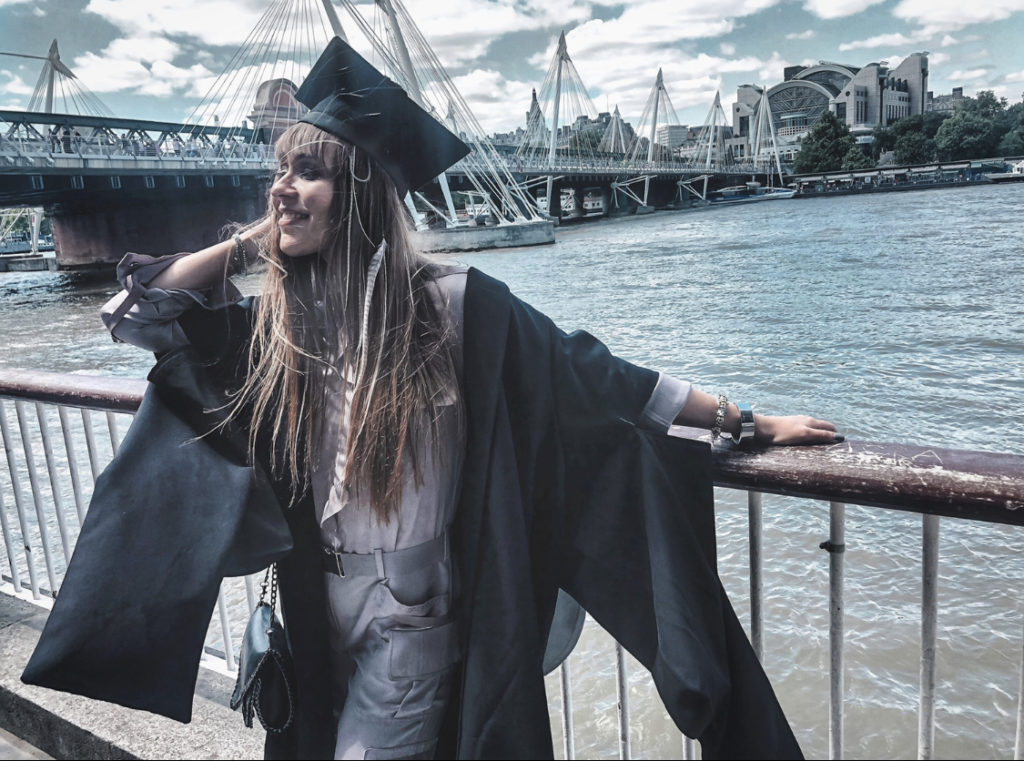 My lifelong dream to reside in New York became real when I completed an independent semester at the New York University, the most surreal academic experience in my background. After a couple of media-based internships at the McCann Erickson advertisement company and the RosBusiness Consulting TV, I then pursued a Master's degree in Transnational Studies at University College London, a multidisciplinary humanitarian program and the most rewarding academic experience in my background which guided me to what I realized is my dream job, in the fundraising field.
For over a year now, I've been a part of the Naked Heart Foundation, working to improve the lives of Russian children with special needs, caused by autism and other developmental disabilities, and to create a much more inclusive society around them. At NHF, I coordinate several international programs developed in the U.S. and England and applied in Russia (by our foundation only) for early intervention in the process of improving the quality of such kids' and their parents' lives.
I truly found purpose and my path to self-realization in charity work, which has always been a restless passion on the back of my mind.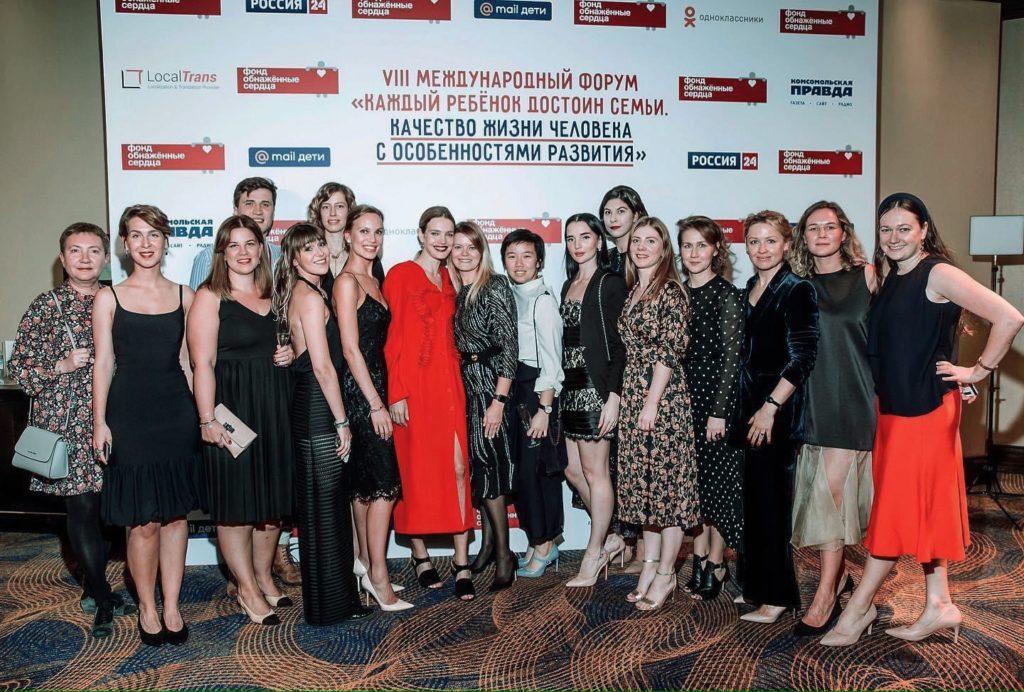 Q: What aspects of your education at AIS-Salzburg best assisted you in further academics, your professional life, and life in general?
A: AISS offered a lot of doors and various directions to all subjects. There I discovered my stronger sides and developed a vision for areas I could become successful in, an enriching mix of social or humanitarian studies, ecology, human geography, creative writing and languages. I came to AISS as a child and came out of it as a multi-lingual, multi-cultural young adult aware of global systems, issues, and opportunities to make a change starting with myself which I so heartily needed to find. Not only for the international high school diploma it awarded me with, AISS made me a global citizen unafraid to integrate and find myself anywhere I go. Isn't that so invaluable in today's world for someone like me who so passionately desires to leave a print on it? 
Q: Are there any personal accomplishments since graduating that you want to share?
A: Yes! After I realized I am good at multi-disciplinary writing while at AISS and challenged myself with a BA in journalism in Paris, there I took on the role of a student writer to the now very advanced and professional Peacock Magazine. I was given the freedom to write and publish real-life articles on subjects important and dear to me, in such different areas as politics, travel, and philanthropy, having developed an entire spectrum of ideas I was able to give a voice to. I did so by also writing a number of fictional stories and poems which I'm honestly proud of. 
Also, since I had gained the courage to try out for and become a part of the AISS Girls' Volleyball Varsity team, I evolved into a French University Volleyball League player representing AUP, all of which, in conjunction, super-boosted me as an established sports person. Thank you, Mr. Burns, for giving me the first push in that particular direction!
Q: Do you have any advice for students at AIS-Salzburg or applicants to the school?
A: I would advise all those a part of the AISS little world to come and proceed with the most open mind possible, to be tolerant and compassionate, to help, create, initiate, and be inspirational whenever you can. To be accepting of all people and lessons offered there, to make the most use of and be grateful for all the immeasurable learning and activity opportunities, all of which have become immensely useful in life for me. To make as many international friends as possible for the feeling of having family members all around the world later, and keep them, keep them well, because they're so much strength in your baggage of belonging. To be good to the teachers and staff because when they're good to you back, it is all the support you need to succeed in any undertaking. If you can be such a student at AISS, you will go very, very far in the following life, trust me and you will see :).
Where are you from?
I grew up in Fremont, Michigan, USA. It is on the west side of the state near Lake Michigan. 
What is your academic background?
I have a Bachelor's Degree in Secondary Education Social Studies and History with a Minor in Kinesiology.
Do you have any prior experience working with teenagers or in education?
I have been working with young athletes for big parts of the past 4+ years at a youth soccer club in Chicago, Illinois.
Have you lived or travelled abroad before?
I have been blessed to travel quite a bit so far, including many different regions of the USA, which is so vast compared to Europe. I have also spent parts of 3 years living in Sweden playing semi-professional soccer. My favorite places so far are Bergen, Norway and Sevilla, Spain.
What attracted you to the job at AIS-Salzburg?
Having passed through Salzburg and falling in love with the area's natural beauty, I was excited to look for and find a job in the area. Plus, having a girlfriend who studies at the local University didn't hurt either! Additionally, it was a chance to work with students and get to meet lots of new people from different cultures. 
What are your first impressions of the small AIS-Salzburg community? 
Having attended a small high school myself, I can appreciate the close-knit community a small school builds. It is exciting to see students build friendships with other students who are not their same age or grade – something that I've noticed doesn't quite happen as frequently in bigger schools. The students are friendly and have been extremely welcoming. I'm excited for the rest of the year!
Where are you from?
I am originally from Ontario, Canada, but I am also a Hungarian citizen, with family residing in both Hungary and Serbia. I consider Europe my second home!

What is your academic background?
I have two degrees from Queen's University in Kingston, Ontario. I completed my Bachelor of Science (Honours) in Biopsychology/Neuroscience, followed by a Bachelor of Education with a concentration at the intermediate/senior level. I am qualified to teach biology, science, and geography!

Do you have any prior experience working with teenagers or in education?
My genuine drive for educating youth is a direct result of the experiences I have been privileged to be part of. I have had the opportunity to gain a variety of teaching experiences through my placements, where I independently taught subjects in Biology, Science, and Geography from grades 7-12.  Additionally, I worked as a residential youth counsellor for over two years. During this time, I was responsible for organizing and leading weekly programming activities, while facilitating therapeutic counselling that promoted a respectful and supportive team environment. Lastly, I have tutored and mentored high school students for numerous years from diverse populations.

Have you lived or travelled abroad before?
Due to my family roots in Europe, I have travelled to several countries throughout the continent. While in Canada, I moved to Alberta one summer and fell in love with the mountains and nature. After living in the Canadian Rocky Mountains for several months, I am now excited to explore the surroundings of Austria.

What attracted you to the job at AIS-Salzburg? 
What attracted me to AIS-Salzburg was the small size.  I knew I would feel welcomed into a community that I could grow with. Also, with the numerous learning opportunities that AIS-Salzburg offers (engaging classes, weekend activities, and excursions), I knew this school was the right fit for me. 
What are your first impressions of the small AIS-Salzburg community?
My first impressions of the small AIS-Salzburg was the immediate connection to my colleagues and students. It really does feel like home, with everyone offering their guidance and help as I navigate the next chapter in my life!

What are your longer-term professional goals?
My longer-term professional goal is to become a full-time teacher. My passion for teaching is what led me to this job and I know that AIS-Salzburg wil help mel build my skills as an educator. 
In this first week of the 2020-2021 school year, students were welcomed to the school as always, with open arms and a ton of information to start them on the right path for a successful school year. With many new safety policies and procedures introduced, we are very pleased that everyone has adapted quite well thus far.

After boarding students arrived on Monday and Tuesday with negative COVID-19 tests in hand, separate orientation meetings were held for day students and boarding students on Wednesday, where much information was exchanged about how the school year will function given that approximately 25% of our student body is non-resident. With countless hours spent by our Corona Crisis Team on creating this COVID-19 Strategy and Traffic Light System, we hit the ground running on Thursday with the first day of classes.  

In the video slideshow below, some of these new undertakings are visible such as regular ventilation in rooms, classrooms held outside when the weather is nice, staggered lunchtimes, day students at the front of the class, and desk dividers whenever needed.
Now that the boarding students have settled in and our first two days of classes are coming to an end, we are excited to report back on some positive numbers and an overall positive outlook, despite the challenges we have faced and will face for some time to come.  
For the first time, as far back as we can remember, there are more new students than returning students. This is most likely due to our dramatically-increased online presence which showcases many positive features of our wonderful school.
Additionally, during these unprecedented times, our small, caring, family-like community is quite appealing to any parent who is concerned for their child's health but also realizes that –in the grand scheme of things– a pandemic is for the short-term and quality education is a life-long investment. Regardless of the reasons behind this increase, the new students to the school are already bringing a lot of positive energy and seem eager to join the community.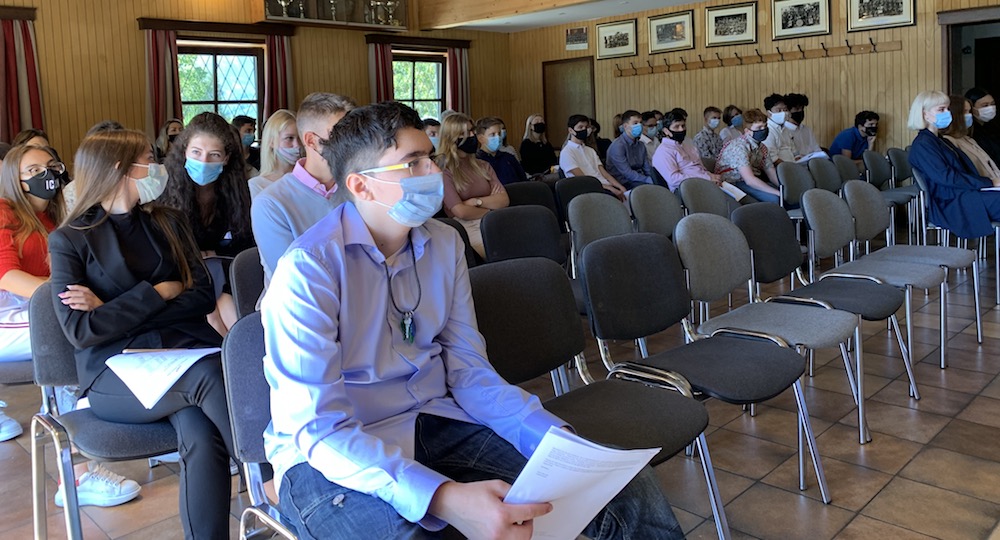 The increase in new students has undoubtedly led to an overall increase in our student population as well.  There are presently 10 more students enrolled than last year at this time and the number of applicants who wish to join in November or January has also seen a significant rise recently.  Whether these student applicants actually join us or not will be dependent, of course, upon the level of health threat here in Salzburg at that time.
Not only are the student body numbers up, but also are the number of nationalities represented. Currently, we have 27 nationalities represented at AIS-Salzburg for the 2020-2021 school year. Of these nationalities, there are no more than 8 of any one nationality, thus emphasizing the "international" in the American International School-Salzburg name.
Even with this increase in the student body numbers, our student:teacher ratio remains below 6:1; maintaining a critical aspect of our 44-year old academic program which has resulted in many success stories and a high number of graduates who were not only very well-prepared for university studies, but went on to achieve great things in their personal and professional lives.
There are other interesting facts about the 2020-2021 AIS-Salzburg student body:  The male-to-female ratio of almost 1:1; a large 'bulge' of students in grade 11; and, potentially, a very large graduating class in 2022. If this trend continues, it is possible we see a split senior class for the 2021-2022 school year in order to keep the classroom sizes small and the level of learning as high as possible.
What the numbers can't tell you, is that the overall feeling and atmosphere within the school this September is positive and focused this first week.  It is quite apparent that everyone—both the staff members and students—are happy to be here and get on with their education next to friends and with their teacher
The AP exam scores for 2020 have just been released, and we are proud to announce that the majority of our students were very successful. Of a total of 58 examinations that were taken, 47 were passed, amounting to a passing rate of 81%. The average score for all AP exams taken this year is 3.36. Finally, as in every single previous year students at the American International School in Salzburg performed far better than global levels. 92% of students at AIS Salzburg had a score of 3 or better, compared to just 60% of students at the global level. (See College Board's Five-Year School Summary below)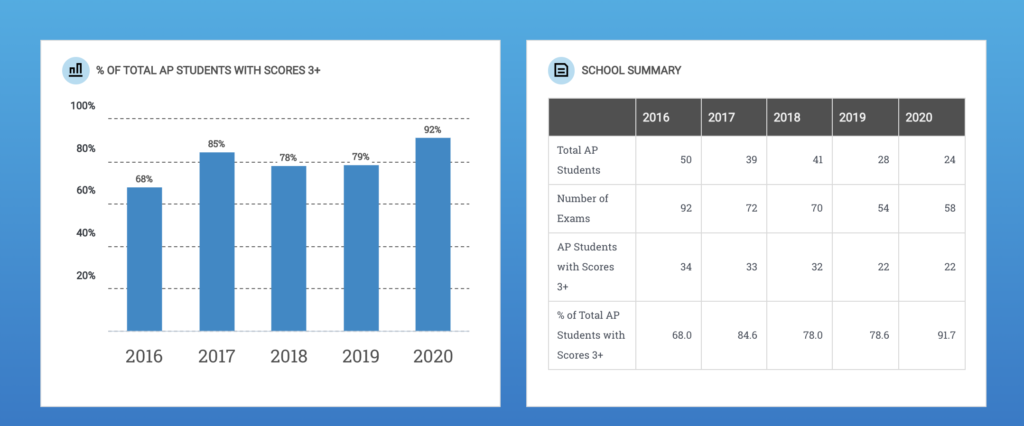 Students took AP Exams in May 2020 after completing challenging college-level courses at high schools around the world. The College Board recognizes several levels of achievement based on student performance on AP exams.
Nine students at the American International School in Salzburg have earned the distinction of AP Scholar by the College Board in recognition of their exceptional achievement on the collegelevel Advanced Placement Exams.
Three students qualified for the AP Scholar with Distinction Award by earning an average grade of 3.5 on all AP exams taken, and grades of 3 or higher on five or more of these exams. These students are Julia M., Danila S., and Maddie T.
One student qualified for the AP Scholar with Honor Award by earning an average grade of at least 3.25 on all exams taken, and grades of 3 or higher on four or more of these exams. This student is Desard S.
Four students qualified for the AP Scholar Award by completing 3 or more AP exams with grades of 3 or higher. These students are Marina B., Nicole C., Laetitia F., and Elena P.
About 23% of the more than 2.5 million high school students in over 20,000 secondary schools worldwide who took AP exams in 2018 (data for 2020 is not yet available) performed at a sufficiently high level to merit the recognition of AP Scholar. At the American International School in Salzburg, 89% of all students eligible were named AP Scholar.
Congratulations to all AP Scholars on their excellent results!
In the video below, we invite you to enjoy the beautiful drone footage that we shot this past February at the RIF Sportzentrum, the University & Olympic training facility that we use for Physical Education program, team training and competitions, and for some of our weekend activities.
Back in April, May and even June, there was still great uncertainty as to whether our Summer Language Program would proceed as scheduled. Thankfully, the Austrian government, health officials and general population demonstrated excellent discipline and cooperation and brought the first wave of infections down relatively quickly; much more quickly than in most areas. Due to this outstanding response, AIS-Salzburg opened its doors to summer language students on July 19 and completed two of the regularly-scheduled program sessions with great success.
We feel very lucky to have been given the chance and opportunity to continue with on-campus programming this past July and August which enabled us to refine and further develop our plans for September with direct experience of offering educational programming during this health crisis. This will serve us well come September.
Mr. Joe Suttmann was one of the English teachers for the 2020 SLP and found that the new classroom renovations contributed well to keeping things safe.

"The very recent and new renovations to classroom 4, where my SLP classes were held, contributed greatly to the measures enacted due to Covid-19. Brand new flooring and ceiling, along with freshly painted walls, gave a clean and sanitized feeling to the room. The new, room-specific classroom furnishings were perfect in establishing appropriate social distancing, while still leaving a comfortable, instructional feel to the classroom," said Mr. Suttmann of his first lessons since the school closed doors on March 13th due to the pandemic.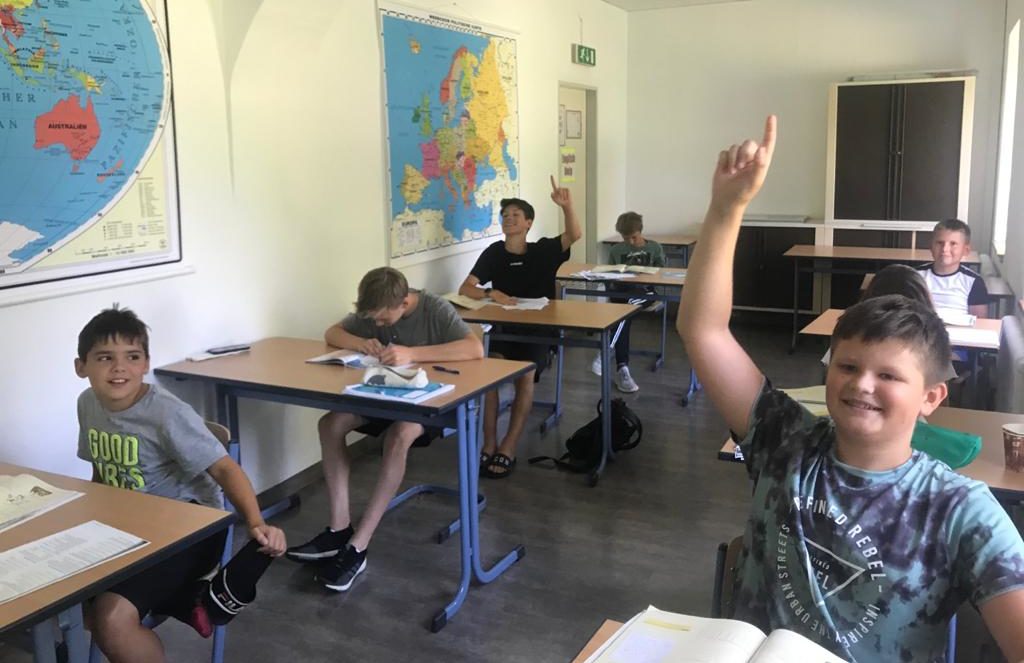 When asked of any alterations he made to his lessons Mr. Suttmann replied, "I did eliminate any class group activities that would have required close physical contact of the students to each other, but my class was very content with the group dynamic we established."
From all appearances, it did seem that the students thoroughly enjoyed all the Summer Language Program had to offer, both inside and outside the classroom.
"With our class consisting of many early or beginning learners of English, I had a strong focus on oral communication during the first period each day. The students grew to be happy and confident as their English speaking abilities improved while recounting what they had done (and eaten!) the day before. We also had fun with a game called "Two Truths and One Lie", which coaxed even the most timid English speakers to add to the conversation," said Mr. Suttmann of the assignments that were the biggest hit with the students.
We also had fun with a game called "Two Truths and One Lie", which coaxed even the most timid English speakers to add to the conversation.

Mr. Suttmann
Over the course of four weeks, the SLP student body represented 13 different nationalities. Dean of Students and organizer of the SLP activities, Miss Cassandra Baehler said the following of the safety measures taken;
"In addition to following laws put into place by the Austrian government and local companies, we always required students to social distance with people outside of our school's community and to always wear a face mask not only on public transportation but also within any enclosed space such as grocery stores, shops, etc. We also limited our activities to those which took place outdoors in large, open spaces and within local and regional areas with few only a few positive cases reported."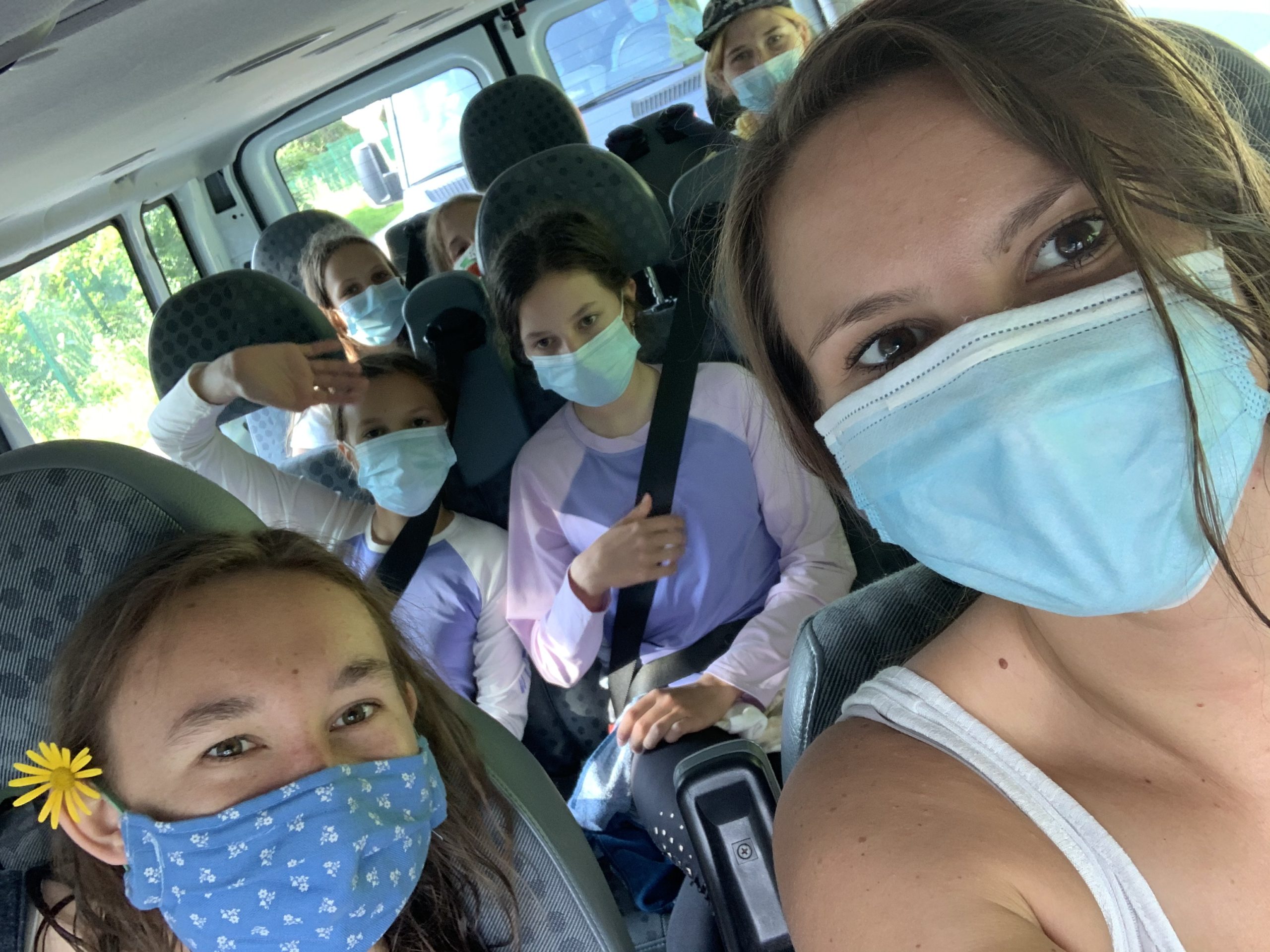 We also limited our activities to those which took place outdoors in large, open spaces and within local and regional areas with few only a few positive cases reported."

Miss Baehler
Of course, implementing a safe program in the midst of a pandemic for the first time does not come without its challenges.
"With any new procedure, it requires a lot of patience, repetition and reasoning behind it. Once the staff and students were familiar with the various procedures and protocols, everything ran smoothly. A typical challenge that we faced was weather because we wanted, to the best of our ability, to provide safe programming outdoors. Therefore, on rainy days, we tried to do things such as hiking, in which a bit of rain would not completely affect or ruin the program, student's experience and of course everyone's safety," said Miss Baehler when asked about any challenges the program faced.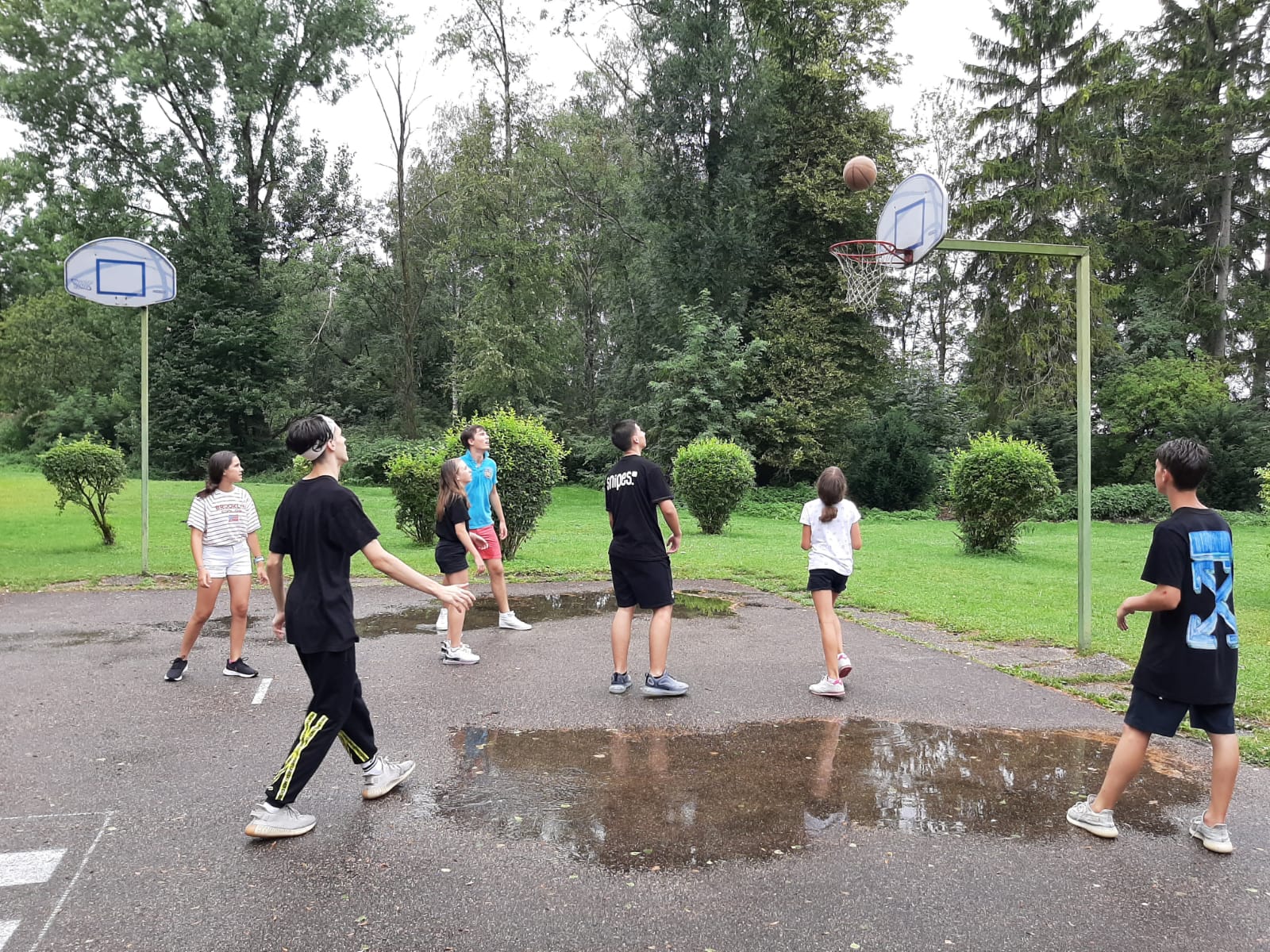 Miss Baehler explained that during the week, they would leave for activities at 1:30 pm every day once language classes and lunch were finished. These activities would run all afternoon with a return to campus at 6:00 pm for dinner. In the evenings, students would either have programming planned on campus, such as competition games, challenges, etc. or head to an evening activity in the surrounding area. They would return to campus around 9:00 pm each evening, and lights out would be at 10:30 pm to ensure everyone was getting enough sleep and was well-rested for the next day.
Activities were a combination of active, physical sports to cultural experiences to a bit of relaxation and fun in the sun. The top picks for students were: canyoning and rafting with the amazing team from Crocodile Sports, the Lammerklamm Gorge as well as the Flying Fox, the high ropes course at Waldbad, Summer sledding and of course swimming at the various surrounding lakes and local pools.
Summary videos from each week of our 2020 Summer Language Program can be viewed below.
Cassandra Baehler first joined AIS-Salzburg in 2017 as a Resident Assistant (R.A.), a position of which she was overqualified —when considering her Masters in Foreign Language and Pedagogy— but it enabled her to get her foot-in-the-door, eventually leading to her current position as Dean of Students. Her two years of experience as an R.A. allowed Cassandra the opportunity to work first hand with students and gain insight into what was working well and what could use improvement with regards to student life. Now entering her second year as Dean of Students, Cassandra continues to implement new strategies and programs to further enhance student life at AIS-Salzburg.
Due to it's popularity amongst our students, Summer Sledding (Sommerrodeln) in the Austrian Alps is a permanent fixture in our Summer Language Program schedule.
For more about our Summer Language Program visit: https://www.ais-salzburg.at/summer-language-program/
Two months after graduating from AIS-Salzburg, 15 of our 17 graduates have reported back with their university acceptances while the final two have decided to take a gap year. The following is a video slideshow report of the university acceptances of each of the 15 graduates.
As if the first week of our Summer Language Program wasn't exciting enough with swimming at the beautiful Fuschl Lake, Canyoning in the Almbach Gorge, and a nature walk & hike of Lammerklam Gorge, the second week was equally as impressive featuring white water rafting, bubble soccer, many fun campus activities and a day trip to the beautiful city of Bad Ischl! Enjoy this video of the second week of the first Summer Language Program session of 2020. 
Enjoy this highlight video of the first week of our 2020 Summer Language Program.
Joe Suttmann has been in education since 1986 and at AIS-Salzburg since 2009. Joe —a social studies teacher— has an ability to pique the interest of students through his magical mix of storytelling and humor. He is also involved in numerous other aspects of running our boarding school and for a number of years assumed the role as one of our dorm parents. For a closer understanding of who Joe is and what his role at the school encompasses, we invite you to watch the video interview below. 
What year or years did you attend AIS-Salzburg at what grade levels?
I attended "SIPS" (now AIS-Salzburg) from 1987 – 1990, grades 10-12, graduating in 1990. 
Have you remained in contact with any former AIS-Salzburg classmates? 
Yes! I've been fortunate to reconnect with several classmates on Facebook and other social media. I've also kept in touch with close friends over the years, including attending weddings and visiting each other on occasion. Several of us attended a reunion in Salzburg in 2017, and we are planning our next one.  
What have you done academically since graduating from AIS-Salzburg? 
After returning to California, it was less than a year that I began to feel out of place and missed Europe deeply. A friend of mine told me about an English-speaking college in Heidelberg, Germany. I went back to Europe and studied in Germany for two years, and then I returned to California to finish college in San Francisco, graduating with a Bachelor's in International Relations.
After a few years, I went back to school to earn a Master's in Environmental Management. I chose to study at the University of San Francisco, in part because it included a study-abroad program. I lived outside Budapest for 10 weeks and did an internship at the REC Regional Environmental Center where I made connections with environmentalists from non-profits in Eastern and Central European. Shortly after graduating, I returned to Romania for two weeks to learn about and help promote eco-tourism. 
What aspects of your education at AIS-Salzburg best assisted you in further academics and/or professionally?
Living overseas and meeting people from different cultures influenced my undergraduate choice. Although I never went into the field, it was the inspiration for furthering my experience.  
On a personal level, my desire to travel and explore the world, and being able to adapt to different environments, I can trace directly to my experience at SIPS. Also, to my chagrin in some ways, my inability to feel settled or belonging to any one location. I'm always ready to pick up and head to the next adventure. New York City in many ways is the perfect place for me to live; it has deep history, worldly architecture, a progressive mentality, and a global citizenship.
Are there any personal accomplishments since graduating that you want to share?
Professionally, I've been working in healthcare administration for over 15 years. I'm currently an Associate Director in Clinical Research Finance at Memorial Sloan Kettering Cancer Center in New York City. 
To stay connected with my love of nature, I work as a volunteer SCUBA diver at the New York Aquarium in Coney Island. 
Personally, I'm most proud and excited about my athletic ability, which I discovered later in life. Since 2009, I've competed (against myself) in several marathons and triathlons, including two 70.3 Ironman races. I'm currently training for a full Ironman. 
Are there particular AIS-Salzburg moments or memories that have stayed with you over the years?
For me, it's more of a feeling; the closeness of the school community, living in the dorms, the intimate classes and diverse teachers and staff. On top of that, the natural beauty of Austria, the dramatic Untersberg jutting out of the plains, the richness of the culture, hearing a foreign language and having to hone your social survival skills. This all created a feeing of satisfaction that I've hardly been able to match, and it's something I still crave. 
Do you have any advice for students at AIS-Salzburg or applicants to the school? 
In 2020, we are facing a wave of change as a global society. My wish for the students at AIS is to continue to have the ability to enrich your lives once this transition subsides, and it will.   
It's important to study and do well in your classes, but don't miss out on exploring Salzburg, traveling, and meeting the locals. Study German so that you can truly immerse yourself in the culture. Go hiking, see concerts, and visit the historical sights. Take it all in while you have the opportunity, and use the experience to inspire your future.  
The Corona pandemic will not last forever. Will the same be said about your child's education?
The worldwide Corona pandemic has led many parents to more carefully consider the educational options available for their children and what risks may be involved. These are important considerations and require familiarity with reliable facts that are hard to come by given the fluctuating and unpredictable nature of this crisis.
Some parents may decide to drop their considerations of providing their children with the outstanding opportunities that an international boarding school can provide and keep them at home. This is an understandable conclusion but does often bring with it the further acceptance of a secondary education that may be publicly underfunded, moribund in its programming, and bereft of the experiences and intellectual challenges that will be necessary to gain acceptance to university programs of quality.
If, on the other hand, one is willing to look into and gain an objective understanding of the security and quality of an educational experience offered by an international boarding school with many years of experience, some interesting and thought-provoking facts provide food for thought. Here are a few of the more important considerations that one should take into account:
Boarding schools provide immediate, personal attention and supervision to all students both individually and as a student body.
International boarding schools consider the entire student; their health and well-being as well as their intellectual development and this not just for six hours a day, but for 24 hours a day, throughout the entire school year.
An international boarding school necessarily restricts movement, activity and engagement with greater society in accordance with what is safe, edifying and wholesome and have great experience in this. Boarding schools, in many ways, are 'societies-within-societies'; enclosed and shielded from the many negative aspects of everyday life yet connected in appropriate contexts that are thoughtfully considered and planned.
An international boarding school is experienced and effective in providing solid health care around the clock as as fundamental aspect of their mission and purpose.
International boarding schools are generally small and have a very low staff:student ratio whereby individual students can be guided, supervised, informed and cared for at a very personal level.
International boarding schools enroll students who are motivated, intelligent, thoughtful and considerate. These interact with teachers and administrators that are of a much higher quality than those found in public school programs. 90% of all international boarding school students report having had great, high-quality teachers* who not only teach, but care for their well-being on a daily basis.
*The Association of Boarding Schools Report, 2018, http://www.boardingschools.com/discover
Let's Get Specific: International Boarding in Salzburg, Austria
Where an international boarding school is located, of course, should be an important aspect of your considerations during a worldwide pandemic where from region to region, state to state and continent to continent, the situation and potential dangers can vary greatly. Here are the facts about AIS-Salzburg during the Corona pandemic:
Austria has had remarkable success in stemming and controlling the original outbreak and was one of the first European nations to bring the numbers under control following excellent leadership from the government as well as strong cooperation within the Austrian society.
The Austrian health care system is excellent, experienced and proven capable of providing emergency care to everyone in Austria. Salzburg has three major hospitals and excellent health research and therapy facilities.
The Austrian government has established a plan for addressing any new positive infections regionally and has dramatically improved the amount of testing available. It is predicted that future outbreaks in Austria will be controllable regionally to prevent widespread infections among the general population.
The Austrian Interior Ministry has cooperated with AIS-Salzburg to provide the means by which students from around the world can travel to Austria and take up residency in our dormitories, even if the Austrian Consulates are presently closed where you reside.
AIS-Salzburg is in very close contact with both the government and health authorities in Salzburg and is provided with up-to-date information continuously.
As a closed community, AIS-Salzburg is able to effectively limit the possibility of CoVid-19 spreading to campus while maintaining programming in athletics, sports, activities and instruction unhindered.
All health precautions (hand-washing, surface disinfection, social distancing, etc.) are easily maintained and communicated within the school community.
As a boarding school with 90% of our students resident on campus, conditions here are much safer in terms of social distancing and isolation than they would be for any student attending a day school.
The school administration has over 30 years' experience at AIS-Salzburg. They communicate effectively, act immediately and rely upon three decades of service to the AIS-Salzburg community of students and parents.
Our dormitories are filling up quickly for the 2020-2021 school year. For tuition information or to get started with an application, click here.
In accordance with the public health authorities' guidelines, AIS-Salzburg's health safety guidelines for the Summer Language Program are as follows.

Guidelines in Classrooms
Classes shall enroll a maximum of 10 with teacher.
All classroom desk surfaces, door handles and chairs are to be disinfected daily by teachers before class begins.
Teachers shall distribute hand disinfectant in the morning and after all breaks or returns to classroom.
Ground floor public bathrooms shall contain soap as well as disinfectant dispensers.
Extra chairs in classrooms shall be removed or stacked; one student per table in all classrooms.
These guidelines shall be posted in and around all classrooms.
Masks are not necessary or required in the classrooms but may be worn if desired.
Teachers shall frequently wash their hands and take all necessary precautions when away from the school.
Any student who has a persistent, dry cough with headache and/or fever shall be sent to school office immediately.
Guidelines in Dormitories


All boarding students shall be housed in single rooms. Double rooms can be utilized only by family members.
Infirmaries are available and stocked, ready for isolation use.
A staff member shall be in charge of morning illness reporting.
Hand soap shall be provided in each dormitory room.
Hand sanitizer shall be placed on each floor in stairwell.
The resident staff shall disinfect public surfaces and door handles each evening.
The cleaning staff will ensure that all rooms are aired out each morning.
The student room keys shall be disinfected when deposited with the staff.
Surfaces and handles in rooms shall be disinfected by the cleaning staff daily.
Extra care is to be taken with laundry service:

Laundry will be available only as of the second week (one time per student every 2-weeks session).
Bedding shall be changed with every change of student in a room.
Clean towels are to be distributed frequently. Students may bring their own towels.

All requirements and guidelines shall be clearly posted in and around the dormitories
Guidelines During Meals


Students and staff will be assigned a dining room to equal out numbers and maximize distances.
The staff shall monitor the meal lines to ensure that proper distance is kept between students.
Marks shall be placed on the floor to keep distances during meal lines
The kitchen staff will maintain all health requirements pertinent to their duties without exception.
Extra tables and chairs shall be taken out of the dining rooms.
All tables and chairs shall be disinfected daily after meals.
All surfaces that students may touch in the kitchen are disinfected daily after meals by the kitchen staff.
Students shall be encouraged to dine outdoors when appropriate; one evening meal per week shall be a grill evening.
Student body temperatures shall be taken each morning at the breakfast and lunch meal lines by a staff member.
The kitchen staff shall disinfect the surfaces of all beverage and snack machines daily.
All meal requirements and guidelines shall be clearly posted in and around the kitchen and dining room areas.
Guidelines During Activities


Masks shall be worn by all students and staff on all buses, vans and other transport.
No assemblies shall be held indoors; daily announcements shall be made in class.
Activity locations shall be to outdoor locations primarily.
Whenever possible, activities shall not be to sites and locations where many people are located and entrance lines or crowded conditions are probable.
Hand sanitizer and sufficient masks shall be taken with staff members whenever away from the school.
Activity groups shall not exceed 20 students with staff members.
Only on-campus activities shall be scheduled in the evenings after dinner.
Public trains shall not be utilized for transport; buses or school transport only shall be utilized.
Staff members shall disinfect all surfaces in school vehicles after every use.
All students shall be informed clearly of distance restrictions and health requirements if given free time.
All requirements and guidelines shall be clearly posted on public bulletin boards.
Other Guidelines
Reusable or disposable masks shall be provided to all students upon arrival and whenever necessary.
Pocket money distribution lines shall respect required distancing.
The resident staff, administration and teachers shall clearly explain all of these guidelines and answer any and all questions students may have concerning these.
These guidelines will likely remain in place in the fall for the start of the 2020-2021 school year and will be reevaluated periodically in accordance with further updates from public health authorities.
Hailing from Cincinnati, Ohio, Jennifer Fratianni has been a member of the English department for a number of years and has just finished up her 20th year at AIS-Salzburg. An outdoor enthusiast, she can be found hiking, skiing, and rock climbing in the mountains when she's not in the classroom. Jennifer is passionate about teaching English, and she loves connecting with students by exploring great literature with them. She also enjoys tutoring students one-on-one and has helped numerous students over the years to cope with the demands of their rigorous academic schedules by helping them to improve their English language skills.
We are pleased to announce that the 2020-2021 Fall Excursion will be made plural this year: Fall Excursions. The primary 5-day trip—included in tuition and fees—will be to the beautiful city of Prague in the Czech Republic. We will also, however, be offering a five-day excursion to Athens and Delphi, with emphasis on ancient Classical Greek culture. As this trip will involve a flight from Salzburg to Athens as well as travel within Greece, we will be charging an extra €200 for this trip and will soon begin requesting commitments from our students.
To better accommodate all of our students, we have also decided to move the Junior Community Service Trip to earlier in the school year (October 1-4, 2020). Therefore, all of our students will have the opportunity to enjoy one of these two exciting excursions and the 11th graders can continue to provide the community service required by our program. Please adjust your calendars!
The excursion to Prague will include stops at the Prague Castle, Charles Bridge, St. Vitus Cathedral, Národní Muzeum, Museum Of Communism, and the Church of Our Lady before Týn. Students will choose from a number of daily activities ranging from Theatre performances to Water World at the Aqua Palace.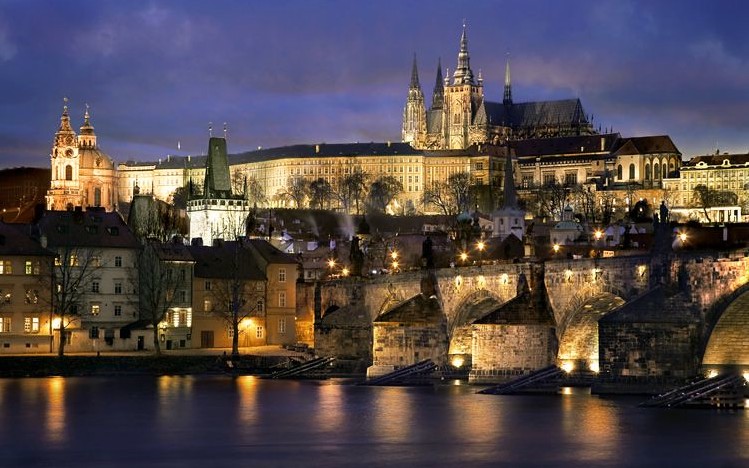 Highlights of the trip to Greece will include a full-day coach and guide to Acropolis, Hadrian's Arch & Temple of Olympian Zeus, Agora & the Temple of Hephaistos and National Archaeological Museum. Smaller excursions include a guided tour of Aegina Island and as well as Delphi and it's Archaeological site and museum.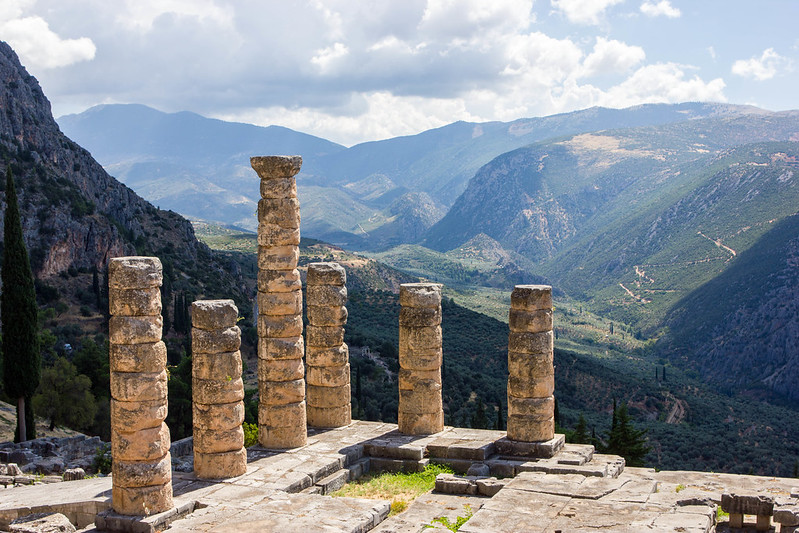 Please be aware, however, that our plans may change due to the Corona virus situation this fall. Our commitment to keep our students safe and healthy takes priority over such excursion plans and adjustments may be necessary.
What year or years did you attend AIS-Salzburg and at what grade levels?
I attended AIS-S as a day student from 2000-2004.
Are there particular AIS-Salzburg moments or memories that have stayed with you over the years?
Oh my, there are so many! I think the most notable memory though, is approaching "the big yellow building" every morning and feeling that anticipation of what could happen.
Have you remained in contact with any former AIS-Salzburg classmates and if so, who?
Absolutely! Some I don't get to see very often, unfortunately (luckily social media helps there), others on a monthly basis!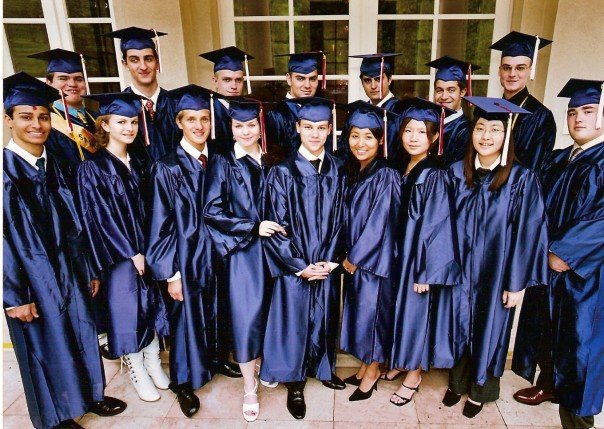 What have you done academically and professionally since graduating from AIS-Salzburg?
After graduating from AIS I moved to China for a year to study Chinese. Then, I applied to Kingston University in London to study Computer Security and, although I was accepted, I decided to move to Minsk, Belarus to study it there instead. After about a year I realized that my calling was in China and so, I moved back to Shanghai. I continued studying Chinese but drifted away from Computer Security and towards Business instead. All the while I actively participated in the English language theatre scene.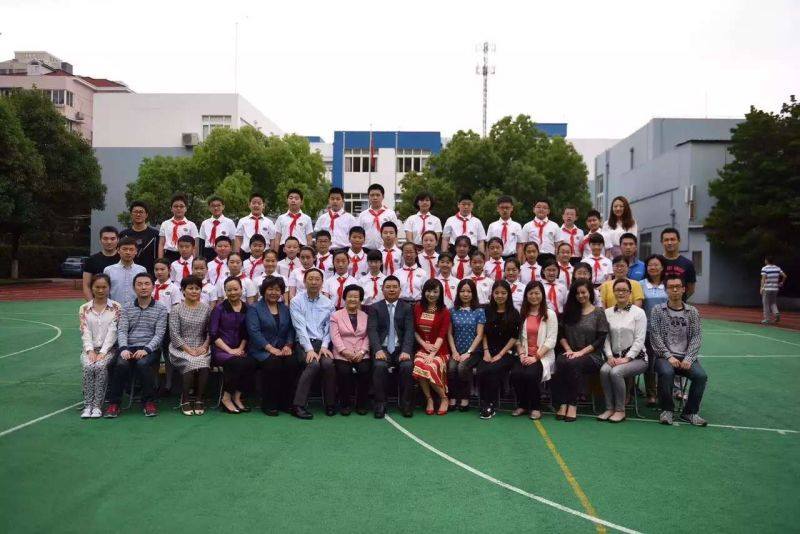 A week after graduating from University I gave birth to my daughter and only focused on being a mom for a while. I was eager to get back into work life and to combine my business knowledge with my love for the theatre arts. So, I opened my own theatre company and became its executive producer. From small shows to musicals, it was all covered.
On the side I also took on establishing the Drama department of a private school in Shanghai where I worked closely with nearly 500 students on a weekly basis for the next 4 years. Challenging? Yes. Fun and rewarding? Definitely.
After nearly 13 years in Shanghai, I moved back to Salzburg where I'm now working as Creative Content Production Manager for the fashion label' Quipster'. Other than that, I  continue to work on projects in both film and theatre with the goal of building a bridge between Salzburg and Shanghai at some point in the not too distant future.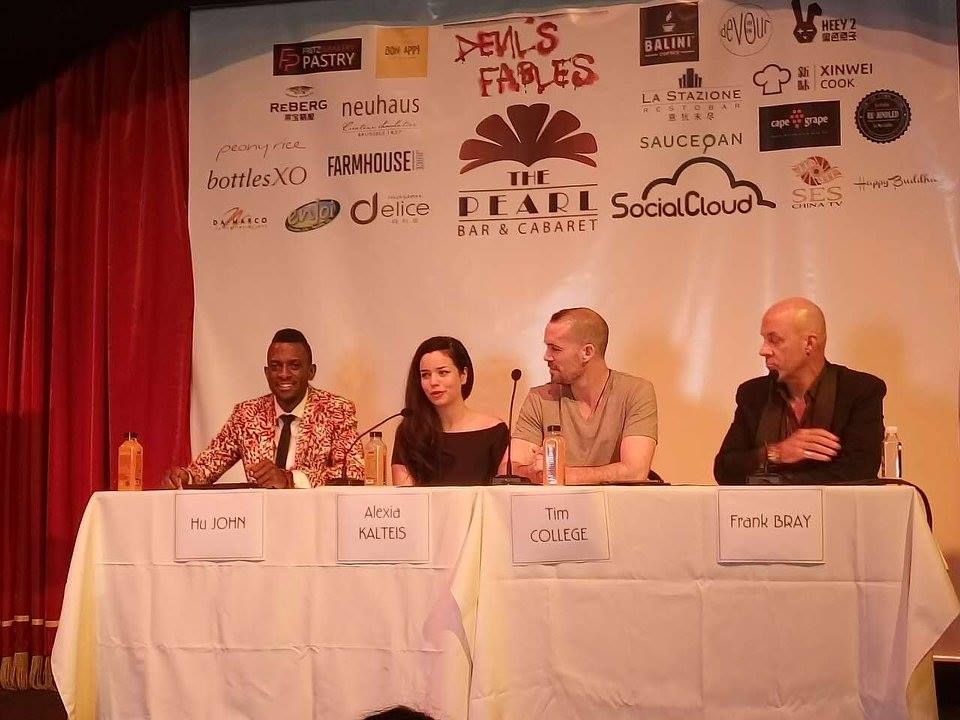 What aspects of your education at AIS-Salzburg best assisted you in further academics and/or professionally?
I couldn't pinpoint it. I think it was the entire "experience". AIS-S contains the whole world within its walls. The diverse cultural backgrounds that makeup both the student body and the staff, open your eyes to what's out there. Through this diversity and a great academic curriculum, the world is opened up to each and every student giving them something so valuable; OPTIONS.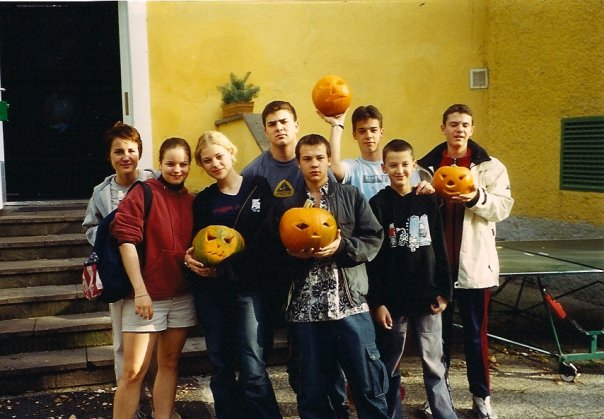 Are there any personal accomplishments since graduating that you want to share?
Sure! I have a beautiful and healthy daughter, a Theatre company, I speak a few awesome languages and I have a bunch of plants in my garden that are actually growing! #superproud
Do you have any advice for students at AIS-Salzburg or applicants to the school?
Power through the challenges and don't be lazy. Remember, these few years go by so much faster than you can even imagine. Also, don't ever be satisfied living in your comfort zone. You're not going to achieve anything there.
With the Austrian Alps and over 65 ski resorts in the province of Salzburg at our disposal, we provide our students with plenty of opportunities to ski or snowboard.
Included in the tuition for full boarders are 5 ski days and for all students, one 4-day ski excursion is included. All ski trips include private ski instructors as leaders in the morning and free ski time with friends in the afternoon. Students are also offered up to 3 additional ski days at their own expense, provided ski conditions and the number of students signed up are optimal.
Leading our skiers and snowboarders is Dorm Parent Tim Young who has also been instructing skiers and snowboarders in Austria since 2010, including 3 years at the Hermann Maier ski school. Joining Tim is our Athletic Director, David Burns, who has been snowboarding for over 30 years, 16 of which have been in Austria.
Nicole Cerone has been at AIS-Salzburg since 2003 and is one of the biggest emotional supporters the students rely on year-after-year. After graduating from college, she originally came to our school as a Resident Assistant with the intent to only come for one year and then return to college to get her masters. She fell in love with the school and has been with the school and has been with us ever since!
Miss Cerone is one of the key members of the AIS-Salzburg community, having worked on the resident side for more than a decade before committing to teaching full time five years ago. Her experience and insight into both aspects of the life of a boarding student is extremely valuable for the overall development of our students.
Outside of mandatory Physical Education, there are many opportunities for students to get involved in sports throughout the school year. From numerous ski trips to various team and individual sports to connecting students with local instructors, we support and actively encourage our students to have a healthy balance of sports in their lives.
As a member of the Danube Valley Athletic Conference (DVAC), we annually participate in boys' soccer, girls' volleyball, and boys' and girls' basketball competitions. DVAC also holds events for individual sports such as cross-country running, swimming and tennis.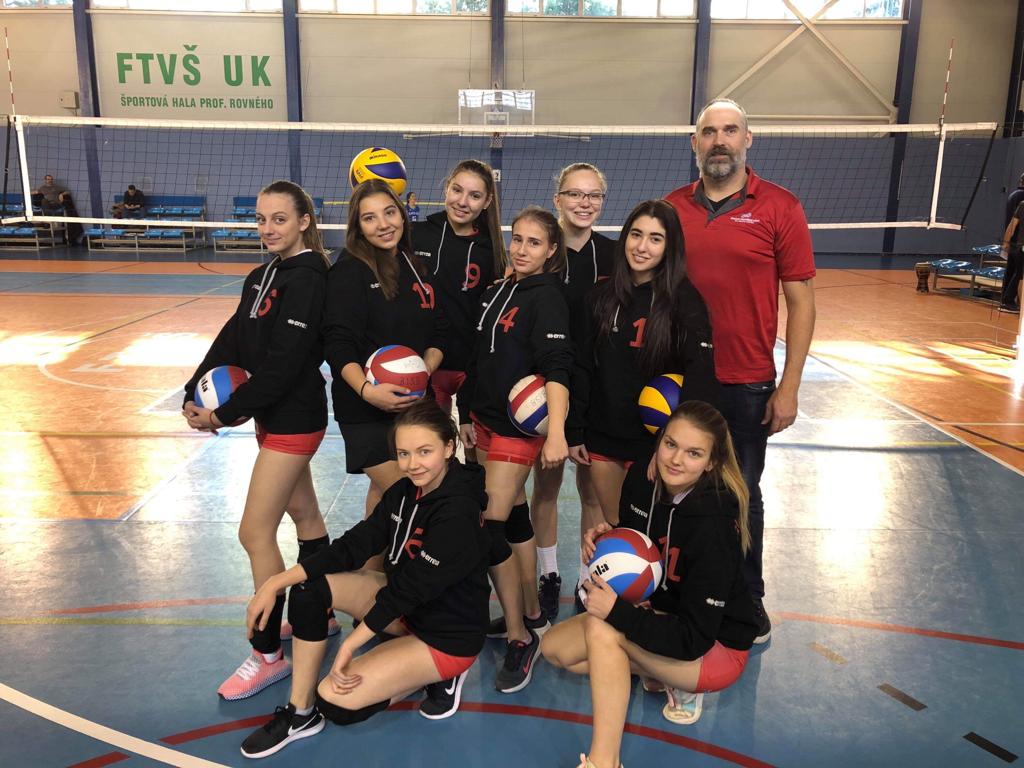 Founded in 2009, DVAC boasts 13 international schools from Austria, Hungary, Slovakia and the Czech Republic and is adding more schools almost every year. Since our school is located furthest west, we tend to travel more to competitions than host them, and therefore schedule a cultural tour on the Friday before the event for our players.
We also take full advantage of having the Austrian Alps in our backyard by scheduling an annual 3-day ski excursion and 5+ ski days each winter, all of which are included in the tuition. Students are separated by skill level and enjoy professional instruction for all levels in the morning, and free time to ski with their friends in the afternoon.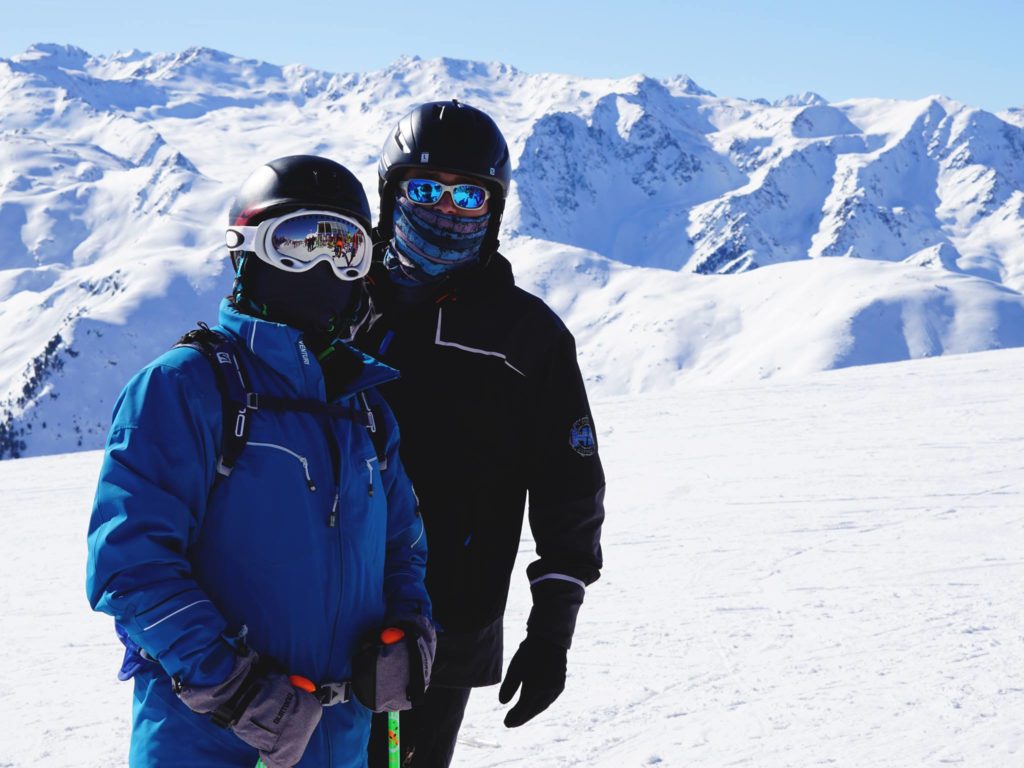 In the spring we have two major sporting events, our 'Boys and Girls Invitational Basketball Jamboree' and 'Sports Day'. We have been hosting our annual basketball tournament since 1990, featuring 6 boys and 6 girls teams from international schools in Switzerland, Germany, Austria, Hungary, Slovakia and the Czech Republic.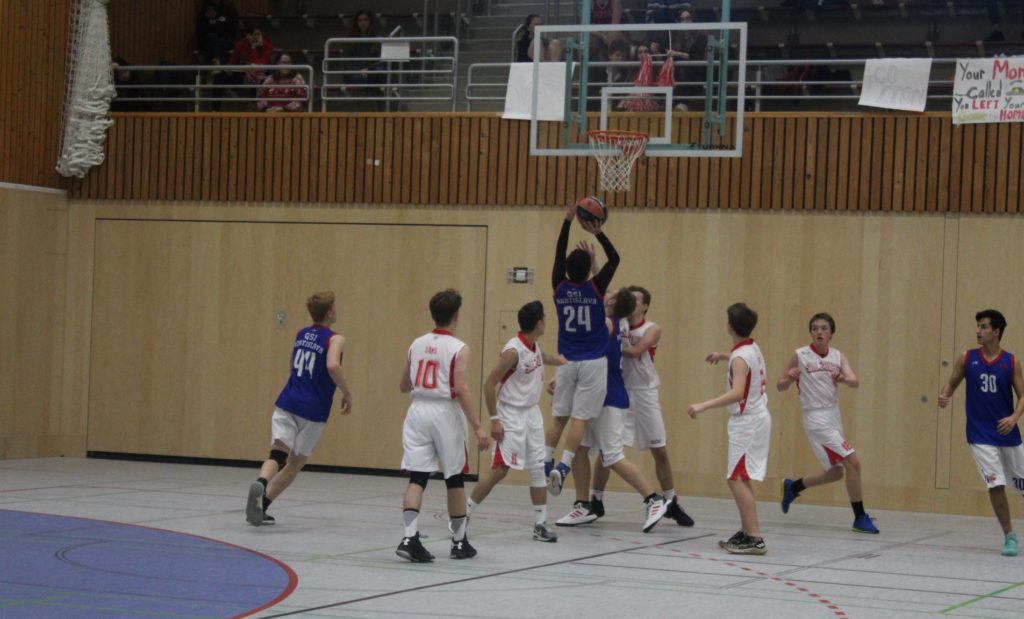 In 2016 we held our first 'Sports Day', an annual event where the entire student body, administration, faculty and resident staff are divided up into teams to participate in a full day of sporting and fun events. It is probably the highlight of the year and is a great way to celebrate the nice spring weather and a successful year together before final exams and summer departures.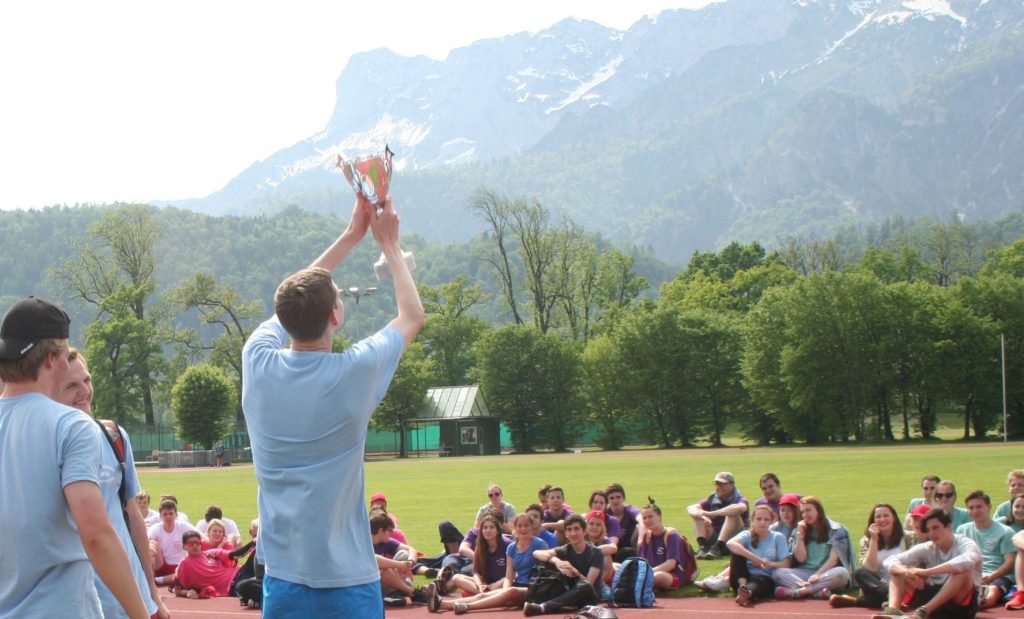 What year or years did you attend AIS-Salzburg at what grade levels?
I first attended the summer language program in 2004 and then moved into Moosstrasse 106 a few months later as a full time boarding student – I was in 9th grade. I attended all the way through high school and graduated in May of 2008.
What is your fondest memory of attending AIS-Salzburg?
Everyone probably says this, but it's everything! I look back on my high school experience 12-15 years later with nothing but fond memories and a profound appreciation for just how special the experience was and how lucky I am to have had the opportunity to live it. Not many people around the world can say that their high school weekends were spent skiing in the Austrian alps or climbing the Untersberg, for example. Having attended a small boarding school where it's impossible for a student to just be a number among thousands or a line on a spreadsheet is a value proposition on its own – the relationships that you form with your classmates who are also your "housemates", with your counselors, and your teachers all translate into a wonderfully tight knit community that is completely unique.
Have you remained in contact with any former AIS-Salzburg classmates?
Definitely – although "staying in contact" in the traditional sense is more difficult for us – we all live in different countries, even on different continents. A group of us from AIS attended the University of Miami at the same time. Marco Vicel (who was in my graduating class) and I were even in the same class in business school later on by chance! My younger sister also went to AIS (2006-2009), so we obviously are in close contact and it's lovely that we share some of these memories.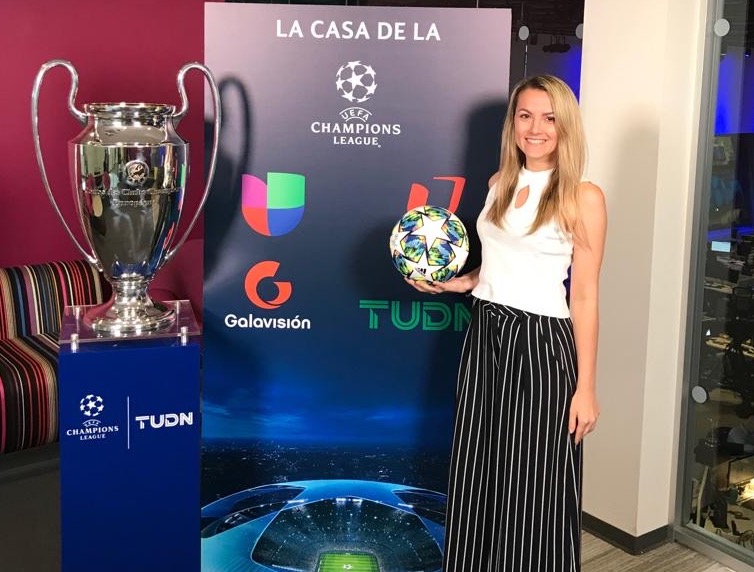 What have you done since graduating from AIS-Salzburg?
After leaving AIS, I attended the University of Miami to study marketing for my bachelor's. Post graduation, I dabbled in entrepreneurship and very quickly stopped dabbling when I realized how difficult it was. I then chose to get my MBA and found a passion for management science, six sigma, LEAN, and other continuous improvement methodologies. By complete coincidence I accepted a really cool job as a six sigma practitioner at a Spanish-language media company in Miami. It worked out pretty well, as I still work at the same company to this day – I am now a vice president within the sports broadcasting division.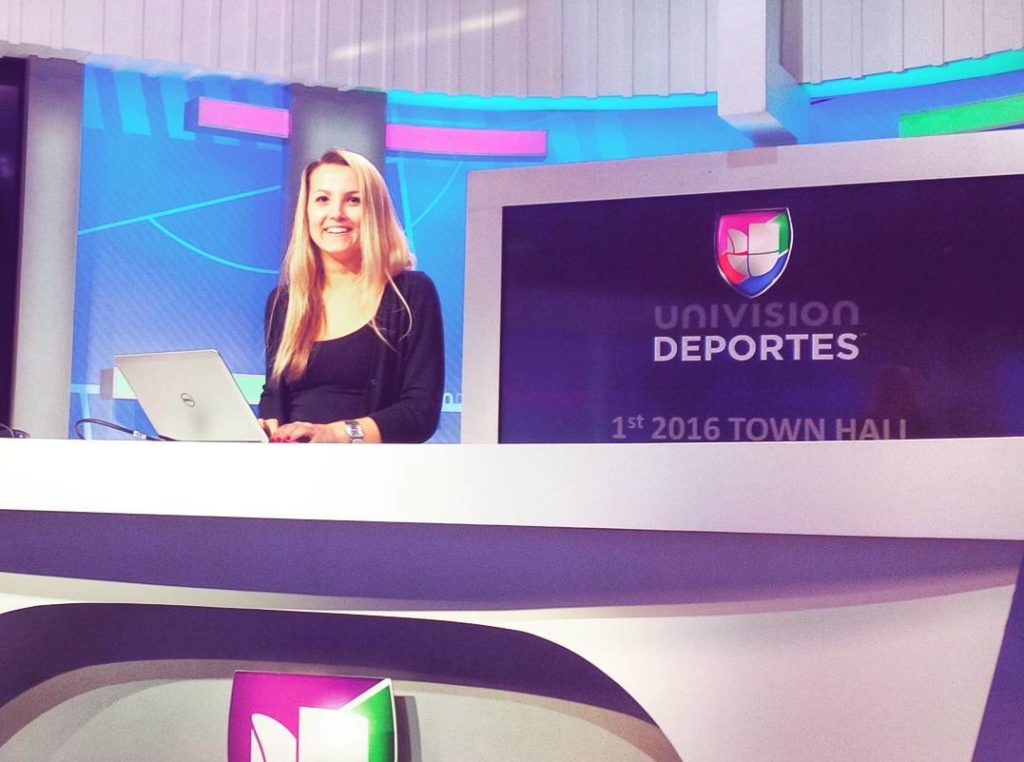 What aspects of your education at AIS-Salzburg assisted you in the success that your further academic and professional achievements represent?
The boarding school experience taught me to be emotionally mature and independent much earlier than my peers who lived at home until their late teens. Although I must admit I developed a pretty serious knowledge gap when it came to doing my own laundry. At AIS this was done for us, so in that respect, university was a slightly rude awakening.
Jokes aside, the academic curriculum is very challenging compared to the requirements to receive a "regular" US high school diploma. Given the school is so small, there is no option other than taking hard classes and challenging yourself, you can't take any easy way out. But it's a good approach, I believe it gave us all grit which is a vitally important driver of future success. I took around 12 or 15 Advanced Placement exams in my last two years and I didn't find them difficult; the rigor of the in-classroom education along with the guidance of my teachers prepared me almost completely.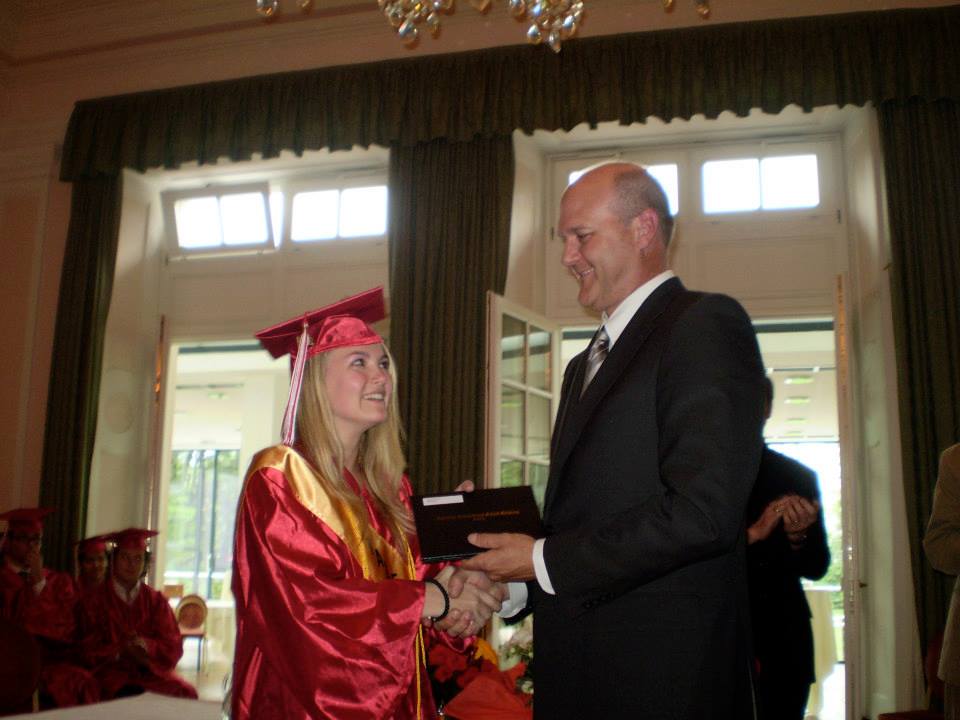 Do you have any advice for students at AIS-Salzburg or applicants to the school?
Applicants: You're making a very wise choice – read below note to current students.
Students: You are SO LUCKY! Make the most of this time in your lives and of the time at this school. It's easy for me to say now as Monday morning quarterback (more like Wednesday at this point), but these are your most formative years and you're really very fortunate to grow into the great people you are going to be in such a nurturing, caring, yet challenging environment. I know study hall and lights out are annoying. Now. You will yearn for it later on, I promise. The possibilities for what you can make of your education and out of living at Moosstrasse 106 are endless – you will get out of it exactly what you put in; it's up to you. Living in Salzburg is so much fun (except the night of the Krampuslauf), living with your friends is so much fun! Sachertorte, kaiserschmarrn, and leberkaese are all so good; as soon as you get to university the food will start to get worse. All of your teachers are amazing and they care so much about your education – appreciate them, take what they have to offer you. Be in the moment and be mindful, you will never forget the moments you're living right now.
Jennifer Heider-Kasberger is from Seattle, Washington and has been at AIS-Salzburg since 2008. She is known for developing close bonds with students — evident in the many photos of her hugging students at award ceremonies — and delivering heartfelt speeches to students at the end of the school year. Her colleagues also really appreciate the tasty brownies she leaves out at the front office!
Dorm Parents are often adults who have raised their own children through the university level and know the trials and difficulties of adolescence first-hand or have been with the school for numerous years starting at the resident assistant level.
After raising her own children for 22 years, Valerie Schubert signed on as a Dorm Parent at AIS-Salzburg in 2008 and remained in the position until her recent retirement in 2018. That is when her sister, Claire Murphy took over, bringing with her over 30 years of experience in child care. It is our pleasure to introduce to you the school "moms", both past and present in this video interview.
Salzburg, the birthplace of Mozart, is one of the most beautiful and culturally rich cities in Europe with its baroque architecture and beautiful skyline dominated by the Fortress of Hohensalzburg.
As our students claim in this video, for a city of just over 150,000, Salzburg has a big-city feel to it. Probably the biggest case in point is the sole fact that Salzburg is home to FC Red Bull Salzburg, which compete in the UEFA Champions League. Salzburg also has a professional hockey team, which also competes in the Champions League for hockey. The city has countless designer shops and restaurants predominantly on two famous shopping streets, the Getreidegasse and Linzergasse. Students also enjoy two shopping malls totalling over 150 shops featuring many retailer chains.
Surrounded by mountains, Salzburg provides a number of options for students with a flair for the outdoors. Whether it is a day hike with an overnight stay at the top of the Untersberg, a quick one hour drive to the Austrian postcard city of Hallstatt for a salt mine tour or a ski day at one of 60+ ski hills in the nearby Alps, there is plenty to do for the outdoor enthusiast. This video was taken in late February 2020 and only shows a glimpse of what Salzburg and the surrounding region have to offer. We hope you enjoy it.
Vida Long has been teaching since 2010 and on the AIS-Salzburg teaching faculty since 2014. Hailing from the Pacific Northwest of the United States, Vida is primarily an English teacher and is also utilized for her fluent German skills as a German 1 instructor. Vida is best known for her ability to teach our senior students the necessary skills to write a college-level paper.
Today, Thursday, May 21st, as we say goodbye virtually in a Zoom call to our 2020 graduation class, there will likely be more emotions than usual given that five of them have been at AIS-Salzburg since junior high, coupled with the fact and we will not have the opportunity to send them off to the real world with our traditional commencement ceremony held annually at the beautiful Kavalierhaus Klessheim.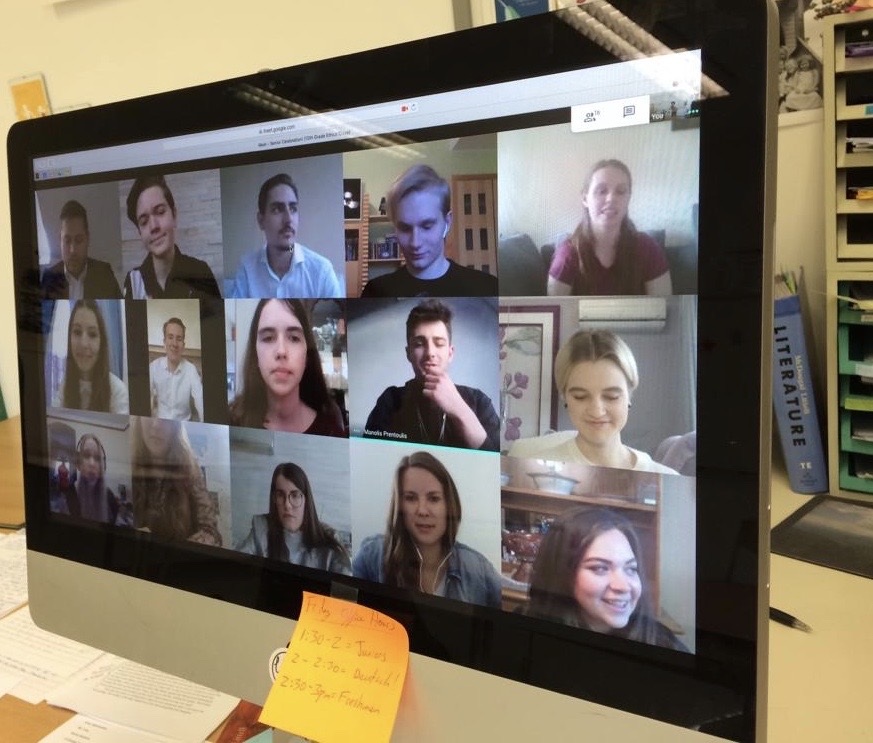 In addition to the Zoom call, the graduating class will be receiving a private 15-minute "send-off" video full of parting advice and best wishes from teachers and staff, both past and present. Many graduates also shared videos of their best memories and what they will miss about the school. 
Below are some quotes from the videos.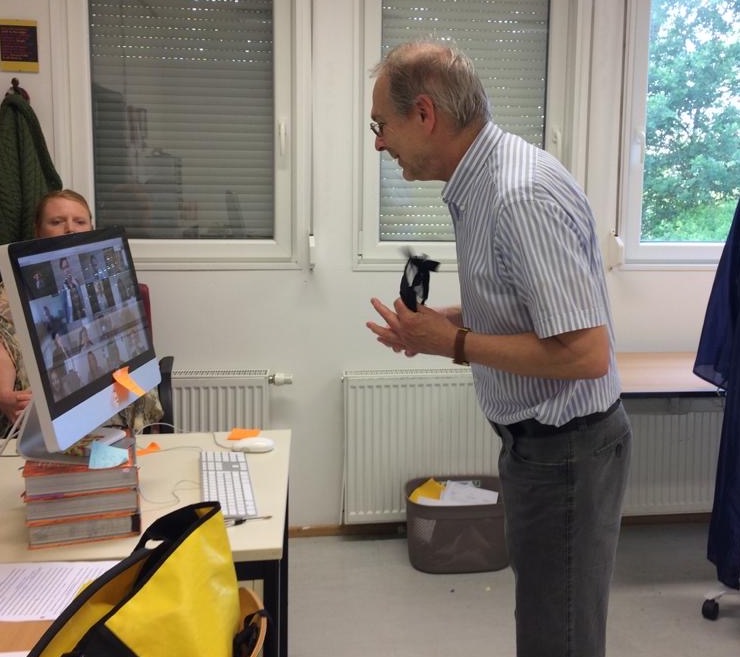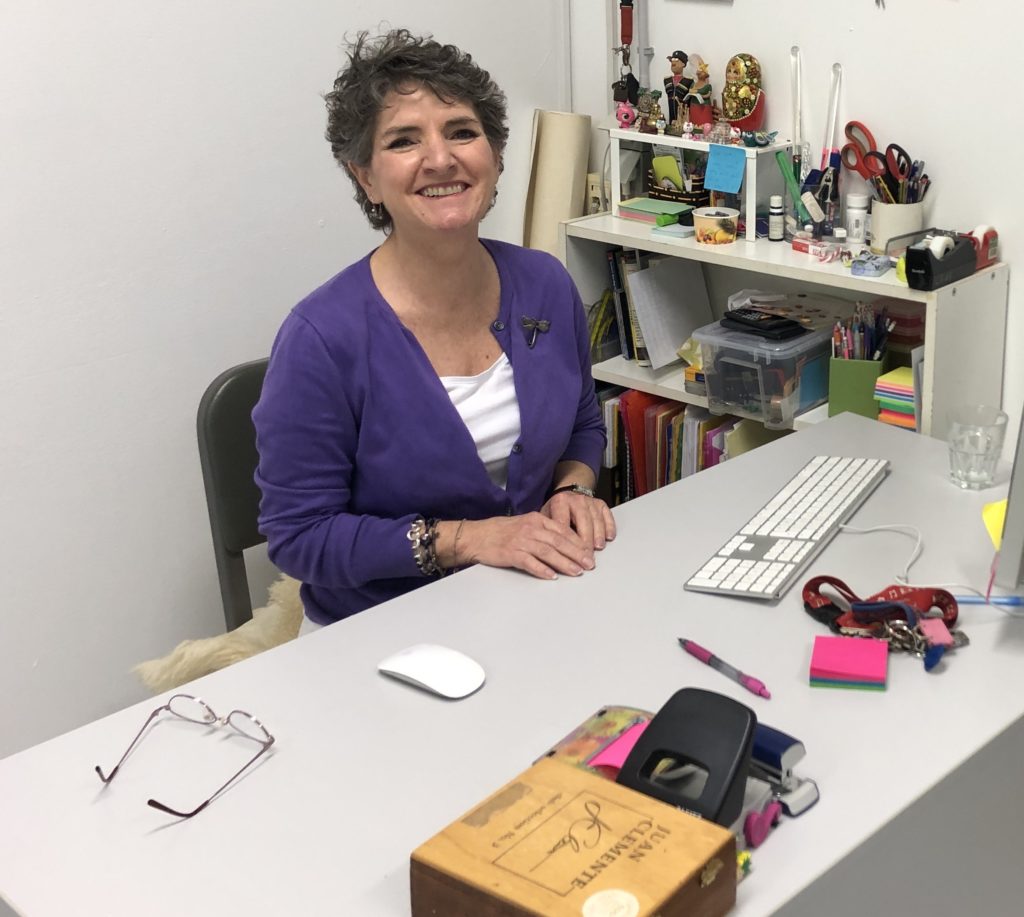 It has been my honor, my privilage and my great pleasure to share this part of your journey with you. 

– Mrs. Kasberger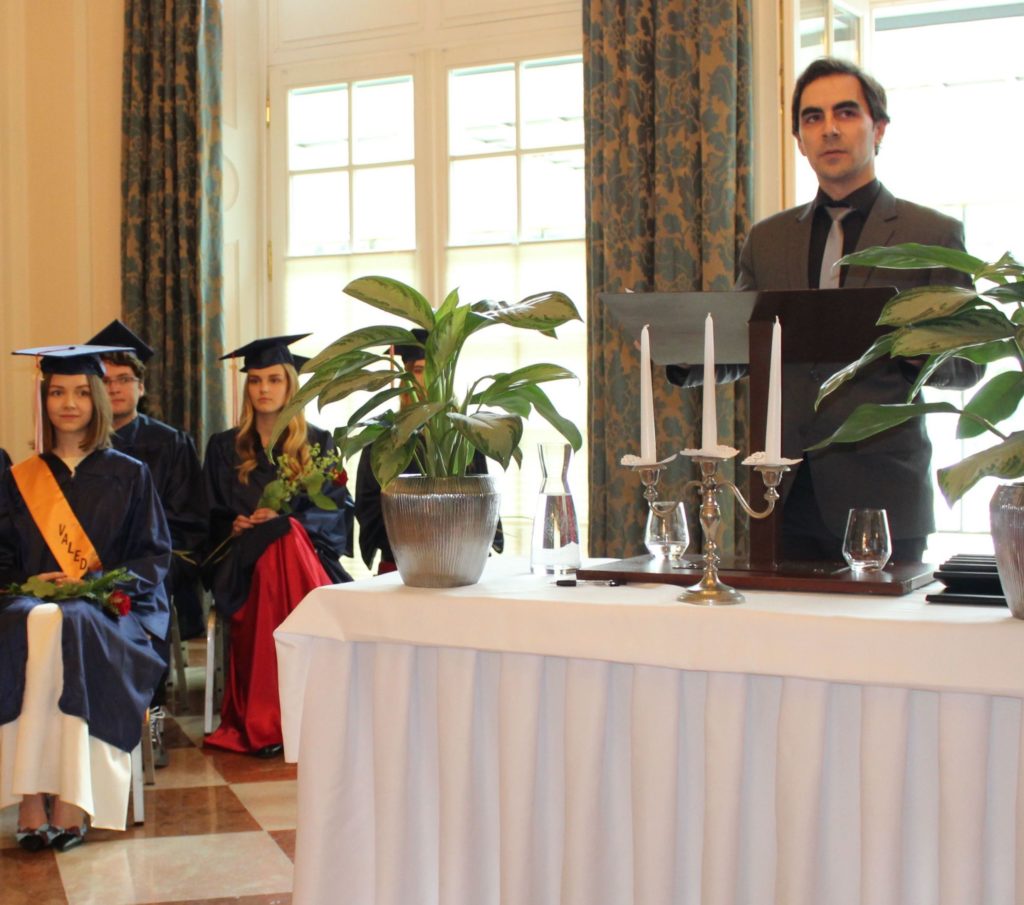 Try to emulate people you want to be like and you will really develop who you want to be as a person in the future. 

– Mr. Lichty
This school has been around for over 40 years. We have gone through a Gulf War, a second Gulf War, we went through a financial crisis, and now we have gone through the Corona crisis. I am so proud of you. Congratulations to all of you.

– Mr. Agardy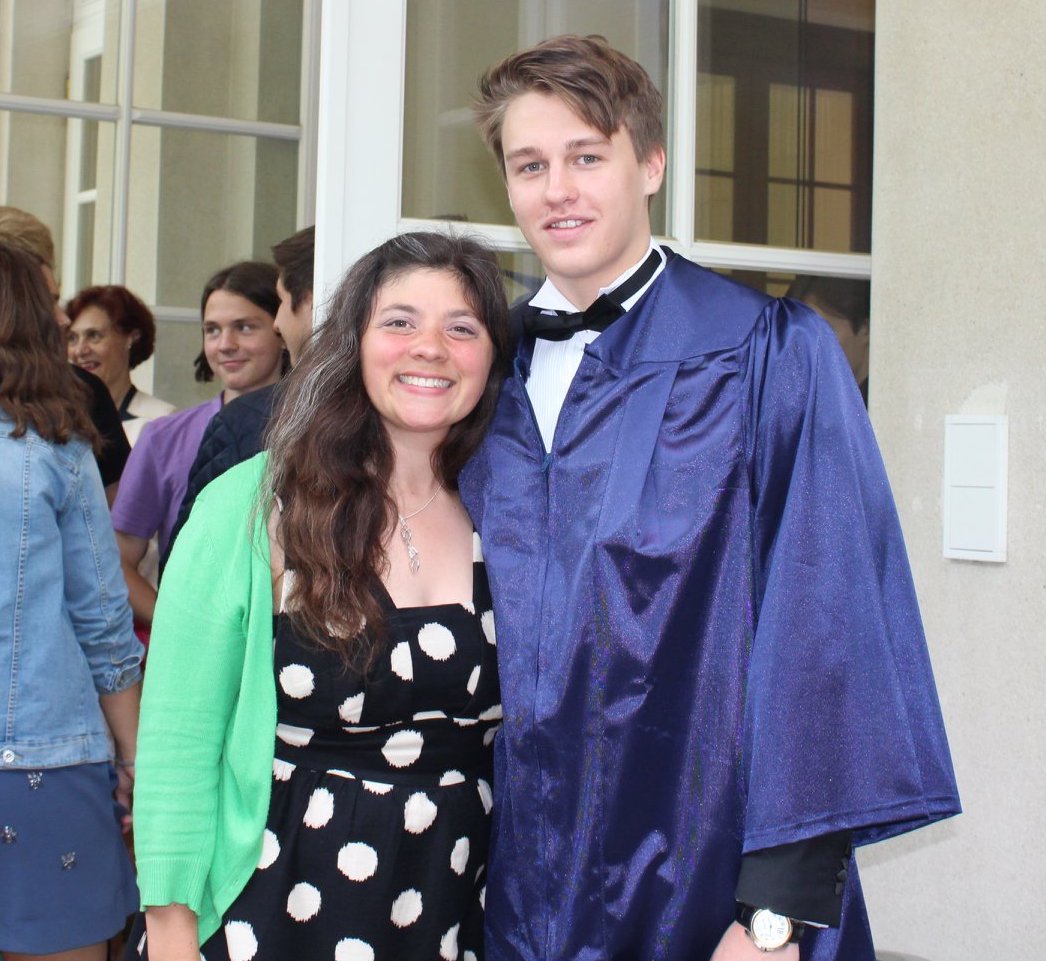 My wish for you, is that you are brave and strong and true. And that you will fill the world with love your whole life through.

– Miss Cerone
I will miss having fun with my friends, playing sports with my friends, and just having all these different nationalities all at once.

– Nicol Csery 2014 – 2020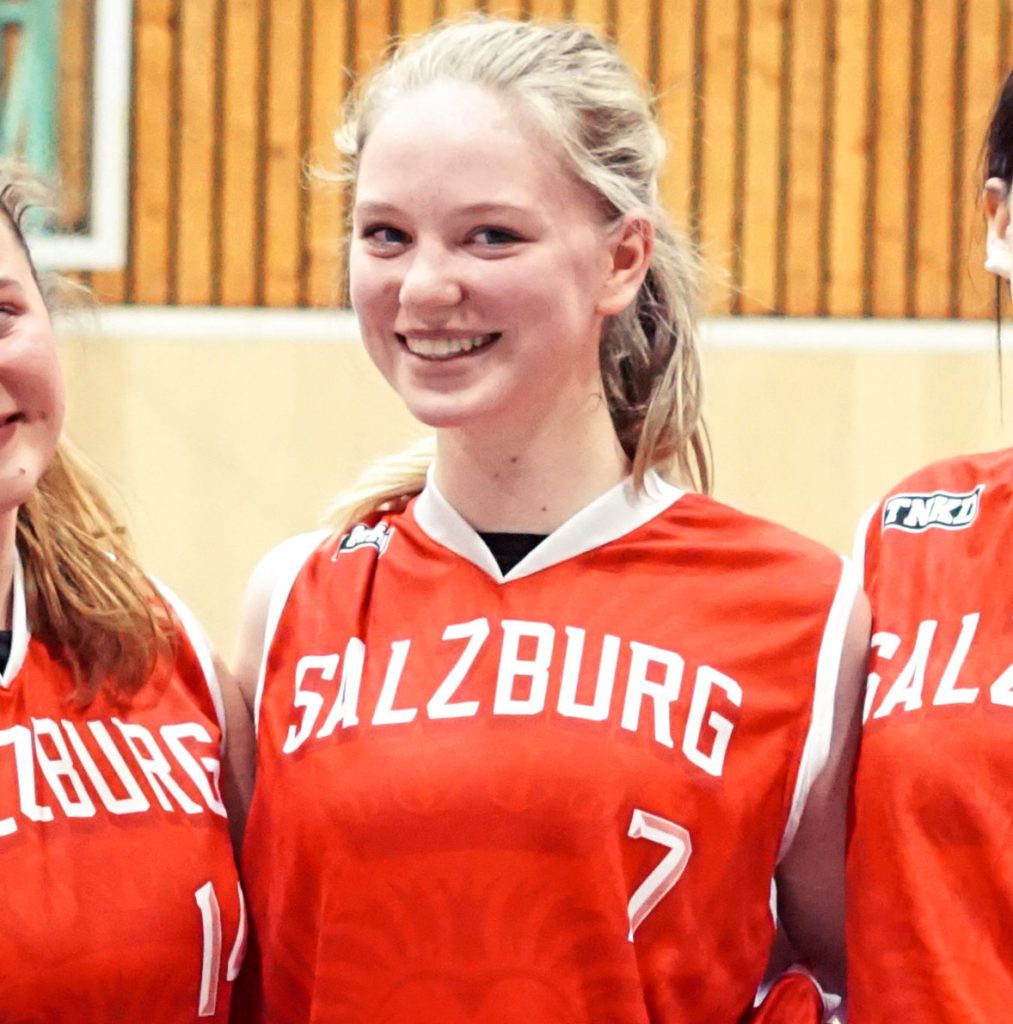 I love my teachers, I love my friends, I love my classmates. This year was the most impactful for me. I had the most heartfelt friendships. 

– Madeline Tyson 2014 – 2020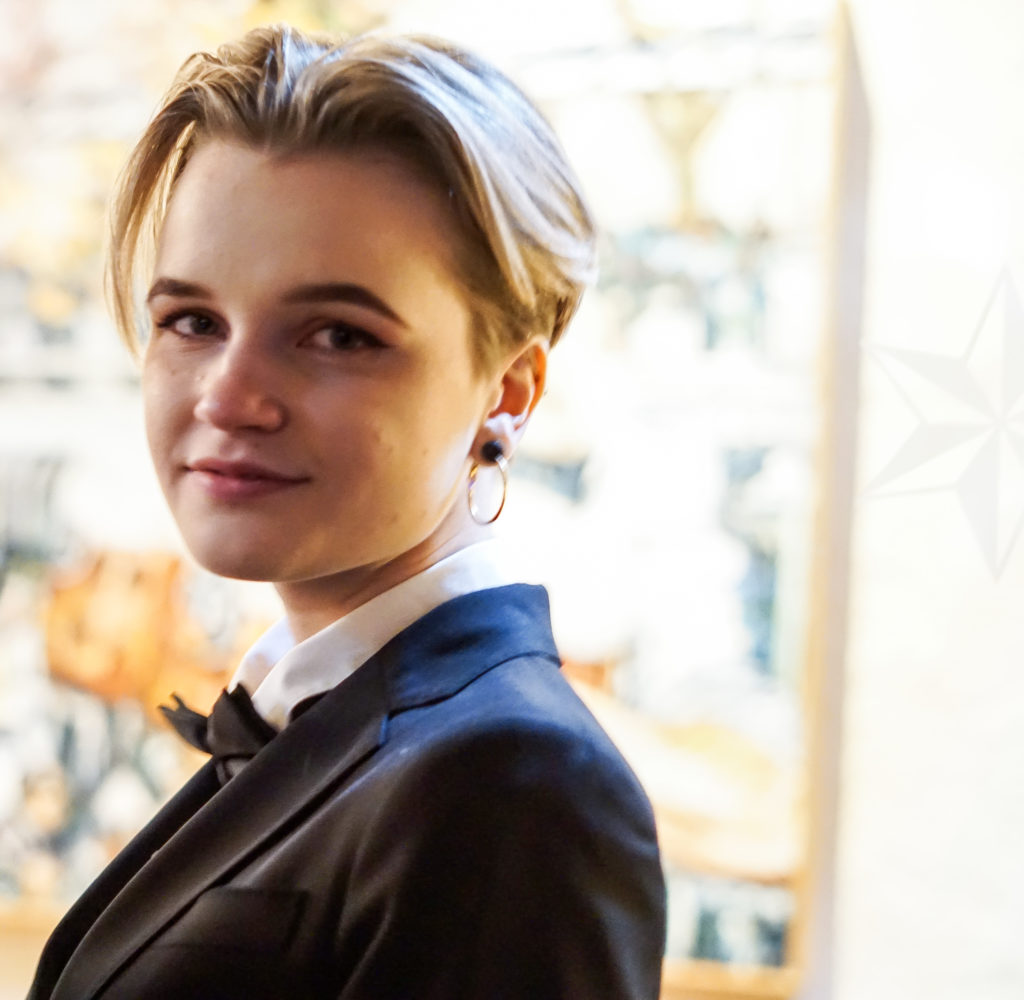 I really made a non-biological family at AISS and leaving both the school and the faculty members feels like leaving the nest to explore how to apply the knowledge they gave me to my future.

– Hellen Petrovskaya 2014 – 2020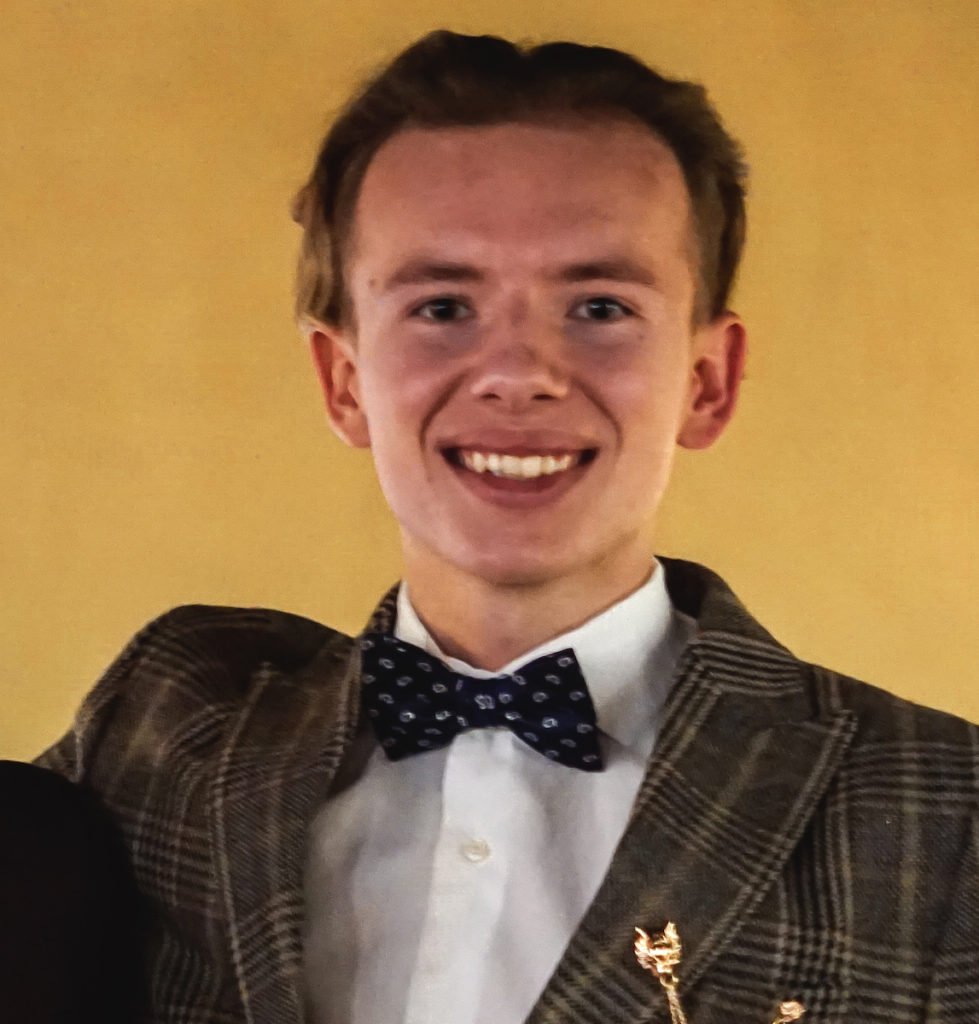 I am going to miss my teachers, some of them who have been my teachers for five years.  They helped me a lot, with my english, confidence and character. 

– Mark Kotkovskiy 2014 – 2020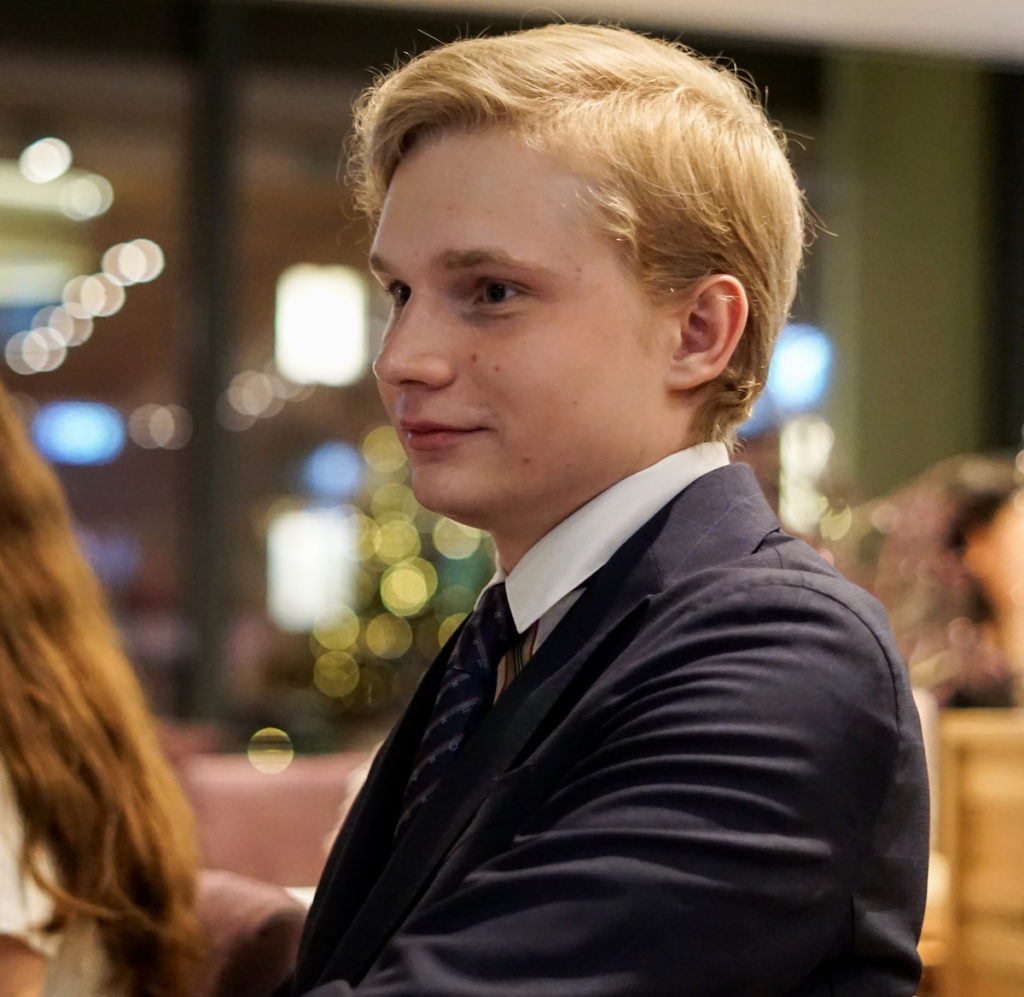 I am going to miss my classmates and my friends I made over the four years. It is going to be difficult without this AIS athmosphere. 

– Danila Sevtsov 2015 – 2020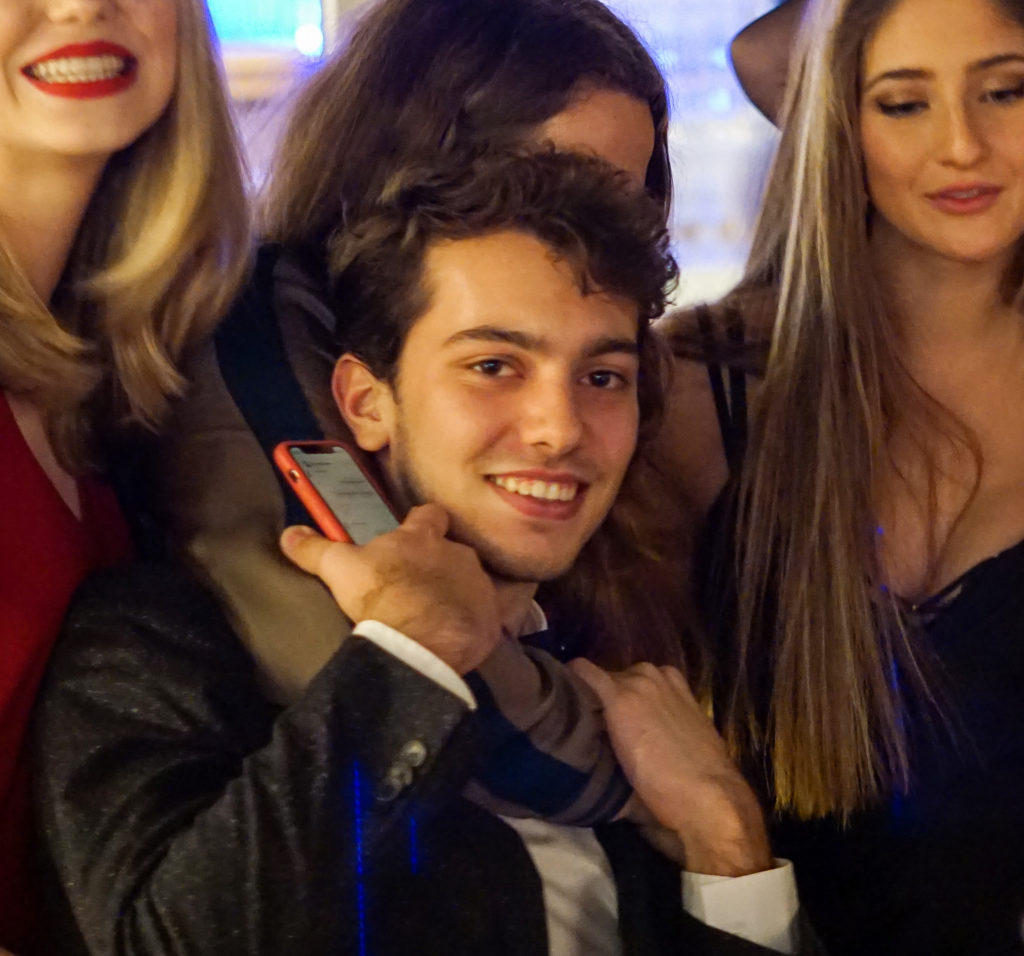 The way we were close to the teachers and how the students got to know each other in a relatively short time transformed the community at school into a second family for me. I will miss that. 

– Desard Sijoni 2017 – 2020
Class of 2020 Tribute Video
In the absence of a traditional AIS-Salzburg graduation, we made this tribute video to the Class of 2020 along with a private video with advice and best wishes from teachers and resident staff. We are so proud of them for making it through this difficult senior year!
Pre-Calculus
Assignment: Statistics are a great way to lie to people or, more ethically, they're a great way to convince people that you're correct.  Therefore it is important to understand a bit about statistics so that you're not so easily led astray by unethical actors.
Students visited the website https://tylervigen.com/spurious-correlations to discover 3 sets of spuriously correlated data. They pasted screenshots of the data into a google doc, then used the data to argue some sort of (probably ridiculous) point.
Submitted by: Clara S.
As can clearly be seen in the below (top left), the divorce rate in the state of North Carolina and the per capita consumption of whole milk in the US are very closely related. The only logical option in order to save more marriages in this state is by banning all whole milk, leaving only options with a fat percentage of below 3.5%. This will help many struggling couples and will reach larger overall happiness in the country.
The data above (top right) proves that the US government has been training doctors in order to store more Uranium. Considering the growing numbers of the resource that are being stored correlating with the larger numbers of doctors, it is clear that they are being used for transportation of the Uranium. It is time the people wake up from the brainwashing methods of the country and say: NO! I will no longer be a doctor that carries your Uranium, do it yourself.
In recent years there has been a new found correlation between the numbers of deaths of females who slipped or tripped in New York to the number of visitors to SeaWorld Florida (bottom graph). SeaWorld Florida has been under fire for years now for the way the treat and showcase animals, but with this new information the aquarium has gone a step too far. In order to save innocent citizens from slipping to their death, SeaWorld in Florida specifically, needs to be closed. There is no other way around it. 
German 1
Assignment: In the "Das Monster" assignment, students learned words for body parts.
Submitted by: Marat V.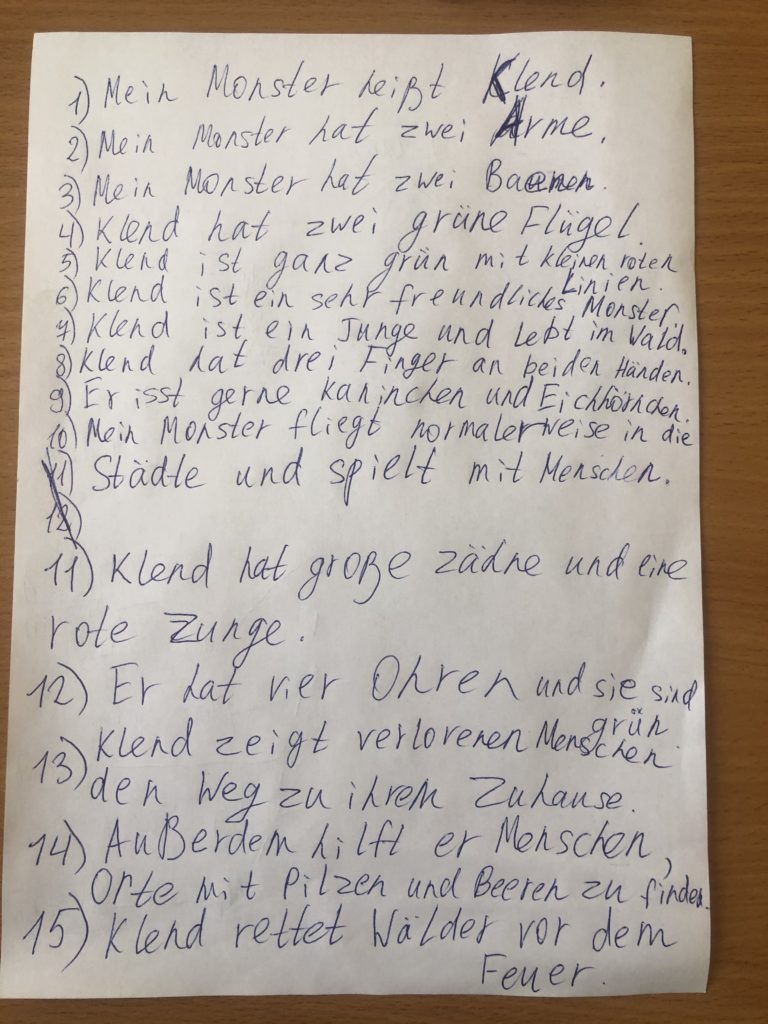 Grade 10 Literature
Assignment: Students used the video of the poem "The Type" by Sarah Kay for inspiration to write and recite their own poems.
Submissions: Zach P., Luca S., Georgijs M., Patrick B., Rejan S.
Italian Elective
Assignment: Students first viewed this "Who am I?" video by Mrs. Lardschneider-McLean and then reported back in Italian with their findings. 
Submitted by: Carolina H.
Assignment: Students followed the baking instructions in this video.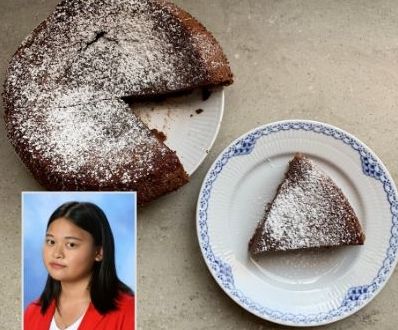 Our resident staff consists of dorm parents and resident assistants, the later acting as a sort-of big brother or sister to the students, supervising and supporting them during study as well as leading them on activities. All resident staff members have a university degree from a North American, U.K. or Western European university in which English was the language of instruction and have experience supervising adolescents in a dormitory setting.
In this interview, Sam Barry describes the many facets of her role as a Resident Assistant and the enjoyment that comes with it.
This year we have 17 more seniors that we will be sending off to the real world. Some have been at our school for 6 years and others recently joined for their senior year. In total, our Graduation Class of 2020 represents 11 different nations.
Danila S., Valedictorian – Russia
I have been accepted to multiple universities, like Fordham, NYU in Shanghai, CUNY, TCNJ, NYIT, University of Amsterdam and others. I am planning to attend the University of Amsterdam where I will study Economics and Business Economics.
Julia M., Salutatorian – U.S.A/Germany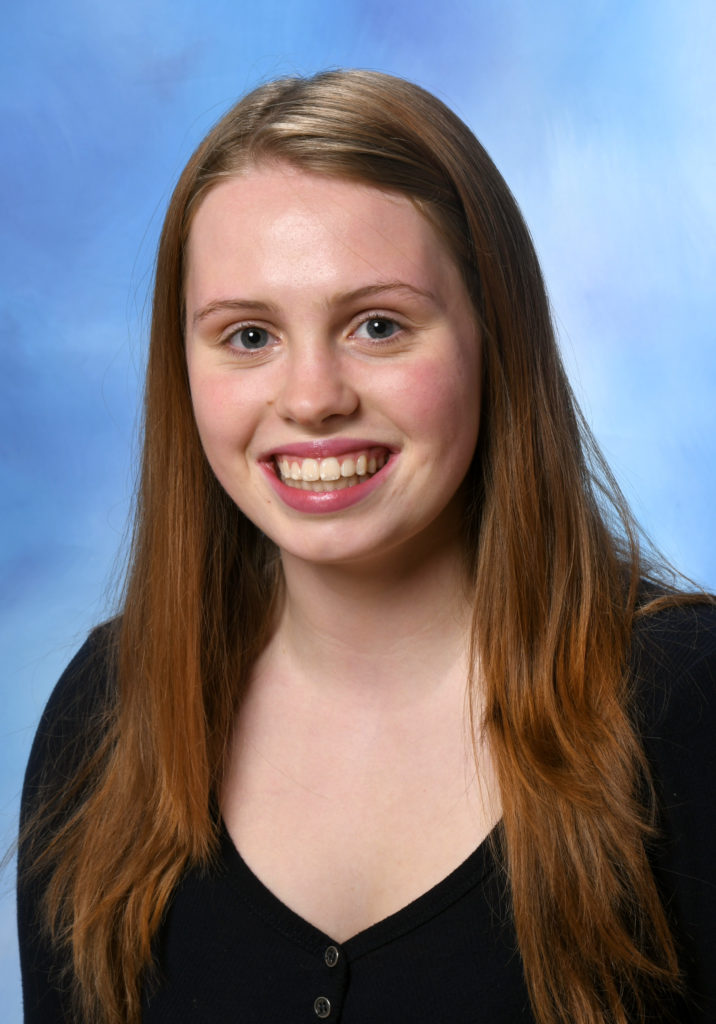 I am taking a gap year and the universities I intend to apply to currently do not accept referrals. I am guessing I will end up in Sweden but who knows!
Nicol C., ECIS Award Winner – Austria/Russia/Colombia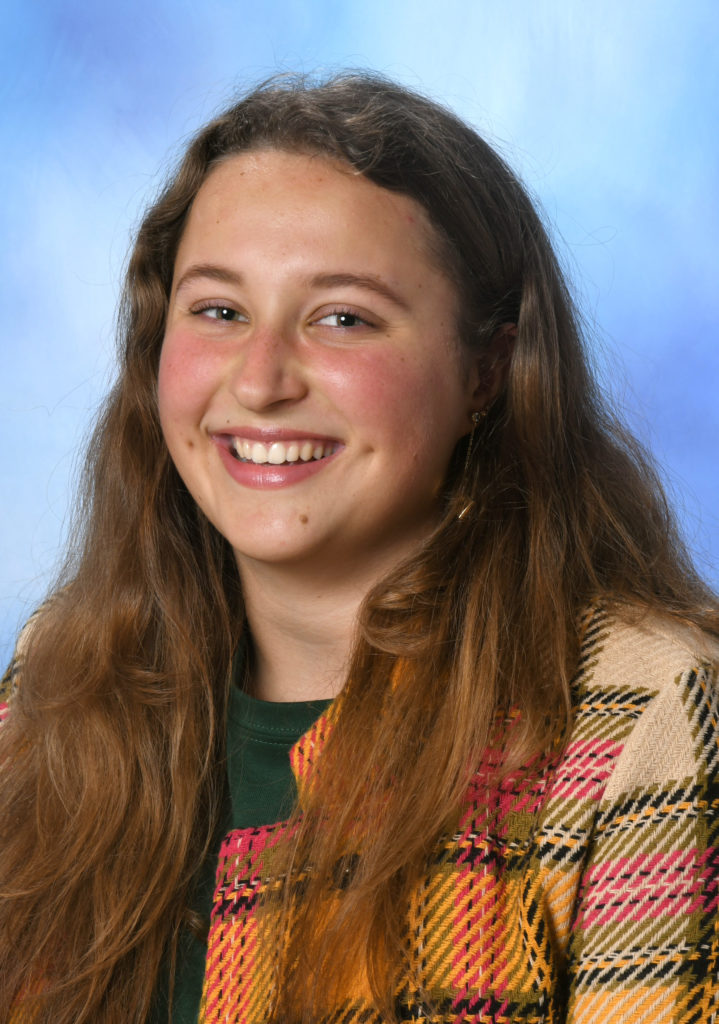 I plan to study communication and I am applying to the universities in Vienna and Salzburg. However, I don't know for sure yet where I will go because in Austria you need to first finish your diploma before applying.
Marina B. – Bulgaria/Belgium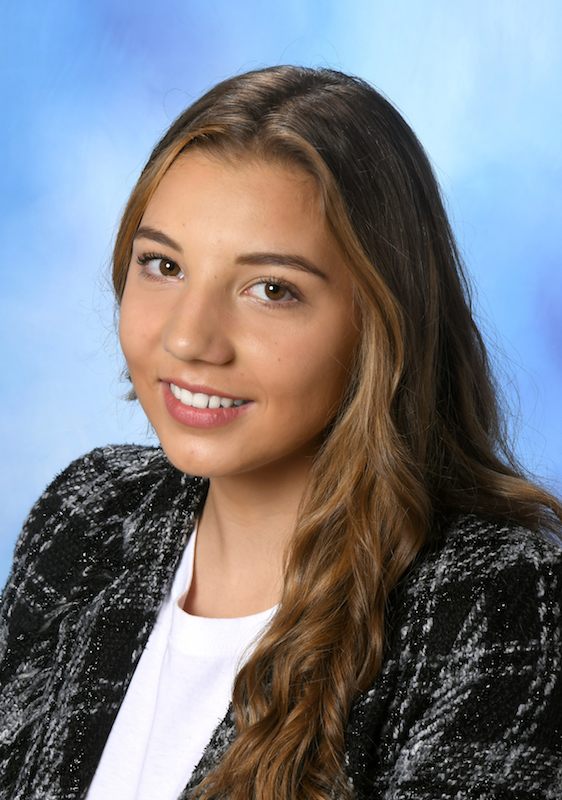 Starting in fall of 2020 I will be studying Public Relations and Media at the University of Arts London.
Eliza D. – Bulgaria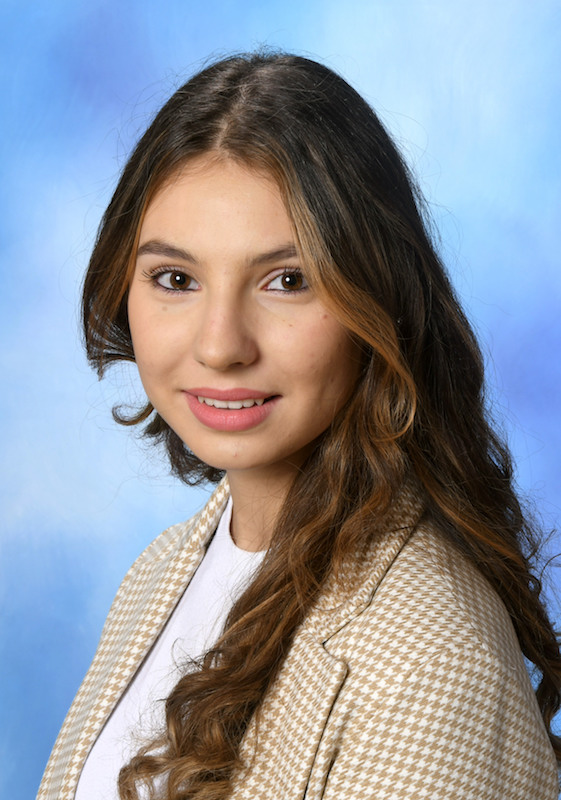 I have been accepted to NHL Stenden University which is the only university that I applied to since it is the only place where I am certain I can grow as an individual and contribute to the global community. I truly believe studying in this university will help me achieve my goal, which is to have a successful career in International Hospitality Management.
Laetitia F. – Austria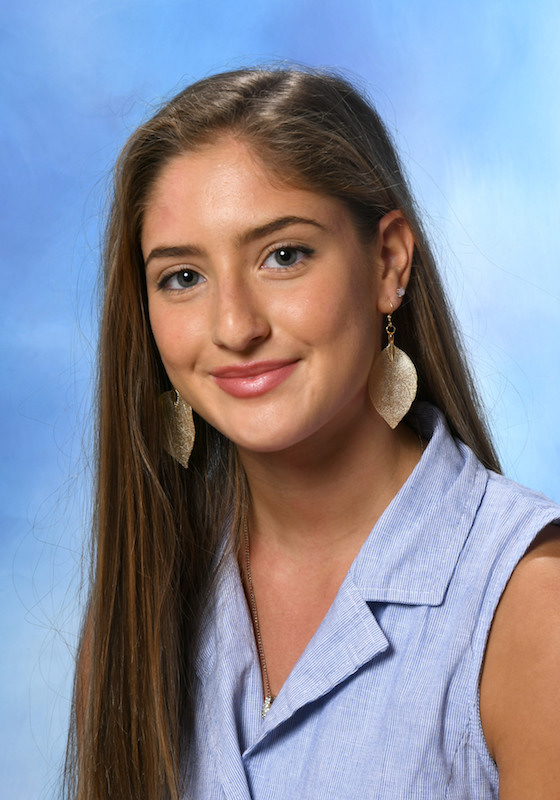 I plan to study medicine because it has been always my dream to become a surgeon and help save lives. I have not been accepted to any universities yet because the entry tests are in June. However, I have applied to PMU in Salzburg.
Javier G. – Mexico
I've committed to the Panamerican University of Guadalajara Mexico to study Business Administration because it's the career path that I find most interesting.
Nadia H. – Austria/Poland
I plan to study creative business and media management because I would like to work in the marketing field in the future. I am still waiting for a reply from a university, but I am particularly awaiting for NHL Stenden University to reply.
Tijana I. – Serbia
I will be studying International Business at Webster University in Vienna but I have also been accepted to the Birkbeck University of London, Greenwich University and Metropolitan University.
Yoan I. – Bulgaria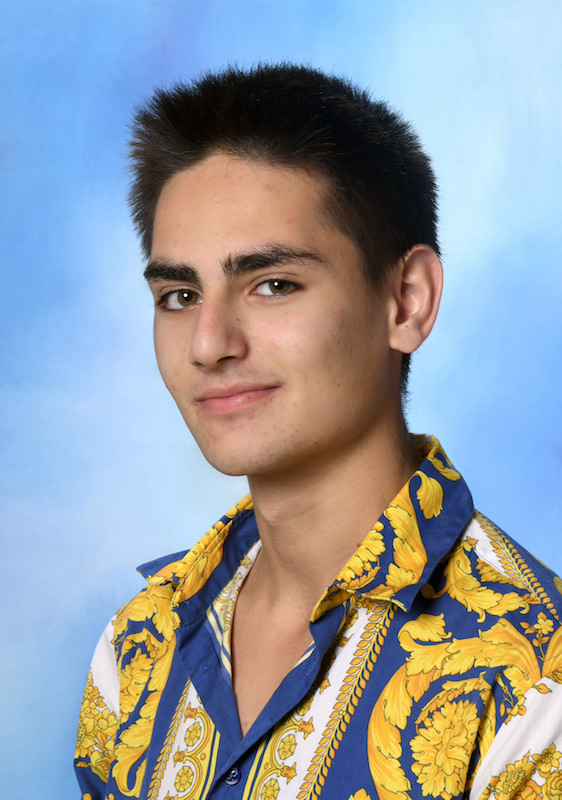 So far I have been accepted to four universities in the UK. I have committed to Oxford Brookes University and Birmingham City University is my back up choice. I plan to study Business and Management because I am interested in managing a company, preferably something in the Marine industry.
Grace J. – U.S.A.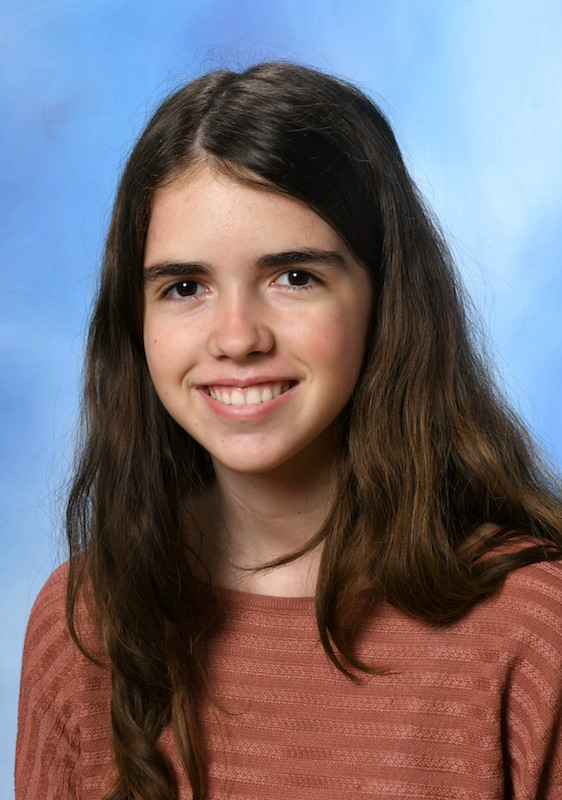 I'm not sure what I want to study in college, which is why I'm going to take a gap year. I plan to work and make money and think about college. Hopefully, the time will help me make the right decision about where I want to study and what I want to study.
Mark K. – Ukraine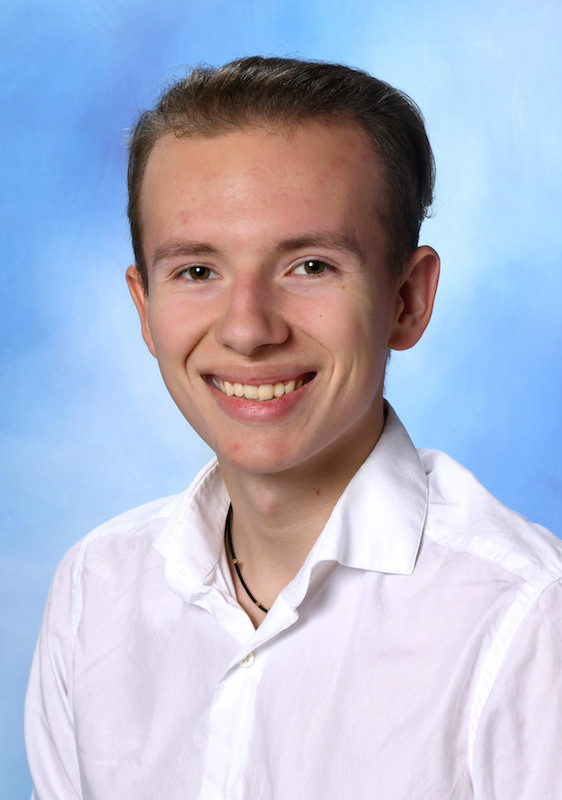 I have been accepted to EU Business School Geneva where I plan to study finance since I like to work with numbers and find it very interesting.
Elena P. – Russia
I've been accepted to Fordham University, Seattle University, University of San Fransisco, UMass Amherst, and Skidmore College and I have committed to Fordham University. I plan to major in International Studies because growing up in an international school with more than 15 different nationalities represented made me interested in global, international interactions. I am also minoring in Creative Writing because it has always been a passion of mine since I discovered it in my first year at AIS-Salzburg.
Emmanouil S. – Greece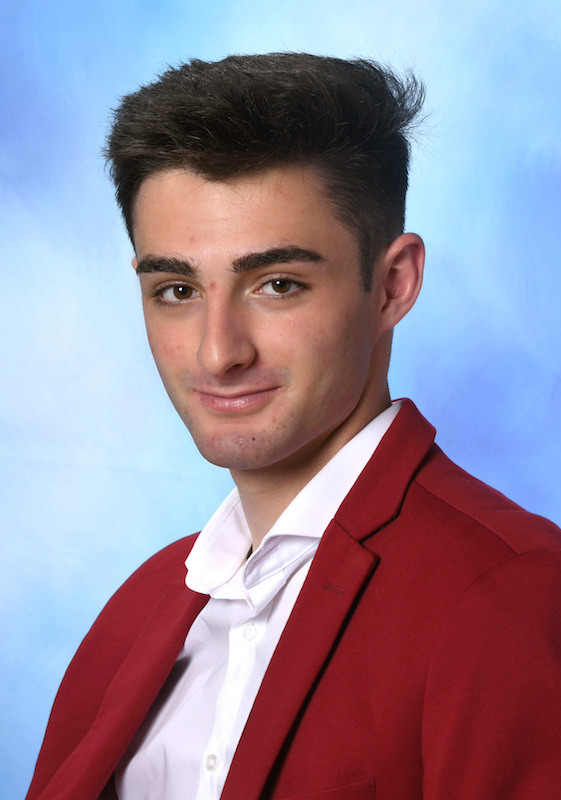 I was accepted to Business School Geneva, American University of Switzerland, and Globe Business College Munich. I plan to study Business Administration because I love dealing with economics.
Noa S. – Germany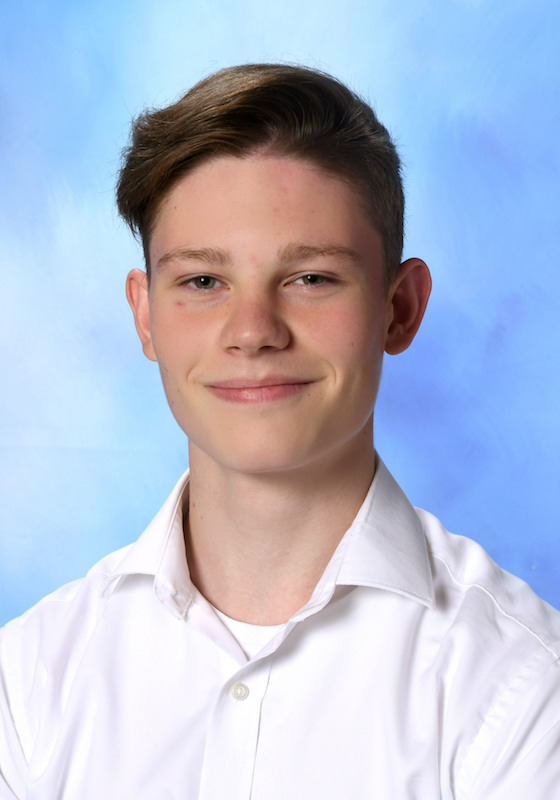 My plan after AIS-Salzburg is to study international business management, with the hope to eventually get a position as a sales director in the automobile industry. I am in contact with three universities at the moment, of which two are in Germany and one in the Netherlands.
Desard S. – Albania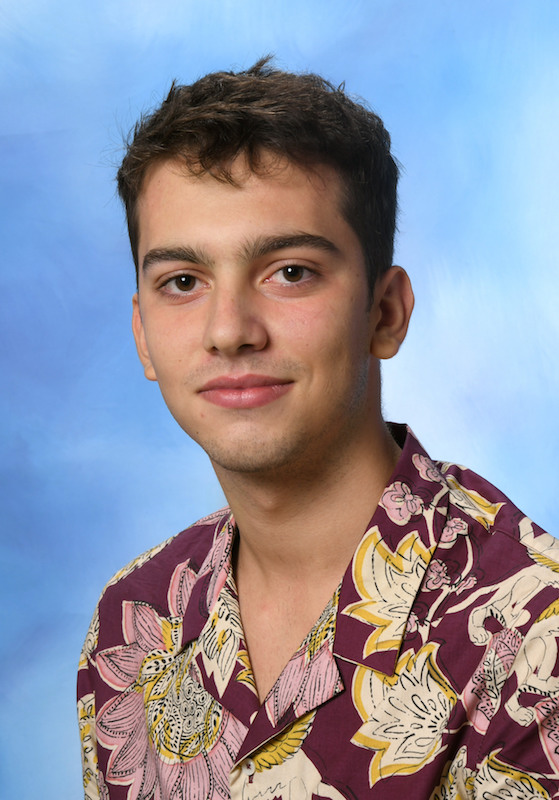 I am still waiting for responses from the Universities I have applied to. I am unsure yet what I want to study and it is unlikely I will decide in the near future. I will probably try architecture for a year and see how I like it.
Madeline T. – U.S.A.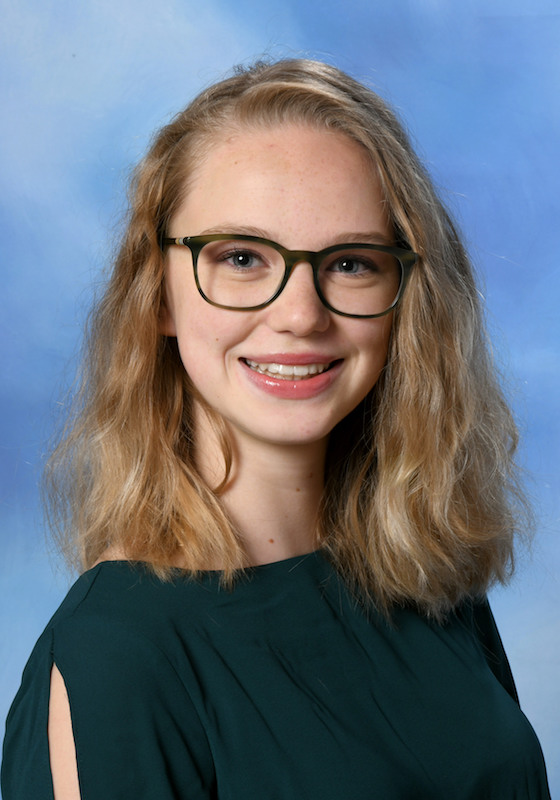 I have been accepted to the University of Colorado Colorado Springs where I will major in Psychology and Biology with the plan to become a Neuropsychologist.
The administration, teaching faculty and staff of the American International School – Salzburg are more than pleased to announce the winners of our highest honors to members of the graduating class of 2020.
The Valedictorian of the AIS-Salzburg Class of 2020 is Mr. Danila Sevtsov.
The Salutatorian of the AIS-Salzburg Class of 2020 is Ms. Julia Mestdagh.
The winner of the European Council of International Schools Award for International Understanding is Ms. Nicol Csery.
We would like to extend our deepest regard for the hard work and outstanding achievements of these outstanding members of the graduating class!
A student at our school since grade 7, Madeline has been an active member of our school community since day one. She has served on the student council, frequently volunteered to help in the dorms and classrooms, and has played on both the girls' volleyball or basketball teams for the majority of her time at AIS-Salzburg. In her senior year, she was named Team Captain of both the volleyball and basketball teams. In this interview, Madeline talks about her experience over her six years at AIS-Salzburg. We wish her the best of luck and will miss her greatly!
What year or years did you attend AIS-Salzburg at what grade levels?
I studied at AIS-Salzburg for one school year, 2017-2018, for my Senior Year
What is your fondest memory or memories of attending AIS-Salzburg?
I think the trip to Vienna was one of the coolest memories I have from that year.
What did you enjoy about going to such a small high school?
You get to know almost all the community on a deeper level, both students and staff. This was in particular nice for me because I was only at AIS-Salzburg for one year, meaning that creating stronger connections was easier in a small school than in a large one.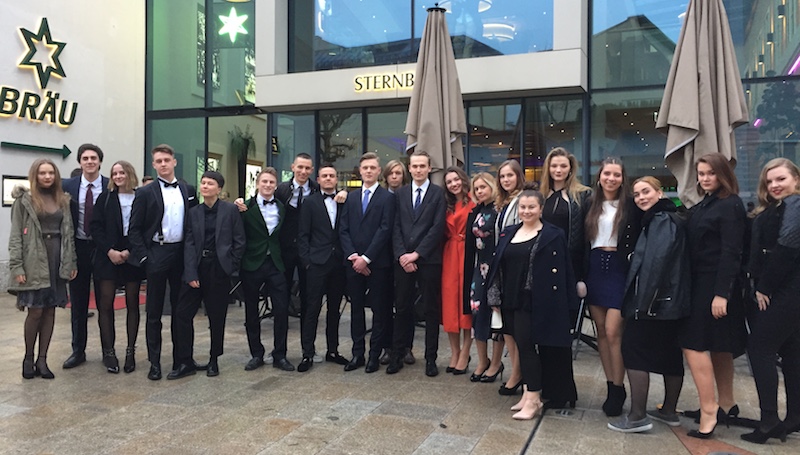 In the academic sense, the attention one gets from the teachers is really something that is only possible in a school of such size – should someone feel behind in one subject, that person could get extra help; as well as someone wanting to know more on a subject can always ask the teacher and they are so open to support you in any way they can!
Where are you currently studying and what are you studying?
I am currently a student at the Technical University of Munich (TUM), studying my 4th Semester of Engineering Science. It is a mixture of several engineering and science disciplines, in which for your last two semesters you choose what you want to focus on. My focus area is Applied, Theoretical and Engineering Physics and minor in Economics and Business.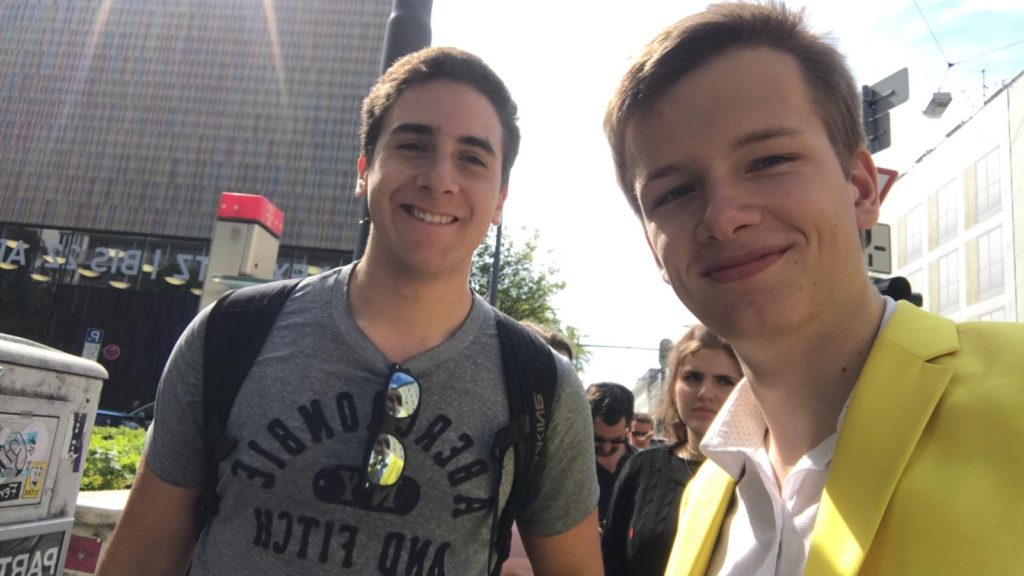 What are your academic and career goals?
Academically, I would like to graduate within the top of my class and reduce the mixture of focus areas I am really passionate about, so I can better concentrate on these.
Having a strong background in many engineering and science disciplines, I would like to eventually found my own tech company, most likely sound-related, as I am also really into music. In the meantime, I would love to get the experience of working at CERN or some other globally-recognized lab in order to work with people from all over the world in something that is science-based.
What are the major differences between college life and life at AIS-Salzburg?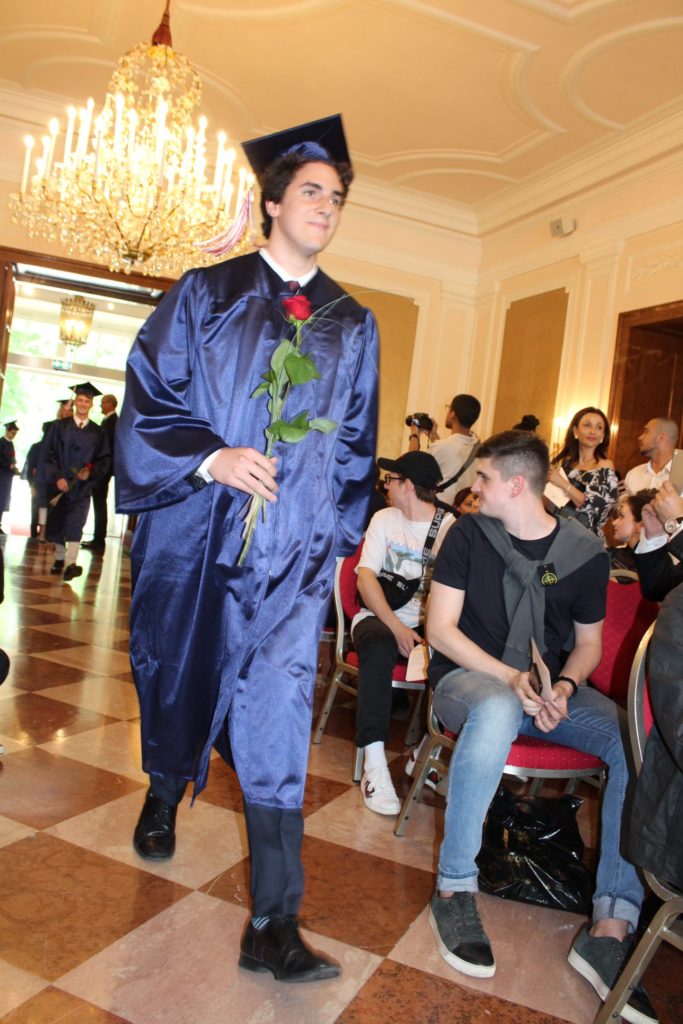 Going to University abroad comes with a lot of benefits, including more flexible time schedules, more freedom in the decisions that you take, whether you want to travel for the weekend with friends, whether you want to take the day off, whether to go to classes or not (in my case we don't have attendance requirements), etc. This can be a great advantage for people who know how to effectively take responsibility for their decisions, but it can also be a huge disadvantage for people that do not know how to do this. In my case, it is a huge advantage, since I have developed good time-management habits.
These effective time-managing skills and responsibilities come, to some extent, from the year I spent in Salzburg. Having more liberty on choosing between what you want and what you need to do comes with some responsibility, and AIS-Salzburg foments this in all years.
In what ways did your time at AIS-Salzburg prepare you for university academics?
Although I had a good math and science level before coming to AIS-Salzburg, I think my Senior Year did give me a boost in these areas in the sense that it gave me a different perspective, which then enabled me to excel at university-level math and science.
In what ways did your time at AIS-Salzburg prepare you for life in general?
I had never been away from home, family, and friends for more than a month or so. It took some time for me to get used to this new life-style; it got me out of my comfort zone. After living a year abroad, studying at a university in a foreign language was similar in many ways and thus adapting to this new situation, meeting new people, and getting used to a new culture was rather easy compared to what it would have been without the international experience AIS-Salzburg provided me with.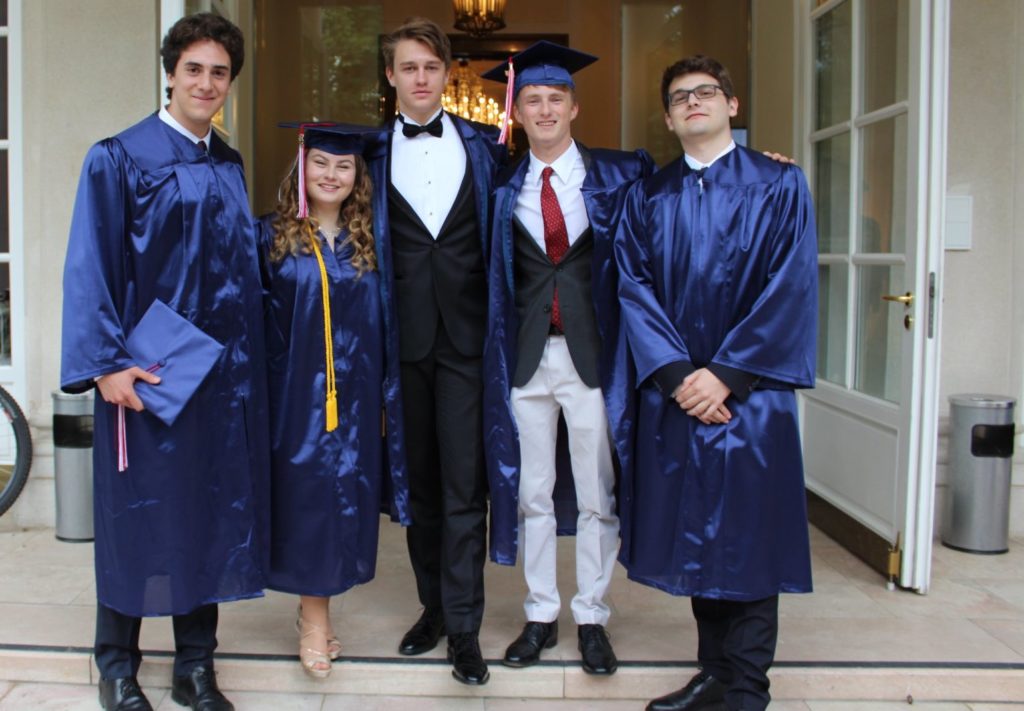 Do you have any advice for students at AIS-Salzburg?
Get the most out of this international experience. AIS-Salzburg gives you the chance to live something many of us will have to experience at some point in our lives – living, communicating, and working with people from all over the world. At first, it might seem like a trivial thing to say, but as the world becomes more and more connected, knowing how to work out cultural differences and, most importantly, understanding these, may prove to be of greater use than one might think of.
During the Fall Excursion each year, all juniors (those enrolled in the 11th grade) are required to participate in the Junior Community Service Trip which will engage them in service work under the auspices of the Habitat for Humanity Organization. In 2019 our Junior class traveled to Romania to build a house.
The 11th grade precalculus class has been working on a cumulative graphing assignment that tasks them with re-creating an image using the graphs of different types of functions. The 2-week long project allowed students to apply hard-earned knowledge of parent functions and their transformations in a creative and artistic manner. All of the graphs have been entered into the Desmos Math Art Contest.
The photo gallery below shows the original images they were attempting to re-create with the graphs. The video at the bottom shows the final graphs without the image in the background.
Students reflected on the assignment afterwards:
"It was hard for me to get started because I couldn't really see which functions I had to use for certain lines, and I was overwhelmed with the volume of work that seemed necessary to create the image. In the end though, I overcame these problems, and learned that the more I did, the easier it got, to the point where I could pretty much do it automatically, without having to pay much attention."

Anna K.
"With this project, we were able to study functions in more detail, their transformations, subtleties, and movements along the coordinate plane, with varying values to make functions fit the picture. In order to use as few functions as possible, we had to carefully select the desired type of function and try to capture as much of the image as possible with it."

Valeriya S.
By a guest writer and AIS-Salzburg colleague of Mr. Burns
Standing an impressive 2m tall and hailing from the wild west coast of Canada, Mr. Burns is a fundamental part of AIS-Salzburg and a consummate sportsman.
Mr. Burns started at AIS-Salzburg in 2004 as a math teacher and coach and is now in his 16th year at the school. Currently, he is the Athletic Director, the much-loved coach and mentor to the Lady Lions basketball and volleyball teams and the AIS social media and marketing master, responsible for content and our growing social media presence. Mr. Burns has coached the Lady Lions to several award-winning seasons, most notably three-straight DVAC varsity girls volleyball championships in 2013, 2014 and 2015.  
Whether he is playing on the local baseball team with his son, the local hockey team with his daughter, or coaching the Lady Lions volleyball or basketball teams, he brings enthusiasm, expertise and fun to every sport he engages in.
Highlights from our first week of the transition to online classes during the Coronavirus quarantine.
During which years did you teach at AIS-Salzburg?
I taught full time from 1986 on, with a break of several years in the late 80's & early 90's while I had my two daughters. I returned in 1992 and stayed until I retired in June 2017.
What was your role at the school?
My role was that of a German language and literature teacher and also English assistance, mainly grammar and reading.
Where are you from originally?
I am originally from Austria. I grew up in Linz and studied at the university in Salzburg.
What did you enjoy most about teaching?
I always enjoyed the connection with students from all over the world and their curiosity about learning a foreign language. I also enjoyed teaching small groups. This way I got to know them really well and could do a lot of individual teaching.
Are there any students who you continue to stay in touch with?
I am in touch with many students from many years ago and also some that will graduate this year, e.g. Nici, Maddie, and Helen among several others.
Why would you recommend AIS-Salzburg to prospective students?
I would recommend AIS to all students that want to study in small groups with very dedicated teachers in a wonderful environment.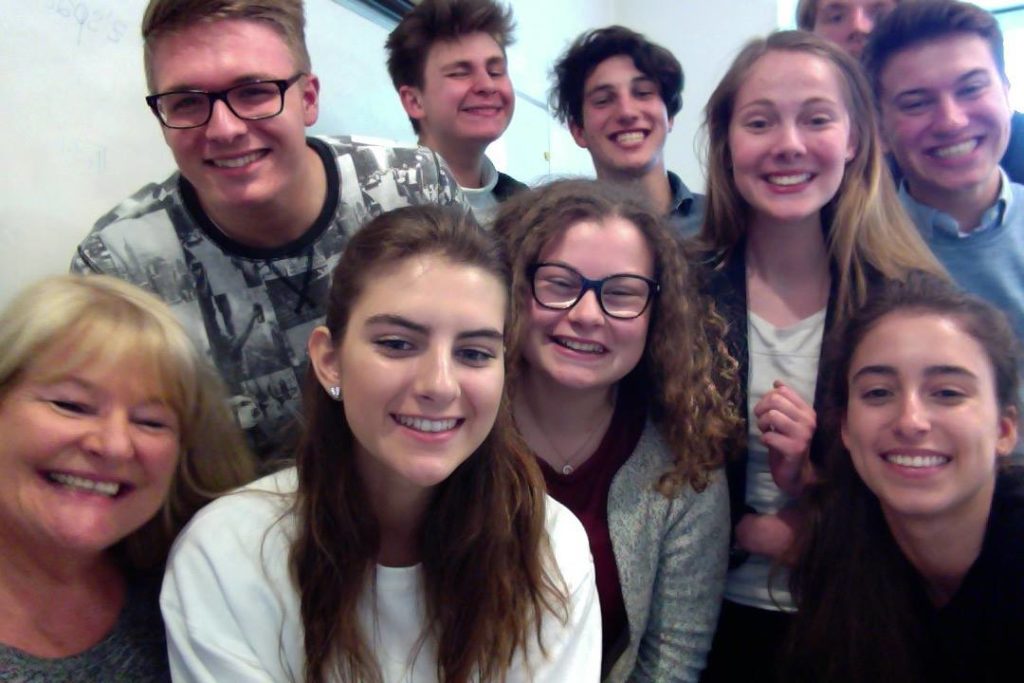 What do you miss the most about working at AIS-Salzburg?
I miss the close contact with all my students, I miss the literature and language discussions, and I definitely miss my colleagues who have become friends along the way.
What is your fondest memory from your days at AIS-Salzburg?
My fondest memories are getting all the wonderful remarks and notes from the students at the end of each school year, expressing their appreciation and love.
Ms. Reiter, you made a difference in many students' lives and are truly missed by all!
Not only is this video super 😎, but it is endearing to hear how excited Mr. Lichty gets about his math! Of all the great things going on with the first day of online classes, this is our favorite!
In preparation for the commencement of our online instruction on March 30th, all of our students have received this Google slideshow introducing them to how the Virtual Classroom will take place and what our expectations are. The second part of this video showcases how our students will be continuing on with their Physical Education from home.
Sa-Eun Park attended Salzburg International Private School (now AIS-Salzburg) starting in 1993 and graduating in 1998. She went on to obtain a master's degree in International Development from the American University in Washington, DC. She has since worked in Microfinance, managing economic development projects in developing countries and now works for herself as a consultant in the same field.
This past weekend was a painful for AIS-Salzburg Lions Basketball as it was the weekend our 30th Annual Basketball Jamboree was scheduled to take place. However, due to the Coronavirus Pandemic and subsequent school losing, the tournament was cancelled.
We had 12 teams that signed up for the event, 6 on the girls' side and 6 on the boys' side. Unfortunately, we will have to celebrate the 30th anniversary of the tournament in 2021. Until then, here are some clips from last year's tournament.

Due to the increasing threat and rapid spread of the Coronavirus in neighboring Italy and Bavaria, the AIS-Salzburg administration has decided to preemptively address this issue by moving our Spring Break forward in the school calendar to March 14th to 29th. With the increasing likelihood of further border controls and flight suspensions or cancellations, the decision to act early was made to avoid a situation that would affect near quarantine conditions on our campus.
In an assembly after school on Monday, March 9th, all five-day and full-boarding students were encouraged to depart the school within 72 hours and by Friday, March 13th at the latest. Boarding students who depart at any time between Tuesday and the end of the week will be excused from classes and the work will be sent to them. Day students will remain in classes throughout this week.
This Spring Break period has an open end. Return flights or travel back to Salzburg should not be booked at this time. Should the situation not improve dramatically by March 30th, all AIS-Salzburg course instruction will move online and the students should remain at home for the time being. Preparations for online instruction are already underway.
Any questions regarding this or related matters should be directed towards the school's Office Manager, Ms. Felicia Gundringer.
Student Spotlight: Nici C.
Nici is currently a senior at our school and will be graduating in 2020. She has attended AIS-Salzburg since 2014 beginning in the 7th grade.
The purpose of this experiment was to investigate Archimedes' Principle for an object that is denser than water. Archimedes' Principle states that an object floating or fully immersed in a fluid is buoyed up by a force equal to the weight of the fluid displaced by the object. The buoyant force on an object immersed in a liquid can also be determined by weighing an object in air and then in water. The apparent loss of weight of the object is equal to the buoyant force of the water. With this information, the students were able to determine the mass density of the different objects and of the fluids.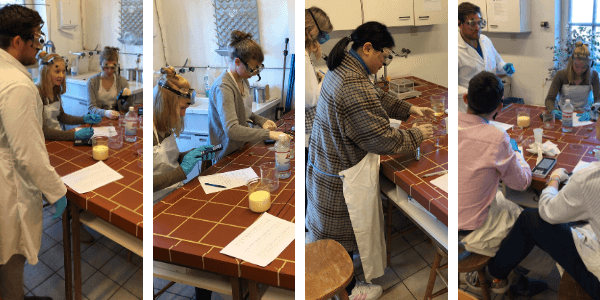 What year or years did you attend AIS-Salzburg and at what grade levels? 
My father enrolled me in the Summer English Language program of 2002. I was still too young to attend even Junior High. In 2003, I did another summer language course and consequently began my studies in AIS-Salzburg as a boarding student. In May 2009, I graduated after six years at the Moosstrasse 106.
What is your fondest memory of attending AIS-Salzburg?
The people. All the memories I have at the school are associated first and foremost with the many people I met and made friends with. The diversity that AIS-Salzburg provides, is a rare opportunity to expand your horizons, from a young age, and be able to learn many other values from the different cultures.
Have you remained in contact with any former AIS-Salzburg classmates?
Yes, I have done so. Although distances are great, we can be thankful we live in the Information Age, and communicating has never been easier.
What have you done academically since graduating from AIS-Salzburg? 
After AIS, I attended the University of Aberdeen in Scotland. That did not go as planned, but I am glad I learned how to live up north. Next up, Vienna. In the Hauptuni, I did my Bachelors in Politics. After I ended my time in Vienna, I returned to Bulgaria to do my Masters, in Political Security. Through 2018-2019, I managed to complete my Masters, and now I am doing a doctor's degree, again in Politics – Astropolitics.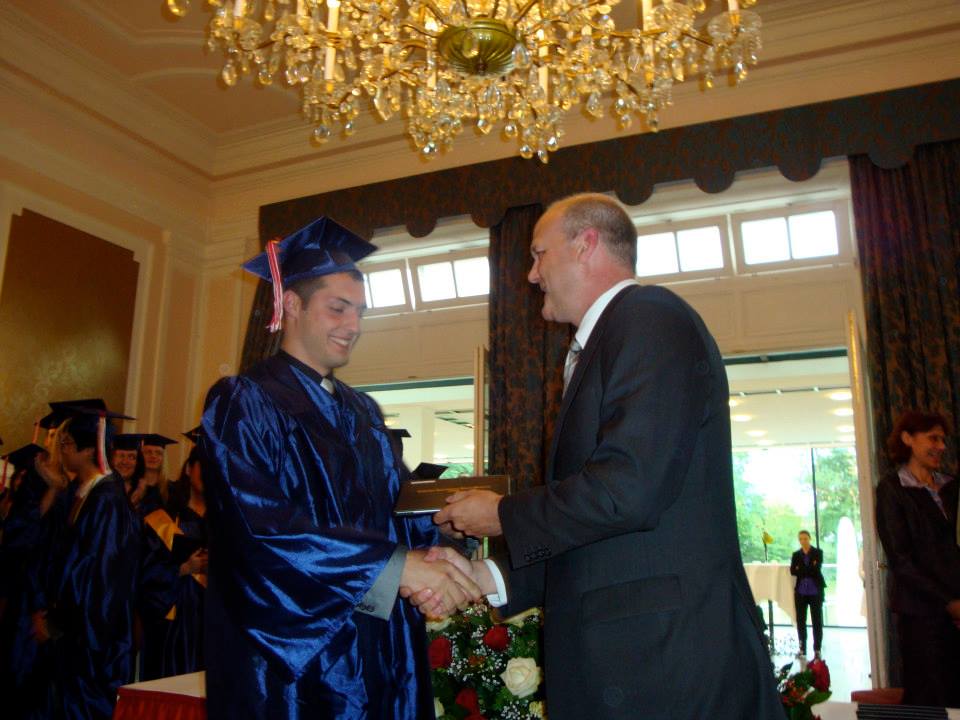 What aspects of your education at AIS-Salzburg best assisted you in further academics and/or professionally?
The well-rounded curriculum, the study organization (study hall and etc.) are just a few simple aspects that one never suspects how much, later in life, it prepares him to deal with other institution such as a university.
Are there any personal accomplishments since graduating that you want to share?
I do not know how much of an accomplishment it is, but I have been published twice by different publishing houses, for my work about Astropolitics (link).
Are there particular AIS-Salzburg moments or memories that have stayed with you over the years?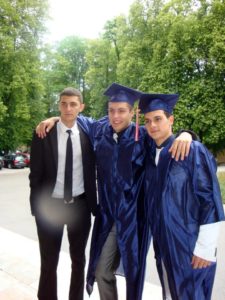 This is a very hard question. Too many memories indeed for the time spent. But, the football tournaments abroad, the ski trips, the yearly trips to different locations in Europe. Those are just some of the many that really stick out in my head. 
Do you have any advice for students at AIS-Salzburg or applicants to the school?
Enjoy your time. Enjoy your time at the school with your schoolmates. Do not hurry to grow up and get out. There are too many things that enter life once you graduate. So enjoy your youth, enjoy your friends, and enjoy life.
The task of this year's basketball season was a daunting one. With only two players that have ever played organized basketball before, a roster of twenty three students, and ages ranging from thirteen to seventeen, it was clear things would not be easy. We had a lot to work on.
The will to win was always there, however. The competitive nature of our students was never in question. Whether it was a scrimmage in practice or actual games the desire to win was unrelenting. The boys competed! That's for sure! It didn't matter what the score was or who was winning, during games they left everything on the court and never gave up. I will always be grateful for their undauntable spirit.
It was exceedingly impressive how quickly most of the students took to the idea of the organized game. After only a month of practicing, twice a week, we were learning offensive plays, a full court press, and a press break. One of the best moments of our season was when all three of these advanced techniques were executed in the fourth quarter of our final game of the DVAC Budapest Tournament.
After a back-and-forth event we were down going into the fourth quarter. We finally executed our full court press superbly and were able to generate enough turnovers to get back into the game. With about a minute left the opposing team fouled our best scorer at the rim. He would get two shots.

He missed the first…. ugh!
..but made the second to give us a one point lead with about forty seconds left. Then came a few silly fouls, by our Lions, in the final seconds. Fortunately, the opposing players missed all their free throws and we were able to hang on and win a very competitive game against the Danube International school of Vienna.
For me, as a coach, I have never been more impressed with a team's development. That first day of practice was pure chaos. I honestly wasn't sure this group would ever learn to play organized ball but all my expectations were greatly exceeded.
The proudest moment of the season for me personally came at the end of a game in Gmunden (see video). We were matched up against a team that was clearly out of our league. They were bigger, more organized, and more skilled. We were outmatched on every facet. By the fourth quarter, the score was not close and a comeback was clearly not in the works.
Despite all these things working against us I watched this small group of young men grow and learn more about how to play the game of basketball than they had all season. During the fourth quarter we played the BIBA U17 developmental team pretty much even. It was the first time I saw us compete in what I would call actual, organized basketball. It was beautiful and amazing to watch!
As a result of everything we've been through and everything we've learned this season, every member of the team has grown and matured. It has been an immense pleasure to be at the helm of this ship. We fought together, we laughed together, we won together, and I wouldn't have missed it for the world.
How do we get open? MOVE WITHOUT THE BALL!
How do we score? PASS THE BALL!
How do we win? AS A TEAM!
Lions on 3!
1-2-3…
Until our next competition,
GO LIONS!
~Coach Nick
1.What year or years did you attend AIS-Salzburg and at what grade levels?
I attended AIS-Salzburg in 2008-2009 and 2009-2010. I was in 7th and 8th grade.
2. What is your fondest memory of attending AIS-Salzburg?
There are many. Playing sports, going to basketball tournaments and trips, spending time with my friends. I loved all the weekend activities. I loved living together with so many people and having my friends with me all the time. I loved being in such an international environment. I loved that there were always so many fun and interesting things to do and I never ever felt bored. I formed some of the best friendships at AIS-Salzburg. And I learned some of the most valuable lessons in my life.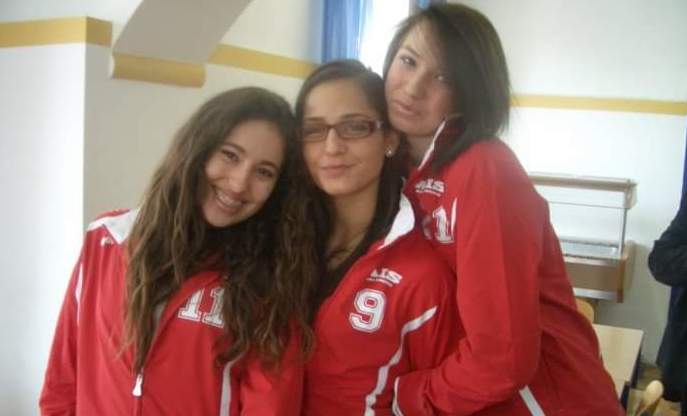 3. Have you remained in contact with any former AIS-Salzburg classmates?
Yes, with many. I speak to my former roommate very often. She now lives in New York, and I live in Belgrade. Every time I go back to Bulgaria (which is where I am from) I go out with the other Bulgarian girls who attended AIS-Salzburg. I also speak on a monthly basis with a few other friends that I made in AIS-Salzburg. They are from all around the world, so it's really cool to hear them and to see what's going on in their lives.
4. What have you done academically since AIS-Salzburg?
After AIS-Salzburg I studied in Thessaloniki, Greece for two years. Then I studied in Glendale, California. Then I attended the National Academy of Music in Sofia, Bulgaria. I majored in Vocal Performance. I also got a few international certifications that allow me to be a vocal coach. And I got certifications to be a Latin dance teacher.
5. What aspects of your education at AIS-Salzburg best assisted you in further academics and/or professionally?
One of the things that assisted me the most was becoming a fluent English speaker. That allowed me to study all around the world, to communicate freely and effortlessly, and to feel confident. As a singer, I travel a lot and I have a lot of live performances in different countries, so speaking English well has helped me tremendously. I write songs in English as well.
Playing sports and being on the basketball team helped me learn to be disciplined, driven and it taught me to be a team player. But the thing that assisted me the most was being surrounded by so many people from different countries. That taught me to be open-minded and accepting of others. And being in a different country taught me to be communicative, independent, flexible and it taught me to adapt to new environments fast.
6. Are there any personal accomplishments since graduating that you want to share?
Yes. The academic accomplishments which I mentioned above are also personal accomplishments because I really, really love what I do. I feel very proud that I am a singer. I love my job, it doesn't feel like a job at all. I have performed on a lot of big concerts and those are accomplishments for me. Also recently I started eating plant-based and I train on a daily basis and I am in my best physical shape so far, so that is a big personal accomplishment. I learned to speak Spanish. In general, I feel more grounded, confident and happy. Every year keeps on getting better and better and I like who I become more and more so I guess that's a personal accomplishment 😀 And the biggest one is that I am currently working on a music album. I have written all the songs on it and they are all in English. I am very excited to share that with the world.
7. Are there particular AIS-Salzburg moments or memories that have stayed with you over the years?
Yes! Some of the best moments were at the basketball tournaments. I loved traveling with all my friends (teammates), and working towards a common goal and going through this rainbow of emotions during and after the games.
I loved going snowboarding. I have some of the best memories on the ski trips. I also fell in love for the first time at AIS-Salzburg, so I have some very beautiful emotional, romantic and unforgettable moments with that person.
And I actually have one bad memory, but that memory changed my life in the best possible way after. My first year at AIS-Salzburg I got caught drinking alcohol 😀 I was super young, and I don't even know why I did it since I didn't even like it. I was just trying to be cool. I felt so embarrassed and scared that it actually did something to me and I completely stopped doing stupid things. I started focusing on becoming the best person I can be and it turned me into a very disciplined, focused, organized, healthy and hard-working person.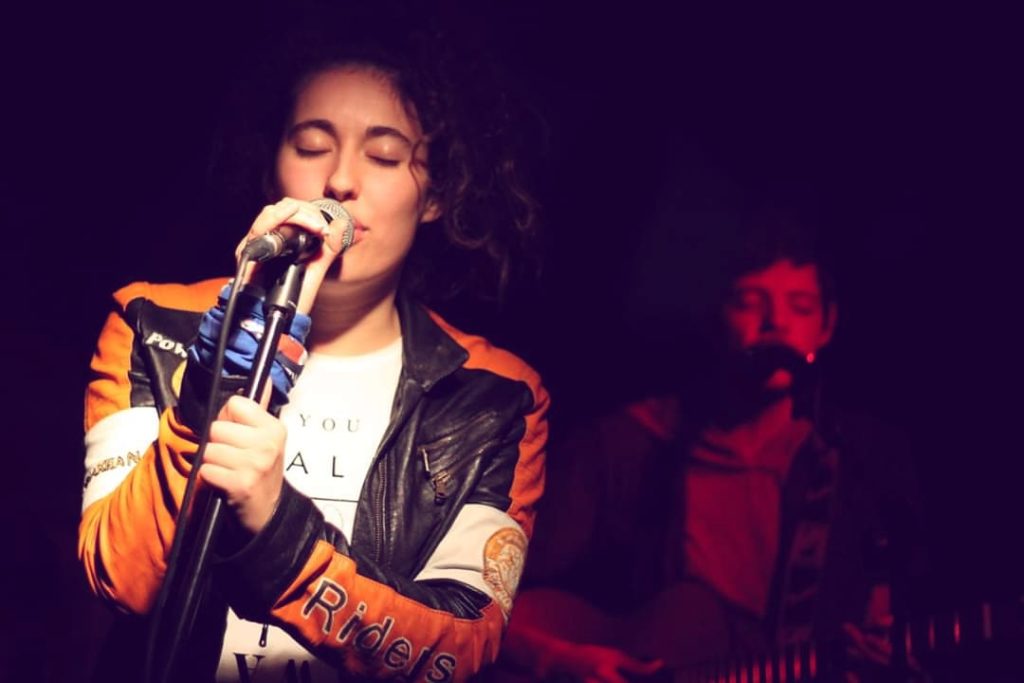 8. Do you have any advice for students at AIS-Salzburg or applicants to the school?
My advice is to not be so stressed out about the future and what will come next. Everything will turn out great, just trust the process, enjoy the journey and everything will happen like it's supposed to. I learned that there are no mistakes and that every situation comes in our lives to teach us a valuable lesson and to transform us into better people.
Be kind, because karma always comes back haha 😀 Just try to be a good person, help others when they need help. Don't put on yourself unrealistic and huge goals, because when you don't achieve them, you don't feel good about yourself. Start with small things, make small changes and work on them on a daily basis. And just be honest and open with people. Say how you feel. Don't be afraid of what people will think of you, just speak your truth, be authentic. We are all going through the same inner struggles, difficulties, thoughts and fears and being honest and open about it will make you feel better and it will help you connect with others more.
You can follow Pam and her singing career on Instagram @pamelameganapsi. Below is a clip of her performing in February 2020.
The House system at AIS-Salzburg was first introduced this year as a rewards system for our students. It is a way to encourage, recognize and reward positive and overall good behavior in our dormitories. The house scores are compiled of each house member's study hall grades, healthy lifestyle points and involvement in our school's community (member of student council, member of a sports team, etc.).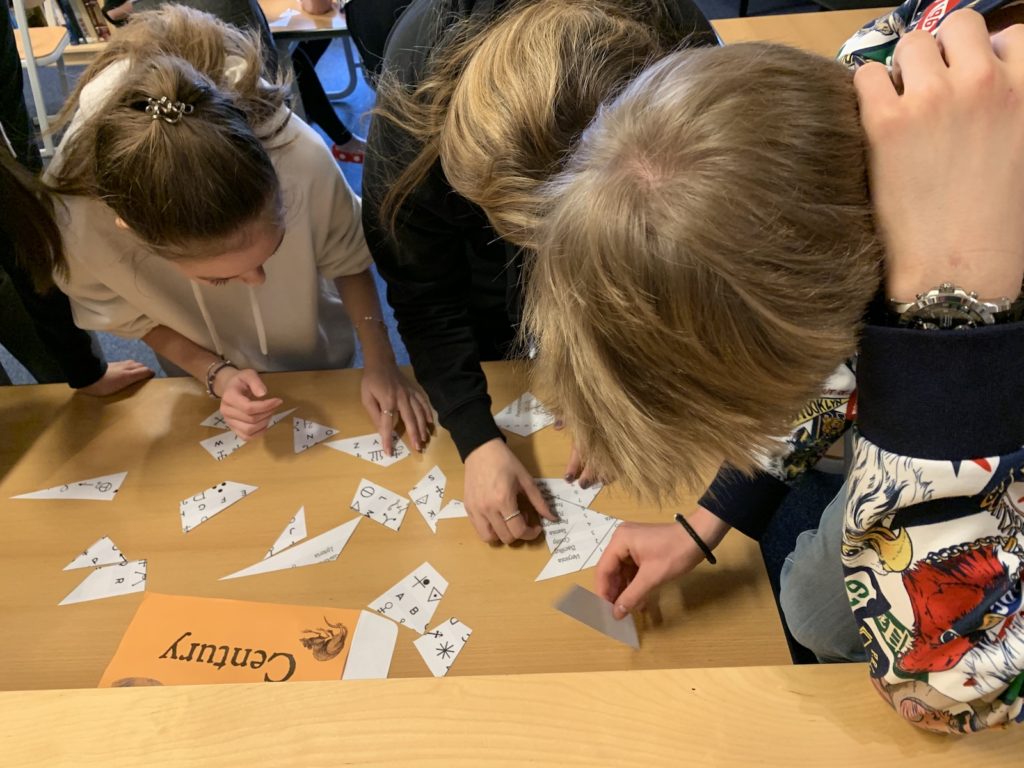 At each midterm, the house scores are evaluated, and the house with the highest score receives the following privileges for the remaining part of the trimester: a one-hour curfew extension on Fridays and the ability to keep his or her laptop on Sunday evenings.
The House Competitions, which take place at the end of each trimester, are an opportunity for house members to work together in order to win the House Cup Trophy. The house that wins these competitions receives bragging rights, a pizza party, a 50-point head start at the beginning of the next trimester and the privileges of a one-hour curfew extension on Fridays and the ability to keep his or her laptop on Sunday evenings for the first three weeks of the following trimester.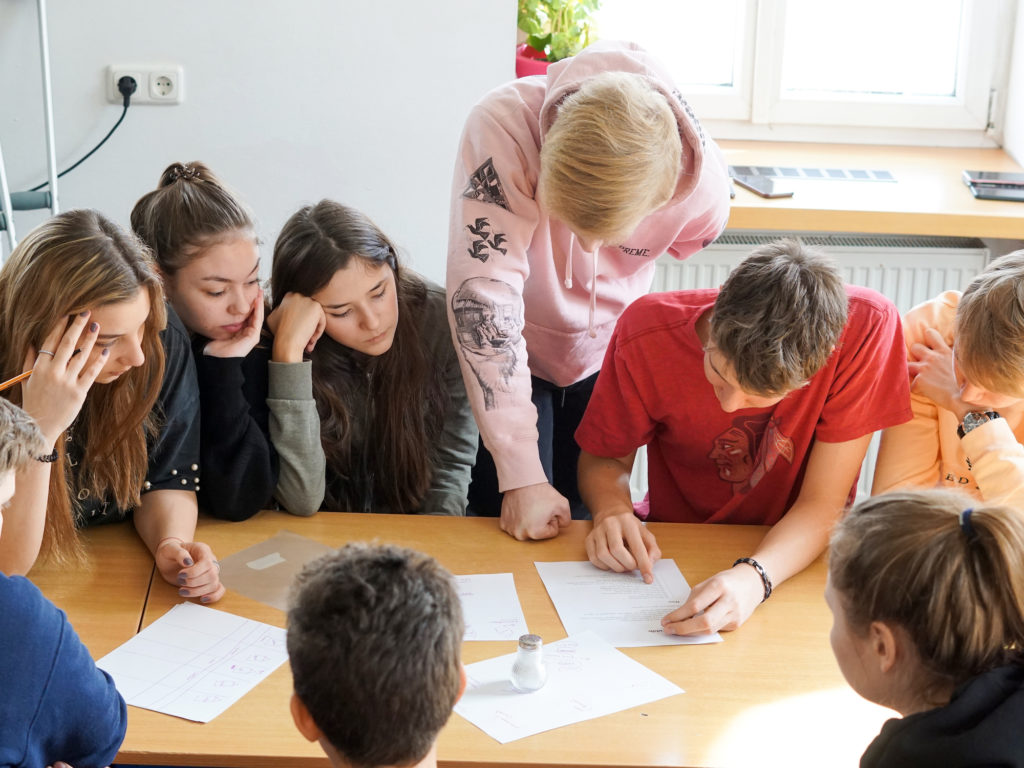 The House System, as well as House Competitions, were introduced primarily as a rewards system for our students and provide an additional sense of community within our boarding school.
Winter House Competitions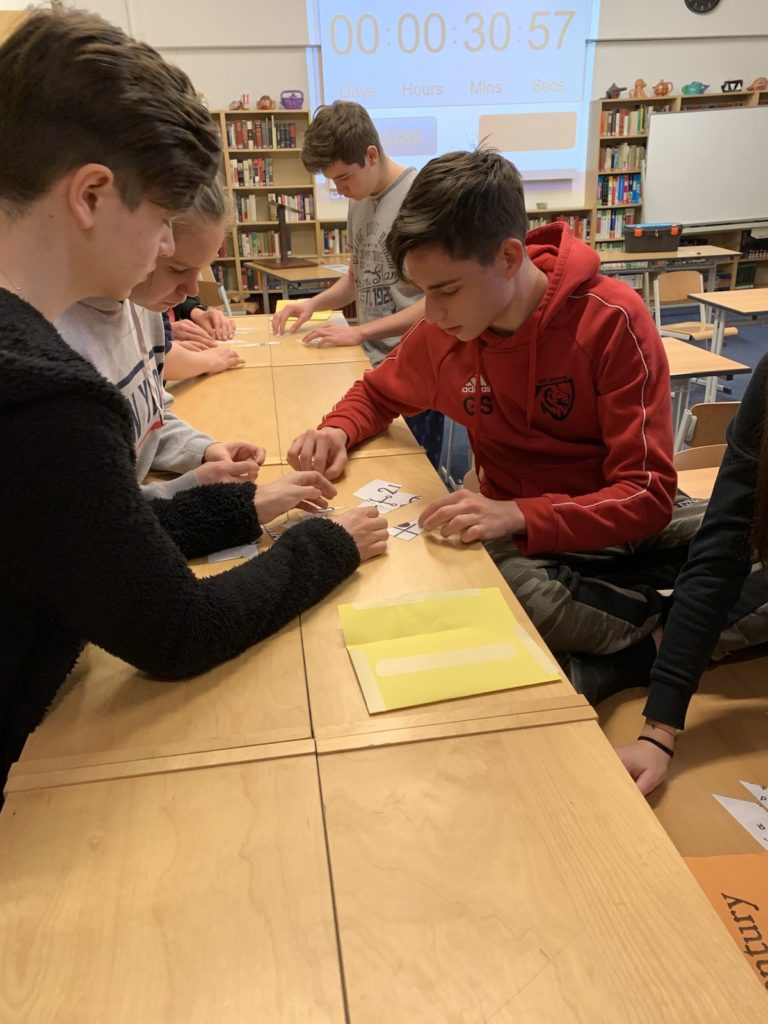 For our Winter Trimester House competitions, our theme was Brain Power. Students needed to work together to solve different riddles and puzzles. Our first house competition consisted of three different puzzles and riddles: a month riddle, the Einstein riddle and two sudokus. Together, each house had 60 minutes to correctly complete as many of the puzzles and riddles as possible.
Our second house competition was a Classic Trivia, which focused on information from all subjects taught here at AIS-Salzburg. Similar to any trivia, each house needed to work together to correctly answer each question.
Our third house competition was an Escape Room, which was handcrafted by one of our female resident assistants Sam. The theme of our escape room was Time Travel. Each house needed to solve different puzzles in order to travel from the 15th century to the 21st century. Once they successfully solved all of the puzzles in the various centuries, they were able to escape the vortex and return home to AIS Salzburg.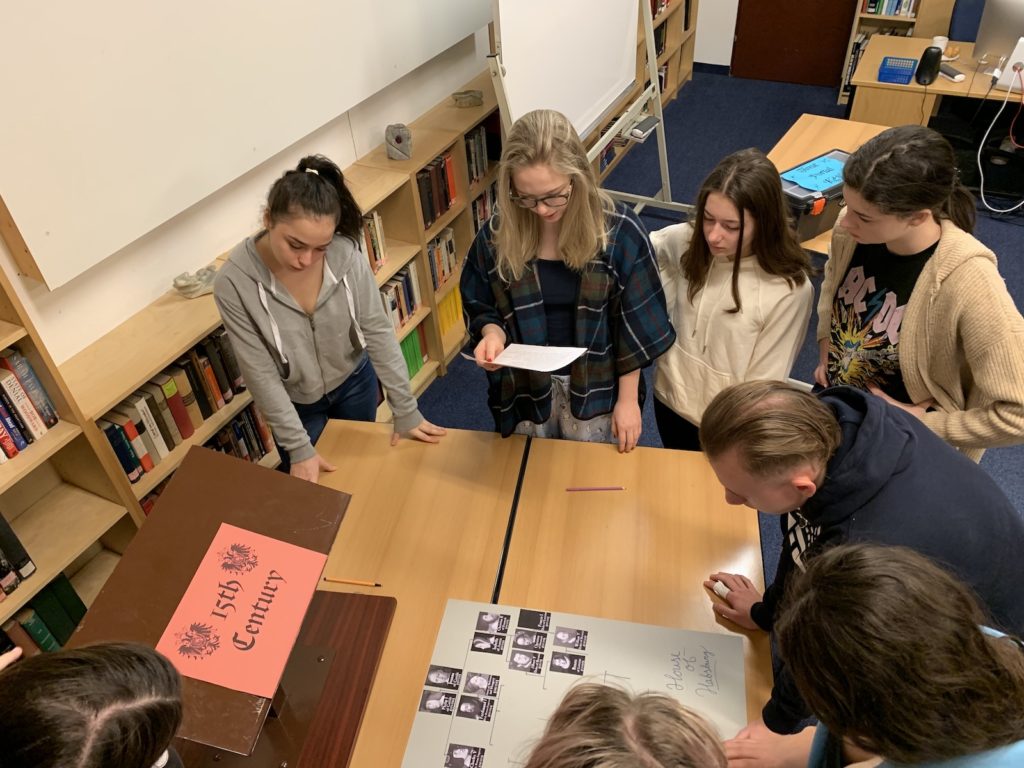 The Lady Lions are preparing for two major events in the coming weeks, the first being the Danube Valley Athletic Conference Championship in Vienna on March 7th, the second, the 30th Annual Jamboree Invitational Basketball Tournament hosted by AIS-Salzburg.
With only two returning players this year, the Lions have dropped down to the junior varsity level and have officially entered a "rebuilding phase" with 10 of the 12 girls on the team playing basketball for the first time. Thus far the Lions have competed in 6 games and hold a record of 1-5, with one of those losses being a recent heartbreaker in overtime after leading the entire game against local rivals, St. Gilgen.
"We are consistently improving and more importantly, I have a group of girls that are eager to learn and are willing to work hard for me. I can't ask for any more than that," said coach Burns shortly after practice this Wednesday.
The Lions host the local BBU club team on Friday, February 28th in their final warm-up match before the DVAC Championships March 7th. The following week, the Lions are one of six teams that will be competing in Jamboree held at Universitäts- und Landessportzentrum Salzburg.
During a recent visit by a professional film company that was at our school to shoot a winter-themed short movie, we were able to snap some "making of" footage as a sneak preview in this 1-minute long video.
Mr. Agardy has been teaching at AIS-Salzburg since 1986 and a recent post on our Facebook page featuring him produced 28 comments and counting. Here are just a few:
"A fantastic person and a great teacher. I had world history, U.S. history and European history with him. I loved every class."

Monika Anderson Cubellina Lajhner
"Mr. Agardy is a wonderful teacher. I still have a passion for European History after his class in 1990!"

Marianna Zielinski Pink
"Great Teacher! I always enjoyed his class and still enjoy European history today."

Laura Jurgens
Please enjoy this video interview with Mr. Agardy as he speaks about his role at the school, what he enjoys most about teaching and finishes off with some insight into why graduates of AIS-Salzburg benefit from the AP Program at the school.
The 2019 Fall excursion saw AIS-Salzburg students enjoy an action-packed trip to Berlin from October 23rd-27th.
Over the course of their stay, students and staff made stops at key sights such as the Berlin Wall, Checkpoint Charlie, Berlin Dom, Berlin TV Tower, Memorial to the Murdered Jews of Europe and the Brandenburg Gate. Students also visited Charlottenburg Palace, Berlin Zoo, Sony Center and a variety of museums such as the Pergamon Museum, Madame Tussauds Wax Museum, Neues Museum, German Museum of Technology and the Jewish Museum Berlin.
Each year our junior class (11th grade) participates in a service trip in partnership with Habitat for Humanity where together they collaborate on the construction (or restoration) of a home for a family in need. This year students returned to Romania and to build a new home and also played in some fun games with children from the local school (see slideshow).
1. What year or years did you attend AIS-Salzburg and at what grade levels?
I started at AIS as a sophomore in 2012 and graduated in 2015.
2. What is your fondest memory of attending AIS-Salzburg?
German literature class with Mrs. Reiter.
3. Have you remained in contact with any former AIS-Salzburg classmates?
Unfortunately, I have only stayed in contact with some classmates through social media as we are spread all over the world now.
4. What have you done since graduating from AIS-Salzburg?
I started studying Law in Salzburg in 2015, did my mandatory military service in
2016, and earned one of the 300 Sports Military spots available from around 40.000 conscripts. Since my golfing career has been so intense since 2016, I have had to pause my Law studies, and I am now employed by the Military as an "athlete", meaning I am employedto practice and compete in tournaments.
5. What aspects of your education at AIS-Salzburg assisted you in the success that your further academic and professional achievements represent?
I believe there is no specific aspect of education that helped me but rather the self-discipline I have learned over the years that I have attended AIS-Salzburg.
6. Are there particular moments or memories that have stayed with you over the years which are related with your enrollment at AIS-Salzburg?
Spending a week in Romania at the Habitat for Humanity site. It´s was great to help people in need, spending some time with my classmates and seeing what a positive impact we can have on the world.
7. Do you have any advice for students at AIS-Salzburg or applicants to the school?
My advice for AIS students is to make themselves a plan of what they want to get
done, set themselves a fairly strict time limit and stick to that time limit. You need to use your time efficiently, otherwise, you will not have lots of time to spend on things you enjoy more than studying. Especially when you are a senior.
The administration and staff of AIS-Salzburg have announced the destinations for the Fall and Winter Excursions, 2019-2020. From October 23rd to 27th, all students are invited to join us on a five-day trip to Berlin. The exciting and interesting German capital contains a wide range of sites and events in which we will participate. Staying in the city center, we will enjoy a professional, guided city tour, view the city from the TV Tower, visit the Museumsinsel, take in the Jewish Museum and the Holocaust Memorial, as well as enjoy free time for shopping and enjoying this vibrant, youthful European city. Students in the 11th grade will be participating in our annual Community Service Trip to Romania to help build affordable housing for the less fortunate. In February (13-16), the school will be traveling to Vienna to see the important and interesting sites of Austria's historic capital city. The Wiener Hofburg, Schloss Schoenbrunn, Museumsquartier and many other interesting and exciting locations will be included in the itinerary. We look forward to your participation!
For the third year in a row, the sun came out for our annual AIS-Salzburg Sports Day, a day of fun and athletic competition at the beautiful RIF Sportzentrum Olympic training centre.
Here are the results along with numerous beautiful photos and video.
1st place: Team Renegades
Leaders – Max & Colin
2nd place: Team England
Leaders – Mr. Harwood & Tim
3rd place: Team Canada
Leaders – Mr. Burns and Mr. Lichty
4th place: Team McLean
Leaders – Cassandra, Mr. McLean, Sam
5th place: Team Awesome
Leaders – Ms Long & Michael
6th place: Team Suttmann
Leaders – Mr. L Suttmann & Mr. J Suttmann
What year or years did you attend AIS-Salzburg and at what grade levels?
I attended AIS-Salzburg from 1996 – 2000, 9th grade through 12th grade
What is your fondest memory of attending AIS-Salzburg?
Going downtown with friends after classes for cafe's, dinners, shopping, practicing German and simply hanging out. It's such a beautiful city to explore and live in.
Have you remained in contact with any former AIS-Salzburg classmates?
I've made some of the strongest life-long friendship at AIS, and really happy to have kept in touch with so many people around the world. I've been to many weddings of former classmates, and even one classmate was the best man at my own wedding in 2014 🙂
What have you done since graduating from AIS-Salzburg?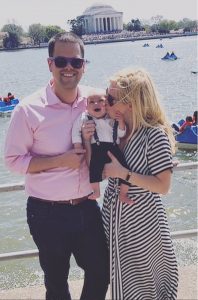 I studied Chemistry in University, received my PhD in 2011 and MBA in 2016. I now work for BASF in Charlotte, North Carolina working marketing and sales. I am married 5 years and have a 1 year old son.
What aspects of your education at AIS-Salzburg assisted you in the success that your further academic and professional achievements represent?
AIS exposed me to so many new learnings and perspectives that I continue to use every day in my life. It was in chemistry class with Mr. Lenzini that I first fell in love with renewable energy and pursued further studies in university. And living in a diverse school, having to making friends with classmates, RC's and teachers from 30 different countries and languages from around the world taught me perspective, diversity, and how to work with different people. This is a core strength I bring while working for a very large global company
Are there particular moments or memories that have stayed with you over the years which are related with your enrollment at AIS-Salzburg?
Too many to count! Fun school excursions like hiking in Corsica to exploring Venice, Italy or Normandy, France. Krampus runs and Christmas markets in December, spring formals and dances, local festivals, table tennis in the student lounge and basketball in the back lot. Wednesdays at RIF, Movie nights, cooking with the kitchen staff, and seeing my family at graduation and how proud they were of me. I have a 1 year old son now and hope one day I can share with him some of my fun experiences and adventures of growing up in Salzburg.
Do you have any advice for students at AIS-Salzburg or applicants to the school?
Know that as a student at AIS-Salzburg, you have been given an opportunity that few in the world will ever know or understand, and the memories and experiences you form during your time at AIS make you unique, special, and stand out from the crowd in the best way. Take advantage of these moments, cherish them, and use them to build upon your life. It will become a strength for you in your personal life and professional career.
On May 23rd, 2019 the senior class of the American International School-Salzburg were awarded their diplomas and sent on their way to a successful university career.
Traditionally held at the Kavalierhaus at Klessheim Palace, the AIS-Salzburg Commencement Exercises 2019 were blessed once again by nice spring weather, outstanding speeches, and a large audience of friends and family members. Excellent speeches were delivered by Salutatorian Oleksandra G., ECIS award-winner Katharina H.and class Valedictorian Sofya G.
We wish all members of the Class of 2019 great success in their future endeavors!
As the final exam week approaches, AIS-Salzburg annually holds a year-end award ceremony to recognize students for their cumulative academic and athletic achievements over the course of the school year. This event is also used to announce the ECIS Award recipient as well as the Salutatorian and Valedictorian.
This past Thursday, a large number of students were recognized by their individual teachers for their performance in the classroom and by resident staff for their efforts in dorm life. Below are the major awards that were handed out.
Male Boarder of the Year: Rodrigo P.
Female Boarder of the Year: Maddie T.
Male Athlete of the Year: Fiodor S.
Female Athlete of the Year: Renate G.
Male Scholar-Athlete of the Year: Andi H.
Female Scholar-Athlete of the Year: Sofya G.
ECIS Award for International Understanding: Katharina H.
Salutatorian: Oleksandra G.
Valedictorian: Sofya G.

What year or years did you attend AIS-Salzburg at what grade levels?
I was a day student in my Sophomore, Freshman and Senior years – graduating in 2005!
What is your fondest memory of attending AIS-Salzburg?
The weekly winter ski trips and holidays to Venice and Verona just to name a few of the great memories.
Have you remained in contact with any former AIS-Salzburg classmates?
Lots through social media but I have only seen a couple of them in person since graduating. Unfortunately, we are all living on different continents!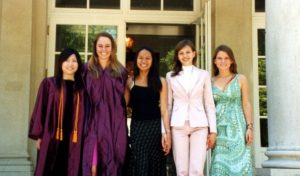 What have you done since graduating from AIS-Salzburg?
I went on to the University of St. Andrews, Scotland, to study Biochemistry and then on to the University of Cambridge, England, to do a PhD in Bone Metabolism which involved lots of travel to West Africa. Since my PhD I have received a series of Fellowships to continue my research and to teach at the University of Cambridge and have slotted in a marriage and have produced couple of babies!
What aspects of your education at AIS-Salzburg assisted you in the success that your further academic and professional achievements represent?
AIS-Salzburg focusses on an education as a whole rather than just passing exams. The small class sizes, the international student body, the amazing school trips all of these helped to prepare me for university and for life in general.
Are there particular moments or memories that have stayed with you over the years which are related with your enrolment at AIS-Salzburg?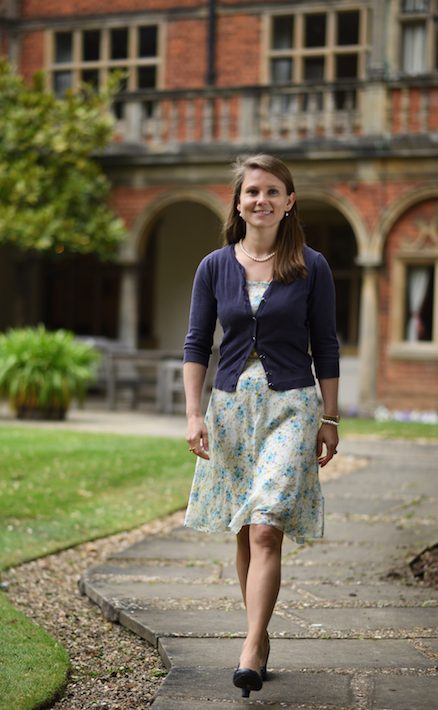 One of my fondest memories was a volleyball trip to Lausanne, Switzerland to take part in a tournament. There was such excitement travelling across countries by train and overnighting in another international school. I think we lost spectacularly but this was incidental!
Do you have any advice for students at AIS-Salzburg or applicants to the school?
AIS-Salzburg is brimming with the opportunity to learn and explore new things. Take advantage of it! You'll never know when those compulsory ballroom dancing lessons will come in handy!
For inquiries or applications to AIS-Salzburg, click here.
The 2019, 29th Annual, AIS-Salzburg Boys & Girls Basketball Jamboree was another success despite our teams falling short of their Jamboree goals.
Given the lack of practical experience, our boys team were the heavy underdogs going into the event. Despite their disadvantage, the boys fought hard and did not give up throughout the tournament, finishing in last place.
Our girls team had higher expectations going into the tournament, with the starting lineup having a combined 18 years of experience playing the game, all at AIS-Salzburg. Unfortunately, the girls were not able to re-gain their form which helped them bring home second place at the DVAC Varsity Girls Basketball Tournament a month earlier. Playing with only 6 players, the girls looked fatigued in the semi-final against a scrappy QSI-Bratislava team whom they narrowly beat the day before.
Congratulations the Townshend International School who in their first Jamboree managed to win the boys championship. Also congratulations to the British International School of Bratislava who won their first ever girls side of Jamboree!
Below are the PDF results and the tournament program which you can flip through.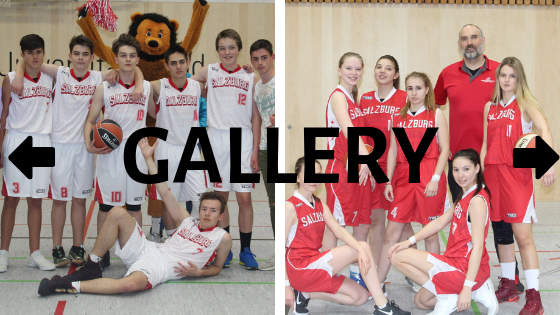 A number of our students attended the production of Hamlet at the Landestheater this past trimester. Seniors had read the play in class and juniors were invited to come along to get familiar with the play in preparation for next year. Everyone thoroughly enjoyed the evening out. Though for some understanding the play in German was difficult, we were fascinated with the modernization and had a good time afterwards discussing the directorial and acting decisions. We love that we live in a place where we can go to watch world-class professional theater!
What year or years did you attend AIS-Salzburg and at what grade levels?
I attended AIS-Salzburg from 2014 to 2017 (wow it seems like such a long time ago), from year 10 to year 12.
What is your fondest memory of attending AIS-Salzburg?
So many; I think I have a lot of fond memories connected with certain people or situations, and they all tie into one pleasant association with the place in general.
Have you remained in contact with any former AIS-Salzburg classmates?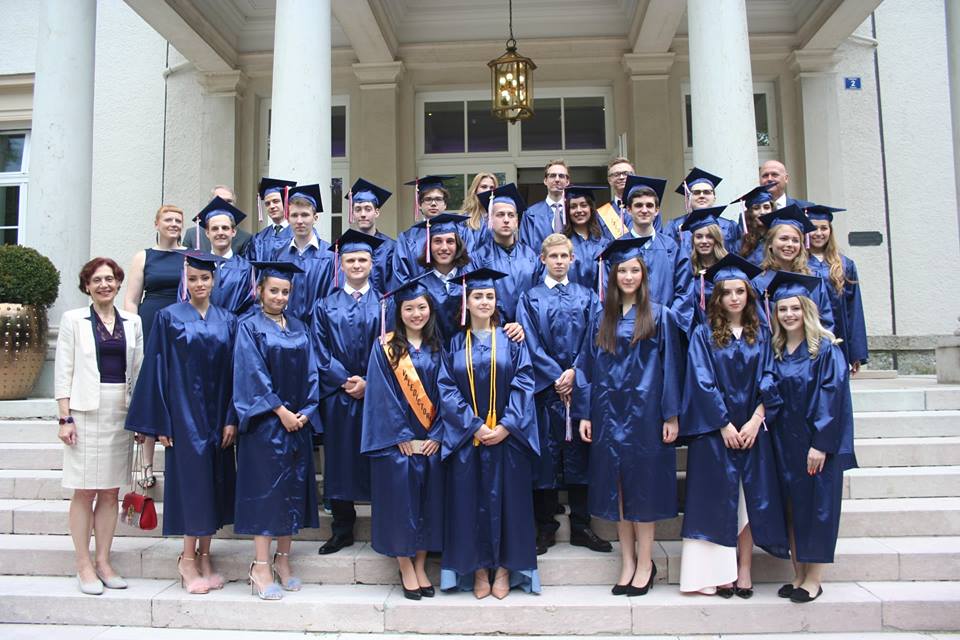 It's a fact that you can't stay in contact with all your classmates, even with those who you thought you would (your paths diverge, and that is normal). However, it always makes me happy when I get a chance to talk to my classmates, even if by that I mean replying to each other's Instagram stories, and it makes me even happier when I get a chance to see them. And, most importantly, my close friends from AIS-Salzburg are still my close friends who I can always rely on despite not seeing some of them since graduation.
What have you done since graduating from AIS-Salzburg?
I am currently finishing my second year at the University of Glasgow. Throughout that time, I have done some volunteer work in Spain, Glasgow and back home, in Latvia, including some volunteering in museums and galleries (my degree is History of Art and Digital Media & Information Studies so that's exactly the experience I'm looking for). I have been also writing for the magazines, interning as a Social Media and Marketing Coordinator at a social enterprise, and being involved in many clubs and societies including surfing club, ski and snowboard club, art-appreciation society, boxing club, dancing club, etc. (honestly so many, I just wanted and want to do everything – that's what the school taught me). I have been travelling a lot, meeting a lot of interesting people, and making friends with people from all over the world. And enjoying all of that.
What aspects of your education at AIS-Salzburg assisted you in the success that your further academic and professional achievements represent?
I think the most important thing that AIS-Salzburg taught me and assisted me in is getting out there, being curious, and not being afraid to leave my comfort zone. Moving into the international community for the first time, it helped me become globally and culturally aware, which is an essential graduate attribute in our modern world. It taught me diligence (study halls do have a positive effect), and despite finding myself lazy at times, I am constantly doing something or being somewhere just because that's the regime I got used to, and the regime I actually prefer. Regarding academics, my research and writing skills which I have to use a lot at university have definitely been largely shaped owing to the AIS-Salzburg, and the same applies to all aspects of learning, including working in teams, presenting, staying organized, and managing time.
Are there particular moments or memories that have stayed with you over the years which are related with your enrollment at AIS-Salzburg?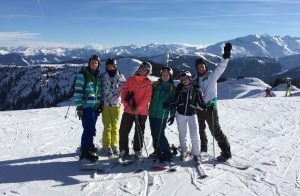 Walking down the memory lane, there are many memories which stayed with me over the time: going on school and ski trips, trying to catch the first bus to town after classes end to enjoy some "freedom", driving to RIF on Wednesday mornings while listening to music (because, to be fair, I was still sleeping and didn't really feel like talking to anyone), having breakfast with my classmates, getting restricted once (both memorable and educating), exploring the city and nearby places, being in a basketball team, living with my roommate, doing group projects, having conversations with teachers about all kinds of things which interested me and which they could give me answers about, and sitting on the stairs with other students right before each study hall and talking about random things. This is what I remember the most. Also, I often walked back to school on Friday and Saturday nights rather than taking a bus, and the walk through the castle and past the lake is something I still have a very clear vision of.
Do you have any advice for students at AIS-Salzburg or applicants to the school?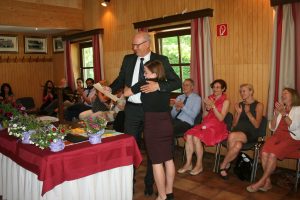 They say your university years are the best years of your life. As much as I agree with that statement and as much as I love being a university student, I quite often find myself thinking back to my high school years. I think sometimes I'm even being a bit annoying when I start talking about Salzburg to my new friends. That's why the most important advice I would give is to enjoy it; you will never be able to live through that experience again. And enjoy every aspect of it, because then, all of a sudden, you realize that you are now an adult responsible for feeding yourself, doing your laundry, taking yourself to the hospital if needed and arranging all kind of appointments, and responsible for yourself in general. Also, try yourself if many different clubs that the school offers; it will be easier for you when you graduate to navigate through university if you already know what kind of things you enjoy. And make close connections with teachers, that is, be friends with them – there will be no such opportunity after high school, and it's a tremendous support that you can get from them!
The winter excursion this year was to Innsbruck, the capital of Tyrol, and a city in the Alps that's is best known for it's winter sports. Students enjoy two and a half days of skiing along with other winter activities such as tobogganing and ice skating.
Slideshow
Students of the AIS-Salzburg Concert Club signed up for the club to take advantage of some of the many high-quality concerts that occur annually in Salzburg. On February 7th it was the Korngold Violin Concert with headliner Arabella Steinbacher as shown in the Youtube video below from 2014.
Although the boys and girls basketball teams are halfway through their 2018-19 season, the majority of their games are yet to be played with the Danube Valley Athletic Conference Champions and Jamboree still to come in March.
Girls basketball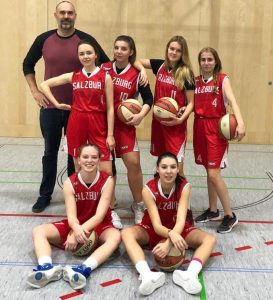 So far the girls are 1-4 on the season but could easily be 3-2 after suffering an overtime loss and a one-point loss at the DVAC Festival in Bratislava February 2nd. The Lady Lions played three games at the festival, all without their point guard and team captain, Teddy T, opening the door for other girls to step up and take more of a leadership role. The absence of their captain forced the Lions to play more as a team with Renate G. stepping up her game on her birthday weekend to lead the Lions on the scoreboard behind her best performance as a basketball player in her three seasons in the sport (22 points in 3 games).
The girls got their first win of the season against the visiting Augsburg International School who made the trip down to Salzburg on February 9th. The Lions heavily controlled the play for the first half of the game but failed to convert on most of their shots, opening the door for Augsburg to make a comeback in the second half.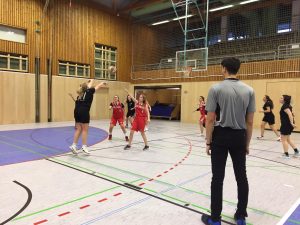 Despite a comfortable lead of 14-4 in this low-scoring affair, the comeback is exactly what Augsburg did, stepping up their physical game and utilizing their size to outplay the Lions under the boards while the Lions continued to miss on their opportunities. With the Lions up 21-18 with 2 minutes left, Augsburg threw up a two-handed brick (photo right) from three-point range that banked in off the glass, tying the game to the Lion's disbelief. With the Lions on their heels and the momentum clearly on their opponent's side, Teddy T. broke loose with less than 20 seconds left to score a layup and seal the first victory for the Lions on the season.
Fall Awards 2018-19
Distinguished Student
The following non-seniors, by successfully fulfilling the academic, community service, and disciplinary qualifications as outlined in the Parent/Student Handbook, are awarded Distinguished Student status:
Marina B.
Kliment B.
Evaristo C.
Viktoriia C.
Dimana D.
Nikol G.
Eleonora G.
Andi H.
Ian H.
Yana K.
Elena P.
Danila S.
Salina S.
Desard S.
Rejan S.
Madeline T.
Oleksandr V.
Senior Scholar
The following Seniors, by successfully fulfilling the academic, community service, and disciplinary qualifications as outlined in the Parent/Student Handbook, are awarded Senior Scholar status:
Sara E.
Sofya G.
Oleksandra G.
Katharina H.
High Honors
All A's and no more than one B
Kliment B.
Evaristo C.
Dimana D.
Sofya G.
Nikol G.
Eleonora G.
Andi H.
Ian H.
Emmalee J.
Elena P.
Danila S.
Salina S.
Honor Roll
All A's and B's
Viktoriia C.
Oleksandra G.
Katharina H.
Rodrigo P.
Desard S.
Honorable Mention
All A's and B's and no more than on C
Marina B.
Liam B.
Jorge F.
Dany G.
Yana K.
Trofim K.
Arseni K.
Rejan S.
Madeline T.
Taras V.
Oleksandr V.
Arina Y.
Soccer Awards
Coach's Award – Evaristo C.
Volleyball Awards
Impact Player Award – Stela S.
Rookie of the Year – Eliza D.
Coach's Award – Madeline T.
Most Valuable Player – Teodora T.
On Wednesday, October 24th, AIS-Salzburg students in grades 8-10 and 12 along with a handful of staff members arrived in Venice, Italy while grade 11 students were off to Romania to build a house as a part of the Habitat for Humanity Program. You can read more about the trip to Romania here.
Sightseeing in Venice included the following:
Basilica San Marco and St Mark's Campanile
Burano (Island known for lacework, colourful houses, and the bussola cookie)
Murano (Island known for its glass making) watched glass being blown and went to the glass museum
Isola di San Michele (cemetery)
LaBiennale (architecture)
Nicolis Museum
Slideshow
Each year our junior class (11th grade) participates in a service trip in partnership with Habitat for Humanity where together they collaborate on the construction (or restoration) of a home for a family in need. This year students returned to Romania and to build a new home, and three junior students volunteered to include their daily diary essay of their experience in this blog post. You can read of their experience below the slideshow.
Slideshow
Daily Diary by Marina B. and Eliza D.
Banev RomaniaR eflection

Dikova Romania Reflection

C._RomaniaReflection

The girls volleyball team has parted ways with outgoing starters from the last school year, Vanessa C., Emilie B., and Maria M., all of whom brought years of volleyball experience.
This year will see a mix of rebuilding while also pursuing the DVAC varsity girls championship with returning seniors Stela S. and Teddy T. leading the team. Both girls have been with the AIS-Salzburg volleyball program since joining the school in grade 8 and bring a lot of experience backed by booming serves to the forefront of the Lions' attack. Maddie T. and Marina B. have also been with the team a long time and are both slotted in to be regular starters and a big net presence for the Lions. Sonia G. returns for her second season of volleyball and brings court awareness and consistency on the service line to the team.
New comers Emmalee J., Elli S., Dunja N., Renate G., and Eliza D. fill out the roster with Emmalee stepping up in a major role as setter. All girls have shown a knack for volleyball and will be contributing to the success of the team.
September 27th – @ Bavarian International School
The Lady Lions got off to a slow start losing the first match against the host BIS Lions 21-25. Missed serves played a major role in the defeat but communication was surprisingly good for the first matchup of the season. The Lions rallied to win sets two and three 25-20 and 25-22. Coach Burns took advantage of the lead to get some new players into the game in the fourth set. Finding chemistry with new teammates is always a challenge and this proved to be a challenge in this set as the Lions lost 17-25. In the fifth and final set the Lions' starters returned to the floor but the two BIS big servers saved their best for last and got their team off to an early 9-1 lead which was too big of a hole to overcome for the Lions in the shorter set to 15. The Lions eventually fell 6-15.
Despite the loss, the Lions made huge gains in their chemistry as a team, which is typically a big disadvantage as a small boarding school playing against larger day schools.
October 6th – DVAC Varsity Girls Volleyball Festival Budapest
The Lady Lions were off to Budapest with only one prep game in their pocket, but coach Burns was confident they could hang with the DVAC elite in this mid-season roundup.
The Lions were up against a consistent powerhouse in recent years, BIS Budapest, in the first game of the tournament. The Lions came out very flat in the first set, obviously still waking up and recovering from the long journey the day before. A combination of missed serves and two giant blockers/attackers on the other team led to a rough start for the Lions which saw them lose 11-25. The Lions also lost Emmallee J., one of two setters in their two-setter system, to an ankle sprain late in the set. With Emmallee sidelined, players had to play out of position since they were not yet prepared for a one-setter system. Despite a good effort in this regard, the Lions fell 16-25.
Immediately after the first match, the Lions were up against the rumored festival favorite, the host AIS-Budapest Blazers. During the pre-game warm-up it was quite obvious the Lions would have their paws full with the Blazers who had at least three girls who moved about the court with high level prowess. The Lions did not back down, however, as they came together as a team, despite some playing out of position, calling the ball consistently while getting their serves in. This nailbiter was tied at 23-23 before the Blazers managed to win the final two points, handing the Lions their third straight set loss on the day.
In the second set of the best-of-three, the Lions looked tired after leaving it all on the court in the first set of these back-to-back tough match-ups. The Lions serves started to miss and the frustration started to set in, causing the Lions to make uncharacteristically easy mistakes on free balls. The Lions fell 6-25.
In the third and final match after a much needed two-hour break, the Lions were up against a weaker opponent in comparison to the last two teams. The new goal was to get one win on the day. However, the British International School of Bratislava had other plans and showed their defensive resilience, returning everything the Lions threw at them. Missed serves again left the Lions always playing catch-up, which they were never able to do in a 14-25 loss to a team they knew they should beat. The second set the Lions dug deep and managed to regain that chemistry they found against the Blazers in the first set. It was a back-and-forth battle with the Lions finding more consistency on the service line. However as the set drew close to the end with the Lions in the lead, the stubborn BISB squad kept the pressure on. The day of playing out of position started to boil over as frustrations came to a head and the Lions saw their lead slip away to a 25-27 loss.
On the plus-side, Emmalee only suffered a mild sprain and will be back in action soon. The Lions showed signs so far this year that they can play great together. Coach Burns is optimistic that with some practice and back in their normal positions, they can make a run at the championship on November 17th.
October 19th – Home game against Augsburg International School
The girls volleyball team was without Stela for this matchup which opened the door for more playing time for some less experienced girls. The Lions got off to a quick start and worked well as a team, winning the first set 25-18. In the second set, Augsburg pushed back as the Lions faltered on the service line, losing 25-16. Augsburg continued to rally as the Lions fell out of sink, losing the third set 25-11. In the fourth set the Lions rallied but fell short 27-25 in a nailbiter. The teams played a fifth set for fun but the Lions didn't have any push left after leaving everything on the court in the fourth set, losing again by a score of 25-15.
November 17th – DVAC Varsity Girls Tournament
The Lady Lions wrapped up their season last weekend finishing 4th of 6 teams at the DVAC year-end tournament.
AISS defeated the two Bratislava teams while losing a nail-biter to ICS-Budapest. ICS Vienna and BIS Budapest proved to be too strong, defeating the Lions handily in their match-ups. The Lions were without their second setter, Emmalee J, and had to resort to a less familiar one-setter system causing the Lions to struggle to find their groove.
Eliza D. and Marina B. were the most consistent on the service line while Stela S. went on a 12 point serving streak, against Bratislava, with only a few serves that made their way back over the net. Both Eliza and Maddie T. had some big blocks while Teddy T. was a force on the court all tournament and was the sole setter throughout all five games. Dunja N. and Sonia G. both were both consistent off of the bench and beginner Renate G. toughed out a saw some action as well despite recovering from a finger injury.
Considering the Lions featured 3 beginners and one second year player, they faired well at the varsity level and are proud of their 4th place finish.
After weeks of practice, the boys soccer team travelled to the Bavarian International School for their first game. Being the first full field, 11 v 11 match for the squad, a lot of learning was done in preparation for the second game.
A week later, the American International School – Salzburg, faced off against St. Gilgen International School at RIF Sportszentrum. Being the first home match, the team was excited, and it showed. Scoring goals early and often, the American International School – Salzburg enjoyed a comfortable 12-2 win. Moving forward, the team plays at home against Augsburg on October 19. This will be a great test for a young and inexperienced team.
On October 19th the boys had their first home game as they hosted Augsburg International School. Post game both teams were heard saying that this was the most exciting game they have been apart of, including the opposing team's coach. The boys walked away with the win in a 3-2 nail biter.
The boys wrap up their season with a re-match in St. Gilgen on November 14th.
The AP exam scores for 2018 have just been released, and we are proud to announce that the majority of our students were very successful. Of a total of 70 examinations that were taken, 58 were passed, amounting to a passing rate of 83%. The average score for all AP exams taken this year is 3.66. Finally, as in every single previous year students at the American International School in Salzburg performed far better than global levels. 78% of students at AIS Salzburg had a score of 3 or better, compared to just 60% of students at the global level. (See College Board's Five-Year School Summary)
Below is a comparison by subject with percentages of examinations passed at the American International School in Salzburg compared to the percentages of exams passed worldwide.
| | | |
| --- | --- | --- |
| Subject | AIS-Salzburg | Worldwide |
| Biology | 67% | 62% |
| Calculus AB | 100% | 58% |
| English Literature | 64% | 47% |
| European History | 100% | 57% |
| German | 100% | 69% |
| Italian | 100% | 68% |
| Human Geography | 59% | 54% |
| Spanish | 100% | 88% |
*from College Board AP Score Distributions 2018
Students took AP Exams in May 2018 after completing challenging college-level courses at high schools around the world. The College Board recognizes several levels of achievement based on student performance on AP exams.
Thirteen students at the American International School in Salzburg have earned the distinction of AP Scholar by the College Board in recognition of their exceptional achievement on the college-level Advanced Placement Exams.
Five students qualified for the AP Scholar with Distinction Award by earning an average grade of 3.5 on all AP exams taken, and grades of 3 or higher on five or more of these exams. These students are Roman G., Alejandro M., Sonia R., Alfiya V., and Isabella W..
Three students qualified for the AP Scholar with Honor Award by earning an average grade of at least 3.25 on all exams taken, and grades of 3 or higher on four or more of these exams. These students are Kostiantyn I., Aleksandra K., and Carlos M.
Five students qualified for the AP Scholar Award by completing 3 or more AP exams with grades of 3 or higher. These students are Samuel D., Alisa K., Ana M, Nikita S, and Maxim Z.
About 23% of the more than 2.5 million high school students in over 20,000 secondary schools worldwide who took AP exams performed at a sufficiently high level to merit the recognition of AP Scholar. At the American International School in Salzburg, 81% of all students eligible were named AP Scholar.
Congratulations to all AP Scholars on their excellent results!
Each year our junior class (11th grade) participates in a service trip during the fall excursion period. This year, our students traveled again to Poland to work with Habitat for Humanity to help restore a home for a family in need. The students were also able to visit a local school to meet fellow students while also enjoying a campfire wiener roast.
SLIDESHOW