April 20, 2023
---
Starting May 1st, students at AIS-Salzburg will be writing Advanced Placement® (AP) Examinations to earn credit or advanced placement at their chosen universities, improve their chances of acceptance, and—especially important in an international school—gain equivalency with most European secondary-school diplomas and qualify for entrance into universities here in Europe.
AP® courses and examinations are recognized in the admissions process by more than 4,000 universities worldwide, and outside the U.S., more than 600 universities in 60+ countries recognize qualifying AP® Exam scores. The program allows students to develop a global perspective, as well as skills such as critical thinking and problem-solving. There are currently 34 AP® courses and exams available and scores can be sent directly to universities of choice. AP® is recognized as a highly-desirable academic credential around the globe.
In an update about the fast-approaching AP® Exams, our AP® Coordinator Joe Suttmann, offered the following: "Nearly 50% of our student body are taking AP® exams this year, with 46 students registered to take 113 AP Exams. This is an average of more than 2 exams per student. Of the exam-takers, 18 are in the Senior class, with the remaining 28 representing students in the 11th grade and lower. The AP® Exams we are offering this year are: Calculus AB, Chemistry, English Lit. & Comp., Environmental Science, European History, French Lang. & Cult., German Lang. & Cult., Human Geography, Physics 1, and Psychology. Expectations are high for great scores, as AP® exam results are often crucial in getting accepted at respected universities around the globe. AIS-Salzburg presents a college-prep curriculum and AP exam results are a great indicator of the success of our program."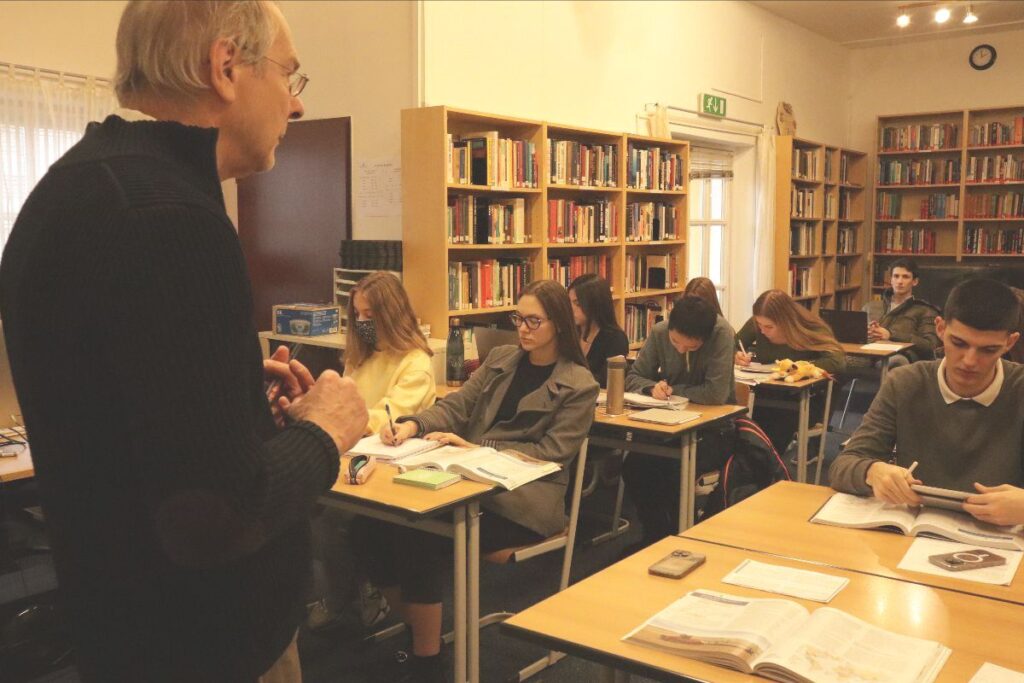 Photo: Students take notes during an AP® European History lecture with Mr. Agardy.
AP® Examinations are open to all students who feel competent to sit them and enrollment in a preparatory AP® course is not required. For example, if a student comes to AIS-Salzburg after having studied the Japanese language for three years, they may desire to sit the AP® Examination in this subject. Most students, however, will need the preparation and guidance in the subject provided by year-long enrollment in the course.  

Our school has participated in the Advanced Placement Program® since 1983.  The widespread international recognition of AP® Examination scores and the strength of the AP® curricula convinces our community that the College Board's Advanced Placement Program® provides our students with significant international opportunities and excellent academic skills that will serve them well in their future studies.